If you have recently formed a limited liability company, you may be wondering if you can, perhaps, use your home address. The question you may be asking yourself is: what address can I use for my LLC?
You do not necessarily need to be using your home address. Here, we outline some options for a virtual office address for your LLC. 
This blog post may contain affiliate links, meaning when you click the links for some products and make a purchase, Credit Suite receives a commission at no additional cost to you.
Options Available To Be Used As An Address For An LLC
Option 1 – Regus
Have you ever thought about using a virtual office? Regus offers a wide range of choices, such as a virtual mailbox so you don't have to worry about porch pirates and can avoid junk mail. 
They have several locations. A Florida LLC, for example, has dozens of options, from Miramar Beach and Tallahassee to Miami. They can have a real Florida business address with a physical street address.
However, note that a virtual address used for a Florida business address, statutes allow for substituted service of process. So if the Florida Department of Revenue determines your small business owes taxes, you may be served by mail. 
Option 2 – Alliance Virtual Offices
We love Alliance Virtual Offices because they, too, have extensive offerings. Again using the Sunshine State as an example, you can get a Florida business address just about anywhere from Jacksonville to Miami.
Get a business mail forwarding service, a live receptionist, and a business address, all at a physical address which will impress lenders and customers alike. 
Use a virtual business address through them for your business license. And it can be the registered office address for your business.
But the law around using it as a registered agent address is trickier, so be sure to speak with a legal professional. 
Option 3 – Opus Virtual Offices
We recommend Opus Virtual Offices because they can provide a great mailing address and virtual business address for any business entity, even a limited partnership, nonprofit corporation, sole proprietorship, or S corporation. 
This includes a premium physical office address for virtual addresses in any of the 50 states and DC. A California business address (for example) is just a few clicks away.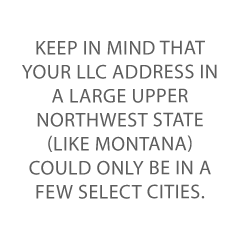 Keep in mind that your LLC address in a large upper northwest state (like Montana) could only be in a few select cities. But that is going to be true for small businesses going through just about any other business address provider.
Also, it is not likely that you would be able to use such a business address for a registered agent. Registered agents will need a separate business address in a lot of places, so check with a lawyer.
Option 4 – Davinci
Davinci is another virtual office service provider. A California LLC owner looking for a real street address may find Davinci's offerings clustered around cities. 
In California, for example, nearly every physical address is either near LA and San Diego or San Francisco. There is exactly one California business address in the Fresno area, but not even one physical business address north of San Francisco.
For New York, you can easily find a mailing address in or near Manhattan. But not in Syracuse. 
A business owner should check their operating agreement closely. They will, however, provide registered agent service, through LegalInc. You can also use them for entity formation and paperwork. 
Option 5 – Your Home Address
It is certainly a choice to use your home address as your business address and address for the Internal Revenue Service and your employer identification number (EIN). 
A personal address can be a particularly good option if you live in a remote area which virtual office providers do not cover well, or at all. But not if you want financing from the Small Business Administration.
In particular, if everyone in your home is an adult (or at least an older teenager), it can work. Plus, you won't have to set up or pay for mail forwarding. And, your home address will accommodate any entity, including a limited liability partnership.
After all, do you really want your three-year-old accepting service of process? Now, you may not want a thirteen-year-old to do so, either. But at least a tween can effectively communicate with you about what just happened.
Of course, you cannot list a minor as a registered agent. 
Factors To Consider Before Deciding On a Business Address
Factor 1 – Service of Process
An LLC owner is most likely going to have to hire or at least name a registered agent to accept any legal filing that comes in. A registered agent cannot be a minor. And, in many states, a registered agent has to be licensed. 
Whatever the physical address is, it will become a matter of public record. This can potentially be an issue if your physical business address is also your home address. But maybe you're all right with your home address being on a court filing or two or twenty.
And no matter what, you will need a physical address to accept process.
Factor 2 – Zoning and Other Usage Permissions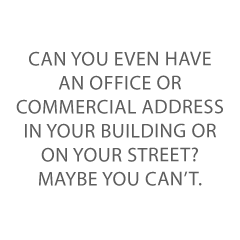 Can you even have an office or commercial address in your building or on your street? Maybe you can't. What about your condo association? They may not take too kindly to you putting out a shingle—particularly if you do not clear it with them first.
A more loosely defined neighborhood association may also object. Even the people on your street might be unhappy with your setup if your business starts to really take off.
And if a process server can't locate your registered agent, they may end up knocking on your neighbor's door. A bad relationship with your neighbors can ruin your living situation.
If you do not use a home address, this will be less of an issue, for a California business address or in any other state.
Factor 3 – Legal Liability
Always check to be absolutely sure that a virtual or brick and mortar office provider is insured. Your homeowner's may not cover someone visiting your office and becoming injured. As for renter's insurance, the chances are even lower that there would be coverage.
While the very definition of an LLC is that your liability is limited, that does not mean there is no liability, ever. And, if you have not yet informed your insurance company of the change in use for your residence, they could end up disclaiming coverage on any incidents.
Crossing your fingers and hoping no one ever gets injured is not a good way to do business.
Factor 4 – Personal Safety
Like it or not, even benign businesses like art galleries can see gun violence. Any business which is storing money can be a victim of burglary. Do you really want a disgruntled, unhinged customer to know where you and your family live?
For a purely online business, using your home address can set you up for SWATTing, where hoax calls to emergency services can bring the SWAT team to your home. Never underestimate how petty and vindictive some people can be.
Even without the violence factor, the very same issues that can cause legal liability problems can apply here. A customer who bumps a shelf could bring your product down to fall on anyone's head—yours, theirs, your neighbors… you get the idea.
Factor 5 – Off-Hours
Do you do business with customers and prospects from around the world? What happens if they try to contact you outside of your normal business hours? 
At least you wouldn't need a registered agent in the middle of the night. But you may need someone or something to answer phone calls. Having voice mail forwarding set up could be a wise move.
An answering service could be even better—and certainly an easy to use website is a must. 
For many people, having their corporate address in their home can mean there really are no off-hours. But this is not good for your business or your health.
Can I Use My Home Address For My LLC?
No one is stopping you. Put your home address on a corporate annual report or bank account if you like.
You will probably be able to save money on certain things. If your state allows you to do so, you may also be able to act as your own registered agent. That way, you would not have to hire someone. 
But you will not be able to get around fees levied by, say, the California Secretary of State or any licensing entities (if applicable). And if using your home as your business sours your relationship with your neighbors, you may find that the headaches outweigh any cost savings.
If you sell goods, you may find there are zoning or insurance issues with keeping the business quite literally in house. 
Professional services providers like psychologists and lawyers are covered under strict confidentiality laws. But your neighbors probably aren't. 
Higher profile clients might not wish to visit a home office for that very reason—nosy neighbors who don't mind selling their information to the press or any other high bidder. 
Using your home is also problematic if you have small children. While there is violence everywhere, there is a certain threat of workplace violence these days. This is not to say that your children should simply live in a bubble.
Also, keeping the office out of your home won't necessarily protect them, anyway. Associating your business with some other address might not stop a determined disgruntled client. But it could help to slow them down a bit.
Besides, are you going to install metal detectors on your property? Will you be hiring a security detail as well? Some of the safety provisions we take for granted in larger office buildings and warehouses will become logistical nightmares if you try to add them to your home. 
Takeaways
An LLC (or really any other type of business), can benefit from a separate address from your home. Lenders and credit issuers may be impressed—customers and prospects might be as well—if your business has a swanky high rise office address downtown.
No one needs to know that you live in a split-level in the 'burbs.
A separate address is also a pillar of Fundability™. Contact us today to learn more about how building an exceptional Fundability Foundation™ can open the door to more and better business credit and financing opportunities.