Use Your EIN for Credit in a Recession and Keep Your Personal Assets Secure
Do you know how to use your EIN for credit in a recession? We can show you how and why to separate your personal and commercial credit, using your EIN all the way. Just in time – because you need your own money more than ever in a worsening economy.
Whether you have a new small company, or you are now associated because you paid for one or have suddenly become an owner or a manager, it doesn't matter. For here are reasons you ought to develop your business credit using your EIN.
Use Your EIN for Credit in a Recession: Separate Your Business Credit from Consumer
Even if you are a sole proprietor, it will still help, big time, for you to erect a financial fence between your consumer credit and your company credit. This is true even if, let's say, you sell a specific thing handmade by no one but you.
How come? Because keeping a barrier means that your consumer credit will not be influenced by your company credit. You don't stand to lose a car, for example, in case your business enters receivership.
Use Your EIN for Credit in a Recession: Conserve your Personal Credit for Your Own Expenses
Even if you pay all of your business's charges on schedule, each and every single time, you aren't doing yourself any favors using your personal charge cards to settle business liability. So this also includes other accounts such as a checking or savings account.
How come? Because personal credit is impacted by what's called the Credit Utilization Rate. This is just a basic computation of the credit you're making use of. And then it's divided by your total available credit. So you want to keep this ratio at around 30% or less.
That is why, if you are using your consumer cards to pay for your business expenses, you are inflating your credit utilization rate. If you bring it above the 30% benchmark, then your individual credit score will be adversely affected. And this is true even though you are diligent about paying off your business financial obligations.
So save your utilization rate!
Use Your EIN for Credit in a Recession: Establish a Credit History Before You Really Have to Draw from It
For the big credit reporting agencies, credit history is one of the components they use when figuring your business credit score. The longer (and better) your credit history, the better your small business's credit score is likely to be.
When you take into consideration what credit score needed for a business loan, then you need every bit of your credit score you can get. So if you start early, it can only help you.
These big credit reporting agencies are Experian, Equifax, and Dun and Bradstreet. You know, all the places you know of where to review a business credit score.
Use Your EIN for Credit in a Recession: Prepare for Lean Times
You may not want to ponder it, but there are going to be occasions when the work runs out. If you are in a seasonal business, then this is a part of the DNA of your company. But every company can undergo leaner times.
You may have to make payroll or equipment payments. Or you might just need to pay the rent. But either way, you are going to really need business credit to get by.
And by developing your business credit even before you actually need it, you are much more likely to get excellent terms. Or maybe get credit at all. So use your EIN for credit and get started right away.
Use Your EIN for Credit in a Recession: The Internal Revenue Service Says You Have a Business (Or Perhaps Even a Corporation). Now Start Acting Like One!
So what does this mean? Have you been responsible? Have you set up your company with an EIN (employer identification number)?
So then at some point in the process you had to work with the Internal Revenue Service.
You had to tell the IRS that your small business is, indeed, an authentic business. And you had to show it is not just a leisure activity or the like.
Thus, the IRS is already treating you and your small business separately. That is, when it comes to tax liability. Consequently, if you're still floating interest-free loans to your business with your personal credit cards, then stop! Because now is the time to cut that out.
So use your EIN for credit and separate your finances.
Use Your EIN for Credit in a Recession: Vendor Credit is a Great Thing and You Should Use It
What is vendor credit? It's where you work straight with a neighborhood supplier to develop a relationship. And through this you can have a small loan (that is, credit) floated to you for the kinds of things you need at all times.
Use Your EIN for Credit in a Recession: Secret Bonus – Vendors Which Report to the Business Credit Reporting Agencies
Not every vendor can help in the same way true starter credit can. These are merchants that will grant an approval with little effort. You also want them to be reporting to one or more of the big three CRAs: Dun & Bradstreet, Equifax, and Experian.
You need to use your EIN for credit with these vendors.
And you want 3 of these to move onto the next step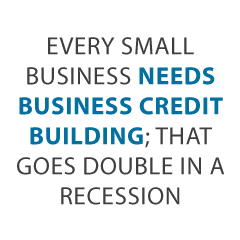 .
Accounts That Don't Report
Non-Reporting Trade Accounts can also be helpful. While you do want trade accounts to report to a minimum of one of the CRAs, a trade account which does not report can yet be of some value. You can always ask non-reporting accounts for trade references.
And also credit accounts of any sort should help you to better even out business expenditures. So this thereby makes budgeting simpler.
Use Your EIN for Credit in a Recession: Business Credit Means You Can Eventually get Bank Loans for Your Company
Sometimes a business opportunity is just too good to pass up. And you need to act quickly. This may possibly be anything from buying realty at auction to procuring the equipment owned by a company undergoing reorganization.
It can also mean bidding on raw materials when they are at their best price for the year.
But you may not have that sort of funds handy. Developing business credit means that bank loans will be granted faster and with better terms.
You will have the chance to make the most of these opportunities, and seize them when they are still meaningful.
Without having business credit, despite the fact that you get a loan, it will inevitably take longer. And somebody else might buy those economical raw materials or outbid you when it comes to prime real estate.
And if you build business credit the right way, and use your EIN for credit, you may find you don't need a bank loan after all. Really!
Let Us Show You How to Use Your EIN for Credit in a Recession and Beyond
Establish business credit as early as you can and reap the advantages long after.
Business credit is an asset which can help your company for many years to come. You won't regret establishing and building business credit.
Learn more here and use your EIN for credit in a recession – not attached your Social Security Number.