Startup crowdfunding is an awesome way to start a business for a few reasons. The top reason is likely the hope of starting a business without any debt.  It rarely works out that way, but there have been a few lucky ducks that have blown goals out of the water and been able to use crowdfunding to totally fund their startup.

Try These Hot Tips to Make Startup Crowdfunding Work for You
The problem comes in when you are not one of those lucky ducks.  Of course, that doesn't mean you shouldn't try startup crowdfunding.  It just meant that you need to have a plan, execute it, and have a backup plan in case it doesn't work out exactly like you hope.  
What is Startup Crowdfunding?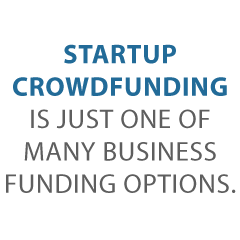 Crowdfunding sites allow you to pitch your business to thousands of micro investors. Anyone who wants can donate, if you will, to the cause.
Investors pledge amounts on a broad spectrum depending on the campaign and the platform in use. They may give $80, they may give $150, or they may give over $500. It might just be $5, but any amount helps.
Though not always necessary, most entrepreneurs offer rewards to investors for their generosity. Most often, this comes in the form of the product the business will be selling. Different levels of giving  result in different rewards. For example, a $50 gift may get your product A, and a $100 gift will get you an upgraded version of product A.
Find out why so many companies use our proven methods to get business loans.
Set Your Goal
This is not something that should be taken lightly. If you set your goal low, it won't matter if you meet it or not.  You still won't have enough. If you set it too high, you may not get your money at all. That's because some platforms will not release your funds until you meet your goal.  There is a fine line you have to walk, and balance is necessary. 
If you aren't great with numbers, find someone who is to do some professional projections of how much you actually need to start your business. 
Choose Your Platform
There are a few different startup crowdfunding platforms out there.  Some are more popular than others. The key is to find the one with the audience that best fits your business. 
Kickstarter
They are the largest crowdfunding platform. They have over 14 million backers and over 130,000 funded projects. Campaigns are for products and services such as:
Publishing

The arts and film

Comics and illustration

Design and tech
A prototype is necessary. Projects cannot be for charity, although nonprofits can use Kickstarter. Equity cannot be offered as an incentive.
Taboo projects and perks include anything to do with:
Contests and raffles

Cures and medicines

Credit services

Live animals

Alcohol

Weapons
There is a 5% fee on all funds which creators collect. Stripe, their payments processor, will also apply payment processing fees, which are roughly 3-5%. Campaigns that don't make it don't pay a fee. There are also fees of 3% + $0.20 per pledge. Pledges under $10 have to pay a discounted micropledge fee of 5% + $0.05 per pledge.
Indiegogo
Indiegogo has over 9 million backers. Their minimum goal amount is $500. They charge 5% platform fees and 3% + 30¢ third-party credit card fees. Fees are deducted from the amount raised, not the goal. As a result, if you raise more than your goal, you will pay more in fees. They do not accept PayPal.
Indiegogo is notable because they offer both fixed and flexible funding. This means, if you don't hit your goal and you chose the flexible funding option, you can at least hold onto what you have. It's actually  the opposite of how crowdfunding normally works.
You cannot change your fundraising structure once the campaign starts. They recommend fixed funding if you need a minimum amount for your project. In addition,  regular communications with donors is recommended if you choose fixed funding.
RocketHub
RocketHub is more for entrepreneurs who want venture capital. They give you an ELEQUITY Funding Room. This is where you can pitch your idea and see if it stimulates any interest from donors.
The platform is specifically for business owners working on projects in these categories: 
Art

Business

Science

Social
If you reach your fundraising goal, you will pay a fee of 4%. In addition, you'll pay a 4% credit card handling fee. But if you do not reach your goal, that fee jumps up to 8% plus the credit card handling fee. Of course, that means RocketHub is best for companies that are more confident they will make their goals.
Find out why so many companies use our proven methods to get business loans.
CircleUp
CircleUp is only for businesses. Their aim is to help emerging brands and companies raise capital to grow. However, companies must apply and show revenue of at least $1 million to get a listing on the site. Still, they will sometimes make exceptions.
Due to its more thorough process, CircleUp can be good for entrepreneurs who already have a somewhat established business. These are business owners who want both funding and guidance in order to take their businesses to the next level.
If your business gets approval for listing on CircleUp, the fee percentage comes from the total amount you raise. 
CircleUp says (in its FAQ): "Our commission is intended to be generally consistent with what companies pay to investment bankers in the offline world for similar size fundraising rounds."
GoFundMe
We can't leave this one out because it is so well known.  Truly, it's probably not the best choice out there.
In general, GoFundMe is for individuals. Therefore, you might conceivably use it at the very beginning for startup crowdfunding. You will need to meet your fundraising goal in order to collect. The service charges 5% as a platform fee outside the United States. But there are no specific platform fees in America. Yet, there are payment processing charges of between 2 and 5%.
GoFundMe is often for personal causes, like people looking to cover their medical bills. Hence it may not be best for business funding. In addition, considering the large numbers of people who use GoFundMe for personal expenses, a business plea might get lost in the shuffle.
Work your Campaign
You've heard the adage "Plan to work and work your plan," right? Well, it fits here perfectly.  You have to have a campaign plan. Videos are popular but not necessary. Whatever ace you have up your sleeve, it has to make people want to support your business. They need to get excited.  
Remember, your campaign has to match the personality of your audience.  Does your main market fit in a certain generation? Maybe they are mostly 80s babies. Market to that with popular music and catch phrases from that era.  
Are they an audience that loves campy, cheesy spoofs?  Use that to your advantage!  Specifically right now, if your business is going to help those affected by the pandemic, or the resulting economic downturn, play to that in your campaign!

Set Up Incentives
Of course, no one really ever wants to give something for nothing.  Those who are excited about your business are going to be more likely to show their excitement monetarily if you offer great incentives. 
Physical incentives are a pain in the neck. However, people love them and they will stand out. Plus, if a perk is used frequently, it will help to keep your company relevant.
Still, you also have to ship anything physical that you promise. You may be an American company, but that doesn't mean all of your investors will be in the United States. International shipping is costly, even for small items. Therefore, if you offer physical perks, be clear about whether you will allow international donor addresses. 
Yet, even if everything has to be shipped in the US, you are still left with a database of names and addresses, and some of them might have misprints or be incomplete.
Also, most campaigns offer more than one option. Then you have to remember what each person wanted.  What if it is lost or damaged in the mail? These are all reasons to consider digital incentives. For example, for a house flipping campaign you could record video footage about home design or repair. For a long-haul trucking company, you could offer PDFs with personal recommendations on what to see and do in certain cities you service. A nail salon could send digital coupons for a free month of manicure touch ups.
The options are endless, especially when you consider all the possibilities for digital gift cards.
Have a Backup Plan 
Regardless of how awesome your campaign is and how fabulous your incentives are, you need a backup plan.  Tons of great businesses fail to reach their crowdfunding goal each year. Even if you follow all of these tips, that is still a possibility. Especially in this time of economic uncertainty, you need a backup plan. 
If startup crowdfunding doesn't work out, or only partially works out, your next step will likely be a business loan.  There are a few options, but for startup business loans, you are likely going to be choosing between only a couple.  
Traditional Term Loans
These are the loans that you go to the bank to get.  As a business, your business credit score can help you get some types of funding even if your personal score isn't awesome.  That isn't necessarily the case with this type of funding however. 
With a traditional lender term loan, you are almost always going to have to give a personal guarantee.  This means they will check your personal credit.  If your personal credit score isn't in order, you will likely not get approval.
What kind of personal credit score do you need to have in order to qualify for a traditional term loan? If you have at least a 750 you are in pretty good shape. Sometimes you can get approval with a score of 700+, but the terms will not be as favorable. 
If you have really great business credit, your lender might be more inclined to be a little more flexible. However, your personal credit score will still weigh heavily on the terms and interest rate. 
Of all of the loan types, this is the hardest to get. It is usually worth the trouble though if possible, because it typically offers the best rates and terms. 
SBA Loans
 These are traditional bank loans, but they have a guarantee from the federal government. The Small Business Administration, or SBA, works with lenders to offer small businesses funding solutions that they may not be able to get otherwise for a number of reasons. Because of the government guarantee, lenders are able to relax a little on certain requirements. 
In fact, it is possible to get an SBA microloan with a personal credit score between 620 and 640. These are very small loans, up to $50,000.  They may require personal collateral as well. 
The trade-off with SBA loans is that the application progress is lengthy. There is a ton of red tape connected with these types of loans. 
Find out why so many companies use our proven methods to get business loans.
Bonus Tip: Go Ahead and Build Fundability While Working On Your Startup Crowdfunding Campaign
Here's a bonus for you.  Startup crowdfunding is just one of many business funding options.  The truth is, you are almost certainly going to need to use another option at some point.  While your startup crowdfunding campaign is going, regardless of how successful it seems to be, work on fundability.  This is the ability of your business to get funding.  Even if you meet your goal, you are likely to need financing at some point in the future.  By starting the work to make your business fundable, you help ensure you can get the financing your need to run and grow your business far into the future. 
Startup Crowdfunding:  It May Not Work, But These Tips Will Increase Your Chances
Startup crowdfunding is a legit option. However, it is impossible to tell if it will work or not.  There are some things to do to increase the probability of a successful campaign. Still, it is best to know your options in case it doesn't work. In the meantime, work on building fundability so that whatever type of funding you end up needing, you'll be more likely to get it.