Are there any small business startup loans for minorities out there? Absolutely! Financial institutions and government agencies are more committed than ever to trying to give everyone a fair shake when it comes to business loans and financing.
Whether yours is a woman-owned business or one of the many black-owned businesses out there, or you are a member of one or more other minority groups, there is funding out there.
Loan 1 – SBA Loan
The Small Business Administration is particularly committed to assisting minority-owned businesses in underdeveloped areas. And every SBA loan program will go beyond lending to minority business owners.
The SBA resource partner network includes SCORE business mentors, Small Business Development Centers (SBDCs), Women's Business Centers (WBCs), and Veterans Business Opportunity Centers (VBOCs). 
The idea is not just to give out money, but to help small businesses and minority small business owners spend that money wisely.
While these are not specifically for black businesses, women-owned business enterprises, etc, the 7(a) loan, the 504 loan, and SBA microloans and disaster loans are all fair game for minority business loans.
Use the 7(a) loan program to acquire or improve a small business. Or use the 504 to improve fixed assets like land and buildings. Plus microloans are a smaller amount of capital when you don't need as much money.
Some of the SBA small business loans are specifically designed for minority entrepreneurs and underserved communities alike. Why not try for SBA community advantage loans?
The SBA doesn't provide the funding; that's accomplished by a bank like Union Bank.
Financial assistance through the SBA does mean paperwork. It also means that it can take longer to get capital. Your credit score does not have to be perfect, but it can't be a bad credit score, either.
Loan 2 – Minority Business Development Agency
This agency works in partnership with the SBA. One of the ways they help minority business owners (albeit somewhat indirectly) is through business grants to various organizations.
Many of these are institutions of higher education. The MBDA also runs a number of American Indian Alaska Native / Native Hawaiian projects. These include boot camp programs for small business owners, coaching and mentoring, and access to working capital for financing.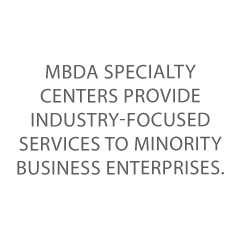 MBDA Specialty Centers provide industry-focused services to minority business enterprises. These include:
Advanced Manufacturing Centers provide targeted technical assistance for manufacturers that aim to employ new technologies to increase the number of "Made in America" products that can be sold domestically and globally.

Export Centers provide business development services to generate increased financing and contract opportunities and greater access to global markets.

Federal Procurement Center—this is the only MBDA Center solely focused on federal contracting. It connects minority business owners to procurement officials and prime contractors

.
MBDA Business Centers are available in many states. Texas, California, and New York all have more than one such center. 
At a Business Center, a minority-owned business seeking to penetrate new markets — domestic & global — and growing in size and scale, can access business experts.
Loan 3 – Business Consortium Fund
A minority business enterprise can get a Business Consortium Fund loan. But this minority business loan program is not available if an owner of a minority business has a past bankruptcy or tax lien.
However, they may qualify for more conventional small business loans. 
The Fund will also work with a minority business owner to get a senior loan, which can be a term loan. This funding runs from $100,000 to over $1.2 million. These minority business loans require a minimum credit score of 650. 
Their terms do not go above five years. But they may extend to seven years on a case-by-case basis. This funding can be used for expansion capital for organic growth or acquisitions, or permanent working capital. 
For these business loans, you will have to provide collateral and show business experience. 
To get business financing through them, you will need to provide your last two years of personal and business tax returns. For small business loans over $75,000, make that three years of tax returns.
Or a minority small business owner can take advantage of BCF Business and Financial Advisory Services. Their consulting services include but are not limited to the following:
Business plan preparation

Capital structure analysis

Small business economic development

Human resource management and administration (workforce development)

Insurance and risk management
Loan 4 – Community Development Financial Institutions Fund
A community development financial institution is a personal and/or business financing provider dedicated to expanding economic opportunity in lower-income communities. They do so by providing access to financial products and services. 
CDFIs can be banks, credit unions, loan funds, microloan funds, or venture capital providers. In particular, one of the ways they provide financing is to assist minority business owners in opening up new businesses.
This funding is a minority small business loan for a startup in all but names only, as it is technically for business owners (not strictly members of minorities) setting up shop in disadvantaged areas. 
For a lender to be able to avail itself of a CDFI's offerings, that lender must apply for CDFI or CDE Certification. With few exceptions, certification is the gateway to these programs.
Even large banks such as Santander, can get CDFI certification. An entrepreneur will know that a CDFI program is legitimate if the financing provider is certified.
To receive a certain grant of funding, a CDFI must demonstrate that it has a track record of providing various small business loan and other types of funding to members of minority communities, including not just racial minorities, but also the disabled population at large.
Loan 5 – Small Business Grant
There are a few places where you can get a small business grant for a minority business. One such place is the SBA. The SBA provides limited small business grants and grants to states and eligible community organizations to promote entrepreneurship.
You can get small business grants for scientific research and development work. But note that the SBA specifically states that they do not provide small business grants for starting and expanding a business. 
Another place to potentially find a grant is grants.gov. Keep in mind that these are Federal grants only, so check your state, city, and county websites as well. These may not even be all of the programs available through the Federal government, so also check USDA.gov. 
Also, the search function on grants.gov might not work precisely the way you would think. Entering a search term such as disabled can bring up programs for the disabled, as opposed to funding programs giving a preference to disabled applicants.
This is a form of funding that is always very competitive but not for an enormous amount of money. In general, this financing is good as a supplement to a minority business loan but not a good substitute for one.
Loan 6 – Business Line of Credit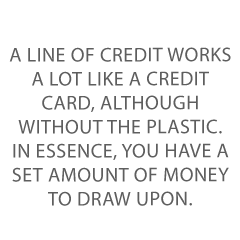 A line of credit works a lot like a credit card, although without the plastic. In essence, you have a set amount of money to draw upon. But unlike with, say term loans, you do not have to pay interest on the entire amount. You will only have to pay interest on the amount withdrawn.
This can make a line of credit superior to other minority business loans. But they can be more difficult to qualify for. However, online providers tend to have easier qualification requirements.
Consider a provider like Bluevine. At Bluevine, you can get a line of credit for up to $250,000. Currently, rates are as low as 6.2%. Get an approval decision in as little as five minutes.
Bluevine's minimum qualifications are as follows:
You will need to have a 625 or higher FICO score

Your business must be 24 months old or older

You will need to be bringing in at least $40,000 in monthly revenue

Your business must be operating or incorporated in an eligible US state (Nevada, North Dakota, and South Dakota businesses are not eligible)
What you will need to apply:
Basic details about you and your business

A bank connection or bank statements for the past three months

Your business must be in good standing
Bluevine also has a list of industries that are not eligible for its offerings. These include illegal gambling, political campaigns, and sellers of controlled substances. 
They include cannabis in their list—but if cannabis is legalized everywhere, this requirement could end up being relaxed by Bluevine.
Loan 7 – Business Credit Card
Yes, you can use a business credit card or card to get a business off the ground! 
Consider a provider like MasterCard. Mastercard has pledged $500 million to help close the racial wealth and opportunity gap for African American communities and businesses across America.
Currently, they offer a debit card, a prepaid credit card, and their World Elite Mastercard for Business.
They are also looking to provide grants, so check their website for details on eligibility and application deadline dates. 
Just like for business loans, you will (of course) have to pay back anything you put on a credit card. Also, the better your FICO score is, the better a business credit card you can get. 
Even without providing a personal guarantee, any bank that is also a business card issuer is going to want your Social Security number. This is a standard practice and required by Federal law.
Just make sure that you are not giving up a personal guarantee without knowing precisely what you are getting yourself into.
In general, credit cards are good for a lot of the peripherals of starting a business, from the purchase of laptops to designing a company logo to hiring an outside marketing team. Responsible credit card usage will help your business in the future, too.
Loan 8 – The Accion Opportunity Fund
Minority small business owners can get funding from Accion. The Accion Opportunity Fund is a financial support system that provides business owners with access to capital, networks, and coaching.
Ninety percent of Accion's clients are diverse. These business owners are women, people of color, and persons with low to moderate incomes. Accion helps women-owned businesses. 
Loan amounts run from $5,000 to $100,000. Their terms are either 12, 24, 36, or 60 months and no prepayment penalties. Currently, interest rates run from 5.99% to 17.99%. Your rate is dependent upon your credit and financial standing.
Accion offers more than just financing. They also offer mentoring, educational resources, coaching, and support networks.
And, when you repay your loan, Accion will reinvest that money into other small businesses. By taking out a loan, you not only allow your own business to thrive, but you also help support other small businesses owners in your community and beyond.
Because these loans are backed by American Express, once your loan is approved, you will receive ongoing updates to help you discover valuable resources from American Express. Get new business insights, expert advice, and notifications about upcoming events and offers.
Apply online, or over the phone (seven days a week) if you want support in English or Spanish. 
Loan 9 – Short Term Lending from OnDeck
Why not consider online lender OnDeck for short-term lending?
Online providers of business loans tend to have easier qualification requirements. Get from $5,000 up to $250,000 with a maximum repayment term of 24 months. 
Pay this form of funding back in weekly or daily installment payments. Whether installments are due every day or every week will depend on the amount of the loan and its length.
Paying back their loan is easy. They will simply deduct from your business banking account. 
There will be no hard pull on your personal credit. Their business loans are also a means for how to build business credit. 
Minority entrepreneurs can get a line of credit funded instantly and receive loan money within the same day. 
In order to qualify for OnDeck's offerings, you will need to have been in business for at least one year or more. Your personal credit score will have to be 625 or better. Also, your business will have to be bringing in at least $100,000 in annual revenue.
Furthermore, you will need to have a business checking account. 
There are no prepayment penalties. If you need to borrow again, your origination fee will be lower—as low as 0%. Also, when you renew, all remaining interest on the original loan is waived and you are issued a new loan. 
Takeaways
For business owners who are members of a minority group, there are multiple business lending options out there. You will likely do your best to combine a few of these options in order to maximize your amount on loan.
In particular, building business credit with corporate credit cards and lending will set up your business for future success from Day One. Financing a startup can be a snap.
Contact us today to discuss even more options and how concentrating on your business's Fundability™ will help you qualify for even more money at better terms and rates. We can help.