This has been a year to remember for sure.  With the holidays, small business lending companies are coming out of the woodwork to offer the gift of small business loans.  But, which ones are a real gift, and which ones are a trap?  How do you find the best options for you?  Do you even qualify?  
Unwrap the Gift Small Business Lending Companies are Offering
You can't just grab any gift under the tree.  You have to choose the one that is exactly right for you.  The problem with small business lending companies is, they don't put the name of your business on the ones that will work best for you.  Nefarious companies want you to take the first small business loan you see, and hopefully one that will be very profitable for them. 
There are some small business lenders however, that will work with you to find the perfect option for you and them.  That's who you want. 
How Can I Get Small Business Loans? 
Before you can choose the right loan for you, you need to know where you stand.  The truth is, you may not qualify for what would otherwise be the best option out there.  You have to choose the loan with the best terms and rates for which you qualify.  That means knowing where you stand, and knowing how to improve your position if needed. 
4 Cs of SMB Lending
So, what are SMB lenders looking for when it comes to handing out funds?  Well, some will lend to anyone.  That's not what you want. You want a lender that will fairly assess your ability to repay your loan, and offer terms in accordance with that ability.  What are they looking for? 
Cash Flow
If you do not have cash, you can't pay your bills.  That includes loans.  Lenders will want to see that you have enough cash coming in each month to cover your obligations. 
Collateral
Most small business loans require some sort of security, or collateral.  It could be the business itself, or it may be equipment or a building you are trying to purchase. Whatever the case, lenders like to know there is some asset there to back up the loan. 
Credit- Personal
With most loans, even business loans, solid personal credit is vital.  There are some types of financing and non-traditional loans you can get based on the credit of your business alone.  However, traditional business loans will definitely be easier to get with a strong personal credit score. 
Credit- Business
This is where you start shaking gifts.  Business credit can make or break your ability to get a small business loan.  Small business lenders are looking for a business that can handle its debt based on its profits. The problem is, many business owners do not understand business credit, or how to get it. 
How to Build Business Credit
Business credit is credit based on the merits of your business alone.  It is totally separate from the owner's consumer credit report. However, it does not build on its own, like consumer credit does.  You have to intentionally set your business up in the right way to establish and build business credit.  Here's how. 
Separation from Owner
Your business needs to stand alone as a separate entity from you, the owner.  The start of this is pretty simple.  You just need to make sure you have separate business contact information.  Do not use your personal phone number, address, or email address as your business contact information.  
Then, you need to get an EIN.  This is an identifying number for your business that acts the same as your SSN does for you personally.  You can get one for free from the IRS.
After that, you need to incorporate.  For the purposes of setting your business up to be separate, you can choose either a corporation, S-corp, or LLC.  However, you may need to choose one over the other for liability protection needs or budget purposes.  That is best discussed with an attorney or tax professional. 
You'll need a DUNS number next.  Get this for free on the Dun & Bradstreet website. 
Lastly, a separate, dedicated business bank account is essential.  Many lenders consider the date the account was opened to be the start of business.  They also may want to see a certain minimum average balance.  In addition, you can't get a merchant account without one anyway, which means you can't accept credit cards payments.  This is bad, as studies show people tend to spend more when they can use a credit card. 
Of course, there are many other things that go into overall fundability, but if your business is not set up this way, there is no way to build separate business credit. 
Starter Vendor Credit
After your business is set up at a separate entity, you need to get accounts reporting to your newly established business credit file.  This is often easier said than done for a few reasons.  First, if you don't have business credit, it's the same as bad credit to many lenders. It's a vicious cycle.  How do you get credit without having credit? However, the other side of this is you have to not only get accounts, but you need accounts to report to your business credit file.  There are not a lot of companies that will do this. 
Starter vendors are vendors that will extend net terms on invoices without a credit check, and then report your payments on those invoices to the business credit reporting agencies.  The thing is, it's pretty hard to find a complete list of enough of these types of lenders to build business credit fast.  It helps to work with a professional. 
What Are the Best Small Business Lending Companies and Loans?
The best small business loans are those with the best terms that you qualify to get. This can take some research.  However, here are two options that are a great starting point. 
SBA Loans
SBA small business lenders are a great option for those that have at least decent personal credit. There are many options.  Look for small business lending companies that partner with the Small Business Administration to apply for these loans.  
Credit Line Hybrid
A credit line hybrid is unsecured, rotating financing for your business.  It allows you to fund your business without putting up collateral, and you only pay back what you use.  
Your personal credit score should be at least 700.  In addition, you can't have any liens, judgments, bankruptcies or late payments.  Furthermore, in the past 6 months you should have less than 5 credit inquiries, and you should have less than a 45% balance on all business and personal credit cards.  It's also preferred that you have established business credit as well as personal credit. 
If you do not meet all of the requirements, it's okay. You can take on a credit partner that meets each of these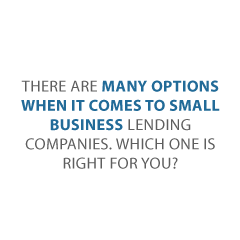 requirements.  Many business owners work with a friend or relative to fund their business.  If a relative or a friend meets all of these requirements, they can partner with you to allow you to tap into their credit to access funding. 
The process is pretty fast, but this is another time when it's very beneficial to have a qualified expert to walk you through it.  
This type of financing also helps build business credit. 
Conclusion
It can be tricky to find the best small business lending companies and small business loans for your specific business.  However, setting up your business to build business credit and knowing what to look for are both great places to start.  Start shaking the gift of small business loans and find out which lenders have the best options for your business today.