Get Business Money Today – Before You Need It
Are you looking for business money today?
In lending most applications get a denial when the applicant is in need of money the most.
Lenders lend based on risk.  And the better a business is doing, the lower the risk it is from a lender's prospective.
Still most business owners don't look for money until they actively, and sometimes desperately need it.
Maybe it is an AC unit going out or freezer breaking. But something usually happens that costs much more than what is on hand.
Either way, you're not going to a lender with a position of strength.
https://creditsuite.wistia.com/medias/yskrbo4iqw?embedType=async&videoFoam=true&videoWidth=640
Get Your Business Ready to Weather the Bad Times
This is not the time that most business owners want to be looking for money.  Instead, even major problems can be fixed without even a little hiccup if money is sitting and waiting.
This is one of many reasons business owners should investigate and get business credit and funding before they really need it.
You can grow this credit to even greater amounts over time, and it can often be secured without a personal guarantee.
Now when a business owner runs into a BIG problem, they have the financial solution available.
Look into business credit and funding today for your business.  Major problems can quickly occur, so make sure you are financially ready.
Looking Ahead is Always Going to be a Smart Idea
Because none of us can ever know exactly what will happen tomorrow, building business credit will make it considerably easier to get money when you really need it. In a way, it is a little bit like buying insurance. You are preparing your business for an emergency situation. And by doing a little of the heavy lifting now (much like paying a little into insurance on a regular basis), you can save big headaches and really heavy lifting later.
Get Business Money Today – Some Takeaways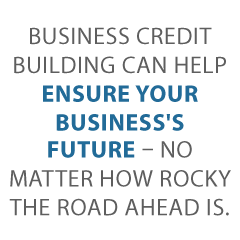 You never, ever know when there might be a crisis in your business. Crops can fail, and suppliers can go out of business. Maybe there's a recession, or the dollar loses value. There are tons of ways you can experience a "rainy day" in the business world. But whatever the crisis is, it will nearly always have one universal solution.
Money.
Getting business money before you need it is a smart, and prudent means of doing business.
Business credit building can help ensure your business's future – no matter how rocky the road ahead is.