PayPal Working Capital is a lending company in the online space. They provide small business loans. We fearlessly look at the specifics and drill down into the details. This review was updated on May 27, 2020.
PayPal Working Capital Review: Background
PayPal Working Capital is located online here: https://www.paypal.com/webapps/workingcapital/. Their physical address is:
2211 North First Street
San Jose, California 95131.
San Jose is the home of PayPal Working Capital's corporate headquarters.
You can call them at: (888) 221-1161. Their contact page is here: https://www.paypal.com/us/smarthelp/contact-us. They have been in business since 1998 but that is actually how long PayPal itself has been in business.
Loans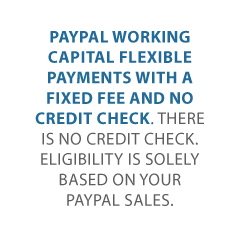 They offer flexible payments with a fixed fee and no credit check.
The maximum loan amount can be up to 30% of annual PayPal sales. Your business can get funding in minutes and there is no early payment penalty.
You need to have a PayPal Business or Premier account for 3 months or more. You also have to process a least $20,000 in annual PayPal sales if you have a Premier PayPal account. Or you need at least $15,000 in annual PayPal sales if you have a Business PayPal account.
And you have to pay off any existing PayPal Working Capital loan.
There is no credit check. Eligibility is solely based on your PayPal sales.
Fees
Automatic repayments are deducted as a percentage of each PayPal sale. The fee is based on your business's PayPal sales history, your loan amount, and the repayment percentage chosen. A higher payment percentage will lower the fee.
You must pay at least 5% back every 90 days.
Note: PayPal will monitor accounts for unexpected drops in PayPal sales volume. Hence your loan will be in default if you move your sales away from PayPal to avoid repayment.
PayPal Working Capital Review: Advantages
Advantages include that the payments are deducted from sales so are easier to make and not miss. Plus few American-based online lenders seem to offer funding which is available outside the United States. PayPal does a lot of volume and is accepted by numerous merchants.
The annual sales requirements are pretty low.
PayPal Working Capital Review: Disadvantages
Disadvantages are that the whole system is predicated upon your customers using PayPal. If you have customers who do not, then that will make it harder to get funding this way. This is so even with good credit, time in business, and annual revenues. In addition, if yours is a business which receives many of its revenues through Amazon (such as a bookseller), this is problematic.
This is because Amazon does not take PayPal. Hence that will artificially decrease your revenues as perceived by PayPal Working Capital. It will also make it far less convenient to pay back your loan.

Credit Line Hybrid Financing Get up to $150,000 in financing so your business can thrive
PayPal Working Capital Review: The Big Picture
The companies which will do the best with PayPal Working Capital are the ones which make a large volume of their sales via PayPal. If your business does not, then PayPal Working Capital will not be for you.
And finally, as with every other lending program, whether online or offline, remember to read the fine print and do the math. Go over the details with a fine-toothed comb, and decide whether this option will be good for you and your company.
In addition, consider alternative financing options that go beyond lending, including building business credit, in order to best decide how to get the money you need to help your business grow.
An Alternative: Business Credit Building
Business credit is an asset which can help your company in years to come.
The Benefits
Because business credit is separate from consumer, it helps to safeguard an entrepreneur's personal assets, in the event of legal action or business bankruptcy. Also, with two distinct credit scores, a small business owner can get two different cards from the same merchant. This effectively doubles buying power.
Another advantage is that even new ventures can do this. Heading to a bank for a business loan can be a recipe for disappointment. But building corporate credit, when done properly, is a plan for success.
Consumer credit scores depend upon payments but also additional elements like credit utilization percentages. But for company credit, the scores really just hinge on whether a corporation pays its debts promptly.
The Process
Growing company credit is a process, and it does not occur without effort. A small business needs to proactively work to establish business credit. Nevertheless, it can be done readily and quickly, and it is much more rapid than establishing individual credit scores. Merchants are a big aspect of this process.
Carrying out the steps out of order will cause repetitive rejections. Nobody can start at the top with business credit. For instance, you can't start with store or cash credit from your bank. If you do you'll get a denial 100% of the time.
Business Credibility
A small business needs to be reputable to loan providers and merchants. Due to this fact, a business will need a professional-looking website and e-mail address, with site hosting from a company like GoDaddy. In addition business telephone and fax numbers should have a listing on ListYourself.net.
In addition the company telephone number should be toll-free (800 exchange or similar).
A corporation will also need a bank account devoted purely to it, and it needs to have all of the licenses necessary for running. These licenses all must be in the correct, accurate name of the small business, with the same small business address and phone numbers. Note that this means not just state licenses, but possibly also city licenses.
Dealing with the IRS
Visit the Internal Revenue Service website and get an EIN for the business. They're totally free. Pick a business entity like corporation, LLC, etc. A business can get started as a sole proprietor but will most likely want to change to a variety of corporation or partnership to decrease risk and make best use of tax benefits.
A business entity will matter when it concerns tax obligations and liability in the event of litigation. A sole proprietorship means the owner is it when it comes to liability and tax obligations. Nobody else is responsible.
If you are a sole proprietor at least make sure to file for a DBA. If you do not, then your personal name is the same as the corporate name. Therefore, you can wind up being personally responsible for all corporate debts.
Also, per the Internal Revenue Service, with this structure there is a 1 in 7 probability of an IRS audit. There is a 1 in 50 probability for corporations! Steer clear of confusion and drastically lower the chances of an Internal Revenue Service audit simultaneously.
But only look at any DBA filing as a steppingstone to incorporating, which is ideal for business credit building.


Credit Line Hybrid Financing Get up to $150,000 in financing so your business can thrive
Setting off the Business Credit Reporting Process
Start at the D&B website and get a cost-free DUNS number. A DUNS number is how D&B gets a corporation into their system, to produce a PAYDEX score. If there is no DUNS number, then there is no record and no PAYDEX score.
Once in D&B's system, search Equifax and Experian's websites for the small business. You can do this at https://www.creditsuite.com/reports/. If there is a record with them, check it for correctness and completeness. If there are no records with them, go to the next step in the process. By doing so, Experian and Equifax will have something to report on.
Trade Lines
First you should build trade lines that report. This is also known as vendor accounts. Then you'll have an established credit profile, and you'll get a business credit score.
And with an established business credit profile and score you can start getting revolving store and cash credit.
These sorts of accounts tend to be for the things bought all the time, like shipping boxes, outdoor work wear, ink and toner, and office furniture.
But first of all, what is trade credit? These trade lines are credit issuers who will give you starter credit when you have none now. Terms are generally Net 30, instead of revolving.
Therefore, if you get an approval for $1,000 in vendor credit and use all of it, you must pay that money back in a set term, like within 30 days on a Net 30 account.
Details
Net 30 accounts need to be paid in full within 30 days. 60 accounts must be paid completely within 60 days. Compared to with revolving accounts, you have a set time when you must pay back what you borrowed or the credit you made use of.
To kick off your business credit profile the right way, you should get approval for vendor accounts that report to the business credit reporting agencies. As soon as that's done, you can then make use of the credit.
Then repay what you used, and the account is on report to Dun & Bradstreet, Experian, or Equifax.
Not every vendor can help in the same way true starter credit can. These are merchants that will grant an approval with very little effort. You also want them to be reporting to one or more of the big three CRAs: Dun & Bradstreet, Equifax, and Experian.
Revolving Store Credit
Once there are 3 or more vendor trade accounts reporting to at least one of the CRAs, move to revolving store credit. These are service providers such as Office Depot and Staples.
Use the corporation's EIN on these credit applications.
Fleet Credit
Are there more accounts reporting? Then progress to fleet credit. These are service providers such as BP and Conoco. Use this credit to buy fuel, and to repair and maintain vehicles. Make sure to apply using the business's EIN.


Credit Line Hybrid Financing Get up to $150,000 in financing so your business can thrive
Cash Credit
Have you been responsibly managing the credit you've gotten up to this point? Then progress to more universal cash credit. These are companies like Visa and MasterCard. Keep your SSN off these applications; use your EIN instead.
These are commonly MasterCard credit cards. If you have more trade accounts reporting, then these are feasible.
Monitor Your Business Credit
Know what is happening with your credit. Make sure it is being reported and fix any inaccuracies as soon as possible. Get in the habit of checking credit reports. Dig into the specifics, not just the scores.
We can help you monitor business credit at Experian and D&B for 90% less. Update the info if there are mistakes or the relevant information is incomplete.
Challenging Inaccuracies
So, what's all this monitoring for? It's to contest any problems in your records. Mistakes in your credit report(s) can be corrected. But the CRAs generally want you to dispute in a particular way.
Disputing credit report inaccuracies commonly means you mail a paper letter with duplicates of any evidence of payment with it. These are documents like receipts and cancelled checks. Never mail the original copies. Always send copies and retain the originals.
Disputing credit report inaccuracies also means you specifically spell out any charges you contest. Make your dispute letter as clear as possible. Be specific about the issues with your report. Use certified mail so that you will have proof that you mailed in your dispute.
A Word about Building Business Credit
Always use credit responsibly! Never borrow beyond what you can pay back. Keep track of balances and deadlines for payments. Paying off punctually and in full will do more to increase business credit scores than pretty much anything else.
Establishing corporate credit pays off. Excellent business credit scores help a business get loans. Your lending institution knows the small business can pay its financial obligations. They understand the business is authentic. The small business's EIN attaches to high scores, and credit issuers won't feel the need to request a personal guarantee.
Today, we want to hear from our audience! Share your voice with us about your experiences with online lenders. And we'd love your opinion of our PayPal Working Capital review.
Summary
Reviewer
Janet Gershen-Siegel
Review Date
Reviewed Item
PayPal Working Capital
Author Rating
Product Name
PayPal Working Capital
Price
USD 0
Product Availability
Available in Stock