A Comprehensive Guide for How to Get Loans for Women to Start Business
Research shows that forty percent of brand-new business owners in the United States are ladies. Furthermore, the variety of businesses owned by women is growing at twice the rate of those possessed by males, according to Kauffman. You may assume this indicates that there are more loans for women to start business. That isn't the situation however.
As a matter of fact, according to research done by Fundera, 3 out of 4 female local business owners do not even apply for company financing. Those that do are requesting much less than their male counterparts.
Are There Business Loans Just for Women?
Not really.  There are not a lot of specific business loans for women to start business.  There are, however, a ton of resources to help women find loans. Organizations exists that work toward helping women business owners access all their resources and find the funding they need. Also, some loans work better for women business owners than others, and these organizations can help you find the best ones for you.
According to a survey by the Reserve bank, women owned businesses have better chances of getting funding at smaller banks. As a matter of fact, 67% of loans for women to start business are authorized at smaller financial institutions. This compares to only 50% at large banks. Those that have loans with smaller banks are generally more satisfied with the service they receive.
What's that mean?  It's probably best for female local business owners to stick to smaller, community banks.  There are other options though.
Pack Your Tool Bag
The key is to have a stock of tools you can use to help you find loans for women to start business.  These are sources and resources that every small company proprietor needs in their arsenal to enhance their chances of funding approval, especially women.  Some are even designed specifically to help women, though not all offer funding.
Those that do not, however, definitely know how to help you find and get the funding your need.
The Everyday Essential: Small Business Administration
While the SBA exists for all small company owners, their Office of Women's Business Ownership exists to help women local business owner particularly. According to SBA.gov, The Office of Women's Business Ownership's is here to enable and empower business owners that are women via advocacy, outreach, and education as well as assistance.
They work with firms to make sure the best resources are available to women business owners at all stages. Whether starting a business, looking for a company financing, enhancing a currently developed business, or trying to find government agreements, their mission is to support the female company owner. If that's you, go here first.
National Female's Service Council
The NWBC is a federal advising council. It works as a resource of guidance to the government on women's organization problems. The objective is to encourage campaigns, programs, and policies to sustain females in service at all phases, from startup to growth, and hopefully to expansion and sustainability.
Other Tools to Consider
Along with those firms listed above, these agencies provide support to women owned businesses.
Association of Women's Business Centers
The AWBC runs a network of business centers geared toward women.  These centers labor to help women succeed by offering training, business development, financing, and mentoring opportunities.
National Association for Female Executives
This organization, also known as NAFE, sponsors events, provides training, and offers other resources to help female business owners achieve success.
National Association of Women Business Owners
The NAWBO works across the country to offer training, events, and other resources to women owned businesses nationwide.
With more than 300 chapters and 10,000 volunteers, this is the country's largest network of expert business mentors that volunteer their time.  They match female business owners with mentors, or they can participate in a workshop to help them learn what they need to know to be successful.
But What About the Loans for Women to Start Business?
Most females carry a bag of some sort, and women business owners need a bag of tricks and tools to help them get the funding they need.  It's not all black and white, and if the statistics listed earlier are any indication, it isn't always fair either.  At some point, all businesses need financing, and these tools are designed to help level the playing field with it comes to getting loans for women to start business.
Make use of these resources for assistance and education, and get prepared for what the lenders will want to see.
What Other Tricks Do You Need in Your Bag to Get a Business Loan?
Now, as for traditional business finance, the best thing to do is be prepared. A lot of loan providers need to see the following:
– Company financial statements or income tax return for the past 3 years.
– Personal Income tax return for the past 3 years.
– A professional business strategy.
– They will certainly run a credit history check, and though the high 600s is standard, minimal credit rating varies by lender.
– Various other info at the discretion of the lender.
– Constantly ask about the application process on the front end so you can have any type of extra documents prepared.
The more of this you have prepped to go, the faster and smoother the process should run. This info is typical of what a standard loan provider may ask for. There are non-traditional lenders that may call for more, or less, info. You would certainly be hard pushed to find a typical lender that does not need a personal credit history check, but there are other choices.
The Secret Weapon: Business Credit
Business credit is a vital secret weapon to have in your bag of tools. There are choices for funding that count on your business credit rating as opposed to your individual credit score. What is a business credit score? It is like your personal credit, except it is based only on the credit history of your company. It is not influenced by your individual credit report.
Also, your personal history is not impacted by anything that is reporting on your business credit history.
This is beneficial for a few reasons. First, you can access funding for your business despite an inadequate credit rating. That one is obvious. What some do not recognize is, even if you pay on time, utilizing your personal credit history for company purchases can be detrimental.
That is because organization transactions are, naturally, big. Individual credit limits are typically much lower than company credit limits. Due to this, business transactions can max out individual credit scores rapidly. Consistently bringing the balances close to your credit limits negatively impacts your debt- to- credit ratio. That, in turn, lowers your credit score even if you are making consistent, on-time payments.
How to Get Business Credit: The Secret to the Weapon
Business credit opens doors to various other choices if the conventional route isn't working out for some reason. If you have a good company credit report, your business is fundable.
The very first step in developing a business credit report is to ensure your company is recognizable as an entity separate from yourself. It needs to stand on its very own. You have to incorporate instead of operating as a sole proprietorship or partnership. You can organize as an s-corp, LLC, or corporation.
They each have their own advantages and costs, but for the purposes of establishing business credit, they work similarly.
Next, you will need to take a few other actions to lay the structure for a business credit rating.
– Obtain a separate company address and also telephone number. Ensure the contact number is via a toll-free exchange, and list both in the directories under the business name.
– Get an EIN. This is a number that identifies your business so you do not need to connect it with your Social Security Number. Obtain one completely free at IRS.gov.
– Get a DUNS number from Dun & Bradstreet. It's cost-free on their web site, but beware. They will attempt to offer you a bunch of things you do not require. Put on your blinders and power through. All you need is the free number.
– Open a specialized company checking account. Take care to run all organization transactions through this account.
– Set up a professional web site and also committed business e-mail address. The email address needs to have the same URL as the website, and it must not be from a cost-free e-mail service. Gmail and Yahoo will not work right here.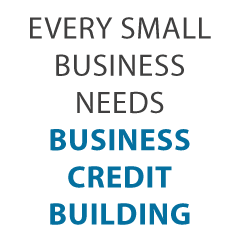 Forging the Weapon
Once you have the foundation for a business credit report, you can begin forging your business credit score. This is performed in layers, or tiers. For example, the initial tier is the vendor credit tier. This is the beginning point because these vendors will extend net 30 terms without a credit score.
Then, they will report your payments to the business credit reporting agencies. This is exactly how you start to construct a company credit score without involving your personal credit. By applying with your EIN as opposed to your social security number, you keep your personal name out of the formula entirely.
How do you find these starter vendors?  There are loads of vendors that will work with you in this tier. A few of the easiest to get started with are here. They each offer products that pretty much any business can use on a regular basis, so it's simple to open an account and begin doing business with them.
After you have 5 or so accounts reporting from the vendor credit tier, you can apply for business credit cards from the retail credit tier. These are store cards from retailers such as Best Buy, Amazon, and Office Depot.
Get 10 or more of these reporting and you can apply to cards in the fleet credit tier. Cards from companies like Fuelman and Shell are in this tier. They can be used for automobile maintenance and gasoline purchases.
After that comes the cash credit tier. Once you have enough accounts reporting on time payments from these three tiers, you can apply for general business cards from companies like MasterCard, Visa, and American Express. At this point, your business credit is pretty well established, and it is not attached to your personal credit in any way.
Wielding the Weapon
So, say you have used every tool in your box and you still come up short.  What then?  That's when you whip out this secret weapon you forged known as business credit.  If you have followed the steps properly and worked through all the tiers, you have business credit cards you can use to fund your business. You also now have other options.
You can use that business credit to help improve terms and interest rates on traditional loans.  They may still look at business credit, but stellar business credit can only help, not hurt, when it comes to loans for women to start business.
In addition, a strong business credit score can help you out when it comes to loans from non-traditional lenders.   They can help you with approval and improve your terms and rates.  Sometimes alternative lenders will even accept a business score in place of a personal credit score.
Wield Your Weapon Wisely
Even though loans for women to start business specifically are not really a thing, there are options to make the process easier women.  A lot of resources are available to help women business owners be successful and find the funding they need.  In addition, the challenges female business owners face can be mitigated by solid preparation and education.
Having a strong business credit score is important too. This will open up a world of funding options that would not be available otherwise. Business credit cards and products from non-traditional lenders are a valid option if you find yourself facing issues. Do not be afraid to jump into the fire and forge that business credit weapon.
Once you have it, do not be afraid to use it.  Not only can it tear down your funding foes, but it can also serve as a key to open the doors to the kingdom.