Note: our Lending Club review was updated in December of 2021.
Phenomenal or Painful? Our Lending Club Review Helps You Decide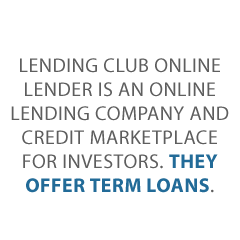 Lending Club online lender is an online lending company and credit marketplace for investors. They offer term loans. We look at the specifics and drill down into the details in this Lending Club review.
Lending Club: Background
Lending Club is located online here: https://www.lendingclub.com/. Their physical address is:
Dept. 34268
P.O. Box 39000
San Francisco, CA 94139.
You can call them at: (888) 596-3157. Their contact page is here: https://www.lendingclub.com/company/contact-us?first=true. You can also email them via their contact form, here: https://help.lendingclub.com/hc/en-us/requests/new?ticket_form_id=134447. They have been in business since 2007.
Lending Club works as a kind of credit marketplace. Investors can place as little as an initial deposit of one cent into an account and then invest in a variety of loans. The rate of return for investors historically has averaged between 4.95% and 7.10%.
Demolish your funding problems with 27 killer ways to get cash for your business.
Term Loans
You can get business loans up to $500,000. Their loan terms range from one to five years. Your company's annual revenue has to be $50,000 or more. Your company has to be in business for 12 months or more. And you must own at least 20% of the business.
Demolish your funding problems with 27 killer ways to get cash for your business.
Fees
Lending Club has an origination fee of 3% – 6%.
Advantages
Advantages are that the annual revenue and time in business requirements are not too high.
Lending Club: Disadvantages
Disadvantages include their high annualized rates.
Takeaways
Companies that will do the best with Lending Club are captained by entrepreneurs who can pay back their debts on time or early. These companies need to have some history but they do not have to be runaway successes.
For companies run by entrepreneurs who cannot pay their debts on time, this lender will not be as good a choice as building business credit or getting unsecured business financing or even cash flow financing.
Lending Club: A Final Word
And finally, as with every other lending program, whether online or offline, remember to always read the fine print and do the math yourself. Be sure to go over the details with a fine-toothed comb, and then decide whether this option will be good for you and your company.
In addition, consider alternative financing options that go beyond lending. And that includes building business credit. And you'll be able to best decide how to get the money you need to help your business grow.
Today, we want to hear from our audience! Share your voice with us about your experiences with online lenders.