Inventory loans are short term loans that business owners can use to purchase inventory.  The inventory is the security for the loan.  By taking out this type of loan, a business can stay ahead of demand.  It also allows for taking advantage of special pricing, thus increasing profit. 
What is Inventory Financing, and Why are Inventory Loans Not Always a Sure Thing?
What is inventory  financing?  Investopedia defines it as: 
"… a revolving line of credit or a short-term loan that is acquired by a company so it can purchase products for sale later. The products serve as the collateral for the loan."
These types of loans are a type of inventory financing.  Seeing as these are, at their core, secured loans, it stands to reason that they are easier to get than unsecured loans.  However, that is not always the case. 
Why Small Business Inventory Loans are Hard to Get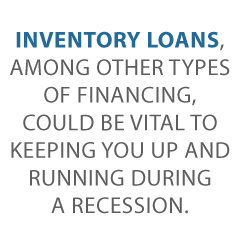 The idea of inventory as collateral for the financing used to buy it sounds simple enough.  However, after the hard economic downturn of 2008, lenders are much stingier with this type of small business financing. 
During that time, it was painfully evident that, if your loan was secured by non-staple items, there was about to be trouble.  
Non-necessities do not sell well in a recession.  If you can't sell, the bank cannot either. That means the security is pretty much worthless. 
Another issue is that inventory depreciates.  As security, it's basically on the clock.  If it depreciates to the point of not being worth the amount of the loan, it is worthless as security.  There is also the idea that it may be a fad that is going to quickly go out of style, also not selling. 
These are just a few of the reasons lenders are reluctant to approve loans secured by inventory. Typically, they approve these types of loans on a case by case basis, taking all of these factors into account. Even when they grant approval, it is typically for only around 50% of the cost.
Ways to Use Inventory Loans
There are some things you can purchase with small business inventory loans that may surprise you.  For example: 
If you run a dining establishment, you can use inventory loans to buy flatware and linens in addition to food supplies. 

If you run a salon, you can use this type of financing for towels and supplies as well as items to sell. 

A clothing store may use the funds for shoes, accessories, and other items. 
The point is, funds for these loans can purchase items that are not specifically inventory in terms of things that you sell to the public.  They can also purchase supplies for any services you may offer. 
Other Options for Inventory Loans
How do you fill in the gap for the other 50% of inventory costs? Further, how can you finance inventory if you cannot get any type of funding at all?  There are some other options. 
Inventory Loans: Credit Line Hybrid
A credit line hybrid is essentially an unsecured line of credit.  It allows you to fund your business without putting up collateral, and you only pay back what you use.  The funds can be used for many things, including inventory financing. 
 It's super easy to qualify.  You need a personal credit score of at least 700, and you can't have any liens, judgments, bankruptcies or late payments.  Furthermore, in the past 6 months you should have less than 4 credit inquiries, and you should have less than a 45% balance on all business and personal credit cards.  It's also preferred that you have established business credit as well as personal credit.
I know, that doesn't sound all that easy.  Here's the catch.  If you do not meet all of the requirements, it's okay. You can take on a credit partner that meets each of these requirements.  Many business owners work with a friend or relative to fund their business.  If a relative or a friend meets all of these requirements, they can partner with you to allow you to tap into their credit to access funding. 
Credit Line Hybrid vs. Inventory Loans
There are many benefits to using a credit line hybrid.  First, it is unsecured, meaning you do not have to have any collateral to put up.  Next, this is no-doc funding.  That means you do not have to provide any bank statements or financials.  
In addition, you often can get interest rates as low as 0% for the first few months, allowing you to put that savings back into your business. 
Here is another benefit of the credit line hybrid.  With the approval for multiple credit cards, competition is created.  This makes it easier, and likely even if you handle the credit responsibly, that you can get interest rates lowered and limits raised every few months. The process is generally quick, especially with a qualified expert to walk you through it. 
Inventory Loans: Alternative Lending
Alternative lenders generally operate online.  They tend to reduce risk by increasing interest rates rather than relying completely on credit information.  This means that they can be an option for those businesses and owners that either have bad credit or have not yet built strong enough credit to qualify for financing with traditional lenders. Here are a few options. 
Fundbox offers a line of credit rather than a loan, but it is a great funding option because there is no minimum credit score requirement. 
They offer an automated process that is super-fast. Repayments are automatic, meaning they draft them electronically, and they occur on a weekly basis.  One thing to remember is that you could have a repayment as high as 5 to 7% of the amount you have drawn currently, as the repayment period is comparatively short. 
This means you need to be sure you have enough funds in whatever account you connect them to so that it can cover your payment each week.
Upstart
Upstart is an online lender that uses a completely innovative platform for loans.  The company itself questions the ability of financial information and FICO on their own to truly determine the risk of lending to a specific borrower.  They choose to use a combination of artificial intelligence (AI) and machine learning to gather alternative data instead.  They then use this data to help them make credit decisions.
This alternative data can include such things as mobile phone bills, rent, deposits, withdrawals, and even other information less directly tied to finances.  The software they use learns and improves on its own. You can use their online quote tool to play with different amounts and terms to see the various interest rate possibilities. 
Typically, business loans are available up to $50,000.  Interest rates vary greatly, ranging from 7.5% to 35.99%.  Repayment terms can be either 3 -year or 5-year. 
Fora Financial
Founded in 2008 by college roommates, online lender Fora Financial now funds more than $1.3 million in working capital around the United States. There is no minimum credit score, and there is an early repayment discount if you qualify.
OnDeck
Obtaining financing from OnDeck is quick and easy. First, you apply online and receive your decision once application processing is complete. If you receive approval, your loan funds will go directly to your bank account. 
Bond Street
Offering term loans of up to $1 million, Bond Street terms are for up to 1 to 3 years. They will ask for both EIN and SSN.
Lending Club
Popular online lender Lending Club offers term loans. Business loans go up to $300,000 and terms from 1 to 5 years are available.
Quarter Spot
Quarter Spot is an online lender that offers short term loans up to $150,000. The terms are 9 to 18 months. 
Rapid Advance
Rapid Advance offers standard, select, and preferred loans. For standard loans, amounts up to $1 million are available. Their terms are 4 to 12 months.
Kiva 
Kiva is an online lender that is a little different. For example, the interest rate is 0%, so even though you have to pay it back it is absolutely free money. They don't even check your credit. However, there is one catch.  You have to get at least 5 family members or friends to invest in your business. In addition, you have to give a $25 loan to another business on the platform. It's like a crowdfunding, 0% interest loan.
Accion 
If your personal credit is okay, Accion may be a good fit for inventory financing. It is a microlender, a nonprofit, that offers installment loans to both startups and already existing businesses. You don't have to already be in business, but if you are not, you must have less than $500 in past due debt. In addition, your business needs to be home or incubator based. 
Credibly 
Credibly is also a good option if you are already generating some revenue. They offer short term loans for both business expansion and working capital. 
Details related to loan amounts, eligibility requirements, and interest rates change frequently, so it's best to get that information from the lender's website directly.  However, many of these either do not check credit or will work with a credit score of less than 600.  Though interest rates are higher than with traditional lenders, they often offer options where there seem to be none. 
Inventory Loans: Credit Cards
In a pinch, you can handle inventory financing with credit cards.  If you pay attention, you can get good introductory rates and rewards.  However, you have to pay attention so you don't get stuck with high rates once the introductory rates are over.  A better bet is the credit line hybrid, because you can take advantage of all the benefits with an expert to walk you through the process and make sure nothing is missed. 
Inventory Loans: Merchant Cash Advance
In some situations, this can be an option for inventory financing.   This is how it works.  If you take credit card payments, you can get financing based on the average of daily credit cards sales.  Then, payment is taken from future sales.  
The thing is, if you are in a recession, credit cards sales may not be that great, and future sales may not be solid.  However, it is an option that bears mentioning.
Inventory Loans: Are They Right for Your Business? 
The fact is, every business is likely to need some type of inventory financing in the course of their business. The problem comes when lenders envision large amounts of inventory sitting in a warehouse not selling.  If it's not selling, then the business isn't making money and the lender is not getting paid.  
If you sell staples that are needed in most any type of economy, small business inventory loans can be a good option.  With strong fundability, you may not have any issue getting loans secured by inventory.  However, this is not the case with many businesses.  A lot of business owners find their Fundability is not up to par, and they didn't even realize it. 
Couple that with the already unsure nature of getting approved for business loans, and it may be best to go with an alternative. 
While alternative loans are a viable option, the first stop for most business owners should be the credit line hybrid.  It is available to absolutely anyone.  Even if your own credit is not great, the option to take on a credit partner can make this funding source an option for almost anyone.  
The best part is, using the credit line hybrid helps to build the fundability of your business.  This is because the experts that walk you through the process help ensure that, not only get the funds you need right now, but also that your business is set up and prepared to qualify for any type of funding you may need in the future. 
All businesses need inventory funding.  If inventory loans won't work, there are other options.