Get an Unsecured Business Loan with Bad Credit and Keep Your Company Afloat
You may think you can't get an unsecured business loan with bad credit. But you can! It's all about how you understand what makes lenders and credit issuers want to, well, trust you.
Bad credit does not have to be a dead weight around your small business's metaphorical neck. But it does make it harder to get a business loan.
See it from a Lender's Perspective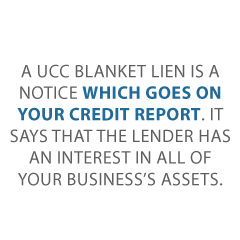 For a brand-new business in particular, your corporate credit will be poor by definition.  This is because you just will not have the kind of history and seasoning which can make your commercial credit score go up.
And, therefore, this would make lenders want to loan your company money.
Therefore, lenders are not going to be too enthusiastic about offering your company a business loan. This is because they truly have no idea if your company will be able to pay back the loan. But you are still, understandably wondering how to finance a business with bad credit.
Get an Unsecured Business Loan with Bad Credit: UCC Blanket Liens
Because of this, they will often take out a UCC blanket lien in the event that they do give your small business a loan. A UCC blanket lien is a notice which goes on your credit report. It says that the lender has an interest in all of your business's assets.
And this is until you pay off the loan in full. Therefore, there can be dire consequences if you have to default.
In addition, many of these loans will also require personal guarantees.
Get an Unsecured Business Loan with Bad Credit: What is an Unsecured Business Loan?
Still, if a loan does not require a personal guarantee, then your small business is usually going to be looking at unsecured business loans. And those come with steep interest rates. These sorts of business loans can be short term. So you need to pay them back fast.
Or they can be receivables financing. So this is where you can get a loan based upon business you expect to be coming in. That is because you have outstanding invoices which your own clients have not paid to you yet. Or it can be merchant cash advances.
These all come with interest rates which are often 40% or higher.
Get an Unsecured Business Loan with Bad Credit: Advantages of Unsecured Business Loans
The biggest advantage is that you do not have to put up a personal guarantee or accept a UCC blanket lien. If you end up defaulting on the loan, then your home and other personal assets will not be seized. And neither will your inventory.
But this also means that you often need to have strong revenue or a significant amount of time in business. In general, your personal credit must be fair or better. And that's even without a personal guarantee requirement.
Get an Unsecured Business Loan with Bad Credit: Disadvantages of Unsecured Business Loans
Interest, interest, interest. According to Nerd Wallet, Kabbage can provide an unsecured business loan. Yet the annual percentage rate can be up to 99%!  If you think that's usury, think again. In Ohio, the usury laws don't apply to unsecured loans.
Time in Business Requirements
Another disadvantage is that unsecured business loans often require that your company has been in business for at least six months. But not everyone will see it that as a disadvantage. Or they will require that you have no personal bankruptcies.
Or they might require your business to show a minimum annual revenue amount. And that means opening up your books to your lender.
If you can meet any of these requirements, then you probably won't see this as a true disadvantage. But if your company is brand new, then you might be shut out of your few remaining options.
So this is also true if you do not yet have regular customers and income. And it can also be true if you have had personal bankruptcy issues.
A True Alternative – Building Business Credit
When you build business credit, you don't have to depend on loans. And your personal credit doesn't matter, not one bit. Business credit is an asset which can help your corporation in years to come.
The Process
Establishing company credit is a process. And it does not occur automatically. A corporation will need to proactively work to build small business credit. However, it can be done easily and quickly. And it is much quicker than establishing individual credit scores.
Vendors are a big component of this process.
Undertaking the steps out of sequence will cause repetitive rejections. Nobody can start at the top with business credit.
Company Fundability
A company has to be fundable to loan providers and merchants. Therefore, a corporation will need a professional-looking website and e-mail address, with site hosting from a merchant like GoDaddy.
Additionally the business telephone number should be toll-free (800 exchange or the like).
Accounts and Licenses
A corporation will also need a bank account dedicated strictly to it. And it needs to have all of the licenses essential for running. These licenses all must be in the specific, correct name of the corporation, with the same corporate address and phone numbers.
Note that this means not just state licenses, but possibly also city licenses.
Working with the IRS
Visit the IRS web site and obtain an EIN for the business. They're totally free. Choose a business entity such as corporation, LLC, etc. A small business can begin as a sole proprietor but should switch to a form of corporation or partnership
So this is to diminish risk and make the most of tax benefits.
A business entity will matter when it concerns taxes and liability in case of litigation. A sole proprietorship means the entrepreneur is it when it comes to liability and taxes. No one else is responsible.
DBAs
If you operate a company as a sole proprietor at least file for a DBA ('doing business as') status. If you do not, then your personal name is the same as the company name. Consequently, you can wind up being directly responsible for all small business financial obligations.
But don't look at a DBA filing as being anything beyond a steppingstone to incorporating.
Starting the Business Credit Reporting Process
Start at the D&B web site and get a free DUNS number. A DUNS number is how D&B gets a corporation into their system, to produce a PAYDEX score. If there is no DUNS number, then there is no record and no PAYDEX score.
Once in D&B's system, search Equifax and Experian's web sites for the company. You can do this at https://www.creditsuite.com/reports/. If there is a record with them, check it for accuracy and completeness. If there are no records with them, go to the next step in the process.
By doing so, Experian and Equifax will have activity to report on.
Trade Lines
First you should establish trade lines that report. This is also called vendor accounts. Then you'll have an established credit profile. And you'll get a business credit score.
And with an established business credit profile and score you can start getting more credit.
These types of accounts tend to be for the things bought all the time, like shipping boxes, ink and toner, and office furniture.
But to start with, what is trade credit? These trade lines are credit issuers who give you initial credit when you have none. Terms are typically Net 30, instead of revolving.
Therefore, if you get approval for $1,000 in vendor credit and use all of it, you must pay that money back in a set term, like within 30 days on a Net 30 account.
Details
Net 30 accounts need to be paid in full within 30 days. 60 accounts must be paid completely within 60 days. In comparison with revolving accounts, you have a set time when you must pay back what you borrowed or the credit in use.
To launch your business credit profile properly, you need to get approval for vendor accounts that report to the business credit reporting bureaus. As soon as that's done, you can then make use of the credit.
Then pay back what you used. And then the account is on report to Dun & Bradstreet, Experian, or Equifax.
Not every vendor can help in the same way true starter credit can. These are merchants that will grant an approval with a minimum of effort. You also want them to be reporting to one or more of the big three CRAs: Dun & Bradstreet, Equifax, and Experian.
Monitor Your Business Credit
Know what is happening with your credit. Make sure it is being reported and fix any mistakes ASAP. Get in the habit of checking credit reports. Dig into the specifics, not just the scores.
We can help you monitor business credit at Experian, Equifax, and D&B for considerably less than it would cost you at the business CRAs. Update the info if there are errors or the information is incomplete.
Contesting Inaccuracies
So, what's all this monitoring for? It's to challenge any inaccuracies in your records. Mistakes in your credit report(s) can be fixed. But the CRAs generally want you to dispute in a particular way.
Disputing credit report errors commonly means you precisely detail any charges you contest.
A Word about Business Credit Building
Always use credit sensibly! Don't borrow beyond what you can pay back. Track balances and deadlines for payments. Paying off punctually and completely will do more to increase business credit scores than virtually anything else.
Good business credit scores help a small business get loans. Your lending institution knows the corporation can pay its debts. They recognize the company is authentic.
The small business's EIN attaches to high scores. And lending institutions often won't feel the need to call for a personal guarantee.
Get an Unsecured Business Loan with Bad Credit Even When You Think That's Impossible
For all of these options, you will always have a better interest rate if your credit score is better than bad. And you will most likely have more options. So you can shop around and compare plans.
So if your small business can wait until your credit—either business or personal or both—improves, then your options will dramatically improve, too.
Find out why so many companies are using business credit to get an unsecured business loan with bad credit.