Do you know how to get a business loan? It's a broad topic. Probably more so than you realize. I mean, what kind of loan do you need? What type of lender will you use? Do you even qualify for a business loan? Are there other options? Can you afford a business loan? Then, these days, there is the question of whether you qualify for any of the COVID-19 relief loans.

Do You Know How to Get a Business Loan? Here Are 5 Things you Can Do to Make it Easier
These are all questions that you need answer to before you can even think about how to get a business loan. That's because those answers affect the process. However, there are a few things that, across the board, can make getting a business loan easier.
1. How to Get a Business Loan: Evaluate Your Fundability
When most people start thinking about how to get a business loan, they think about credit. Sometimes they even wonder about business credit, but they usually have the wrong idea about that. What they are really wondering is, is their business fundable? Fundability itself is often misunderstood, being confused with credit.

Check out our best webinar with its trustworthy list of seven vendors to help you build business credit.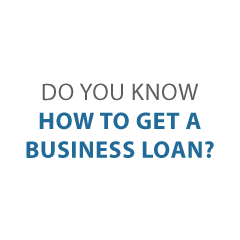 First, it has to do with much more than credit, either business or personal. Fundability includes such things as how your business is set up, what information is out there that connects you to your business, and other factors that you have probably never thought about in relation to getting a business loan.
Fundability is essential in how to get a business loan. The following things all affect the fundability of your business. Take some time to consider each of them and the effect each may have on your ability to get a loan. Basically, you need to do an analysis of fundability for your business. Doing so will help you get things in order so that it will be easier to get a business loan.
Consider Your Business Credit
No brainer, right? Business credit definitely comes into play. But, where do business credit reports come from? There are a lot of different places, but the main ones are Dun & Bradstreet, Experian, Equifax, and FICO SBSS. Since you have no way of knowing which one your lender will choose, you need to make sure all of these reports are up to date and accurate.
What Data is Coming Out of Other Business Data Agencies
In addition to the business credit reporting agencies that directly calculate and issue credit reports, there are other business data agencies that affect those reports indirectly. Two examples of this are LexisNexis and The Small Business Finance Exchange. You cannot see your reports from these agencies, and you cannot change the data they already have on you or your business. What you can do, however, is ensure that any new information they collect is positive.
Identification Numbers
Dun & Bradstreet is the largest and most commonly used business credit reporting agency. Every credit file in their database has a D-U-N-S number. To get a D-U-N-S number, you have to apply for one through the D&B website. You must have this number to have a file with D&B, and you have to have a file with D&B to build business credit.
Business Information
It may seem obvious that all of your business information should be the same across the board. However, when you start changing things up, like adding a business phone number and address or incorporating, some things may slip through the cracks. Make sure all your information is updated everywhere. Check licenses, insurances, deeds, and anything else you can think of for consistency in name and contact information. Then, be sure the same information is on your loan application.
Financial Statements
Both your personal and business tax returns need to be in order. Also, you need to be actually paying both.
Bureaus
There are several other agencies that hold information related to your personal finances. For example, ChexSystems issues reports that can affect fundability. These reports, in the simplest terms, detail bad check activity. This affects your bank score. If you have too many bad checks, you will not be able to open a bank account. As you can imagine that is a big problem when it comes to fundability.
Personal Credit History
Your personal credit score from Experian, Equifax, and Transunion all affect the overall fundability of your business. If it isn't great right now, get to work on it. The number one way to get a strong personal credit score or improve a weak one is to make payments on time, consistently.
The Application Process
Next, make sure that your business name, business address, and ownership status are all verifiable. Lenders will check. Then, make sure you choose the right lending product for your business and your needs.
2. Make Sure You are Set Up Properly
How your business is set up also makes a difference in how to get a business loan. For one, if your business isn't set up as a separate entity from you as the owner, your ability to get a loan will rest solely on your personal credit. You don't want that. When you separate your business from yourself, your personal credit will still matter, but it won't be the only thing that matters. Here is how to make sure your business set up separate from you.
Get Your Business Its Own Contact Information
Your business needs its own phone number, fax number, and address. You can easily get a business phone number and fax number that works over the internet instead of phone lines.
In addition, you can use a virtual office for a business address. There are businesses that offer a physical address for a fee. Sometimes they even offer mail service and live receptionist options. In addition, there are some that offer meeting spaces for those times you may need to meet a client or customer in person.
Get an EIN
The next thing you need to do is get an EIN for your business. This is an identifying number for your business that works in a way similar to how your SSN works for you personally. You can get one for free from the IRS.
You Have to Incorporate
Incorporating your business as an LLC, S-corp, or corporation is necessary for separation. It also lends helps your business be seen as legitimate. In addition, it offers some protection from liability.
Business Bank Account
You have to open a separate, dedicated business bank account. There are a few reasons for this. First, it will help you keep track of business finances. It will also help you keep them separate from personal finances for tax purposes. Additionally, there are several types of funding you cannot get without a business bank account.
Licenses
For a business to be legitimate it has to have all of the necessary licenses it needs to run. If it doesn't, that is a huge warning to lenders.

Check out our best webinar with its trustworthy list of seven vendors to help you build business credit.
Website
I am sure you are wondering how a business website can affect your ability to get funding. Having a poorly put together website can be even worse than not having one at all. It is the first impression you make, and if it appears to be unprofessional, it won't look good.
Spend the time and money necessary to ensure your website is professionally designed and works well. Pay for hosting too. Don't use a free hosting service. Along these same lines, your business needs a dedicated business email address. Make sure it has the same URL as your Website. Don't use a free service such as Yahoo or Gmail.
3. Build Business Credit Now
How do you build business credit? Well, after your business is set up to be separate from you, the owner, you have to get accounts reporting payments to the business credit reporting agencies.
There are a few ways to do this. The easiest way is to ask those merchants you already work with if they will extend credit and report payments.
Another option is to ask those that you already pay each month to report your payments to the business credit reporting agencies (CRAs). This would be things like utility payments, internet, or rent.
The last option is what we call starter vendors. These are vendors that will offer net terms on invoices without a credit check, and then report those payments to the business CRAs.
Once you have several of these initial accounts reporting positive payment history for a few months, you can start to apply for cards that will check your business credit. Start with store cards like Office Depot or Best Buy. Then, when you get a few of those, move on to fleet cards from companies like Shell and Fuelman. After that, you can apply for standard business credit cards that are not limited to where you can use them or what you can use them for, and you can get approval based on your business credit. As you make on time payments, your business credit score will continue to get stronger.
4. Research Lenders and Products
There are many types of loans and lenders. You need to know which ones will work best for you and your situation. Applying for the right product for your business from the right lender will go a long way toward approval.
Traditional Term Loans
These are the loans that you go to the bank to get. As a business, your business credit score can help you get some types of funding even if your personal score isn't awesome. That isn't necessarily the case with this type of funding however.
With a traditional lender term loan, you are almost always going to have to give a personal guarantee. This means they will check your personal credit. If your personal credit score isn't in order, you will likely not get approval.
What kind of personal credit score do you need to have in order to qualify for a traditional term loan? If you have at least a 750 you are in pretty good shape. Sometimes you can get approval with a score of 700+, but the terms will not be as favorable.
If you have really great business credit, your lender might be more inclined to be a little more flexible. However, your personal credit score will still weigh heavily on the terms and interest rate.
SBA Loans
These are traditional bank loans, but they have a guarantee from the federal government. The Small Business Administration, or SBA, works with lenders to offer small businesses funding solutions that they may not be able to get based on their own credit history. Because of the government guarantee, lenders are able to relax a little on the personal credit score requirements.
In fact, it is possible to get an SBA microloan with a personal credit score between 620 and 640. These are very small loans, up to $50,000. They may require personal collateral as well.
The trade-off with SBA loans is that the application progress is lengthy. There is a ton of red tape connected with these types of loans.
Currently, there are some changes to some SBA loan programs related to the COVID-19 pandemic.

Check out our best webinar with its trustworthy list of seven vendors to help you build business credit.
Business Line of Credit
This is basically the traditional lender's version of a business credit card. However, rates are typically much better than a credit card. The application and approval process is similar to that of a traditional term loan.
Non-Traditional Lenders
These are lenders other than traditional banks and credit unions that offer terms loans. The difference between these and traditional lenders is that the loans have looser approval requirements and a much faster application process. Typically, you can simply apply online, get approval in as little as 24 hours, and the funds are in your account within 24 to 48 hours after approval. They work well if your personal credit isn't terrible and you need funding quickly.
One Way How to Get a Business Loan is to Have a Workable, Professional Business Plan
The next step in how to get a small business loan is the business plan. You have to convince lenders that your business will be a good investment. Honestly, it's best to hire professional writers and researchers to help you put this together. If you can't, there are plenty of free resources online to help. This includes templates. For the most part, a well put together business plan should include the following.
An Executive Summary
Description
Strategies
Market Analysis
Analysis of audience
Competitive Analysis
Plan for Design and Development
Plan for Operation and Management
Financials
Financial Information
How to Get a Business Loan: There Are No Guarantees
The truth is, even if you do all of these things, there are no guarantees when it comes to how to get a business loan. However, these things can increase your chances in a huge way. All of it makes a difference. Still, fundability is the number one tool lenders use to make decisions. Business credit and personal credit are a huge part of this. If you are fundable, and you have a winning plan, you can get the funds you need to run and grow your business.