Are you looking for how to build business credit without using personal credit? Then you've come to just the right place. Your small business can have its own credit, so you can protect your personal assets.
But you will have to proactively establish business credit, as it is not automatic. 
Along the way, we'll look at Fundability™, trade credit, and personal guarantees, so let's dive in.
This blog post may contain affiliate links, meaning when you click the links for some products and make a purchase, Credit Suite receives a commission at no additional cost to you.
Step 1 – Establish Fundability™
Fundability™ is the ability of a small business to get funding. This includes everything from small business loans to a business credit card. 
The easiest way for small business owners to build Fundability™ is to set up their business the right way from the start. But even if you're coming in late to the Fundability™ game, you can still improve your business finance options.
Improving your business Fundability™ will entail paying attention to a lot of details. Some of these details may seem to be inconsequential. But you will need to keep your information consistent and congruent across the board.
Why? Because otherwise a lender or a credit card issuer will reject your application as being fraudulent. Is that unfair? Perhaps not. But it is reality.
The aim of all of these steps is to establish and build business credit. Concentrating on Fundability™ is easily the first step in how to build business credit because otherwise you will be running in place. 
How long does it take to build business credit? A lot less time than it would take for establishing business credit if you did not make Fundability™ a priority. We call this the Fundability Foundation™.
And, the better your Fundability™, the higher your credit limit can be.
Step 2 – Business Setup
The way your business is set up will directly affect your ability to get a small business credit card or business lending. You will need to be intentional about this.
Of course, it is entirely possible that your business was initially set up with little or no thought of future business financing. But when you look at your business setup through the lens of getting money (or not), the idea of focusing your efforts will start to make more sense.
While you are certainly busy with running your business, a lot of these details are the kind of things you will only need to do one time. 
Paying attention to these details will also help to combat any issues with a bad credit score on the personal side. Working toward a good business credit score is, in a way, a means of resetting your credit—or at least, not harming your credit any further.
Building business credit may, at first, entail tearing down what you currently have. But this is the only way you are going to be able to build business credit fast. And, it's a way to make it far more likely to be approved for the best business credit card the first time.
Step 3 – Visit the IRS for EIN and SIC/NAICS Codes
Just like you have a Social Security number and it ties to your personal credit, your business needs to have an EIN. 
Your unique Employer Identification Number is what helps a business credit bureau tell the difference between your business and a similarly-named business on the other side of the country.
The IRS is where you get an EIN. They are free and the form is easy to fill out. 
While you are applying for an EIN, the IRS will also ask you about your business entity and what your business is actually supposed to be doing. 
This information on what your business is supposed to be doing will directly inform your NAICS code. NAICS codes are a classification of your business, like a bakery versus a nail salon or an over the road trucking company. 
The codes are extremely granular, differentiating even a bakery creating frozen cakes (NAICS code 311813) versus one manufacturing ice cream desserts (NAICS code 311520). 
A lender or a credit card company will check your NAICS code in order to determine if your business is high risk. 
Even any given business credit bureau wants to know your company's NAICS code, because it will go into your report.
Step 4 – Incorporate and Get all Business Licenses Necessary in Your Location and Industry
You have to do more than just tell the IRS which business entity you're going to be. Apart from a sole proprietorship, you are going to need to register your business somehow. 
Incorporating is best because it firmly establishes your business as being separate from you, its owner. This will also help a business credit reporting agency not confuse your business financing from your personal finance. 
Since a corporation is a separate legal entity, business owners can keep their personal credit relatively separate from their business credit. Your corporation will get its own business credit account. 
Should your business be a C-corporation or an S-corporation? This is a question best asked of a legal professional or at least an accounting professional. This is because there are some differences in terms of tax, liability, and costs and shares.
We highly recommend that you get a consultation, even if you use a service whereby you can file your incorporation papers yourself. 
Business licensing is a necessary step because it doesn't just build credibility for customers and prospects. It can potentially keep your business (and you) out of legal hot water. 
For licensing, check not only with your state, but also with your city and your county. 
Step 5 – Your Business Address and Phone Number
To truly separate your business credit history from your personal, you will need to have a separate business address. This cannot be your home address and it cannot be a post office box or a UPS box.
But fortunately you do not have to rent expensive office space. Rather, you can go with a virtual office provider. Get a professional address which will impress not only a loan provider but also your customers and prospects. 
There are options out there for every state and many cities. Our favorites are Alliance Virtual Offices, Opus VIrtual Offices, Regus, and Davinci. 
You can get an answering service, access to conference rooms, and even a registered agent in some locales. These offices make it easy to make a good first impression when you're interviewing job candidates, too.
A small business loan provider will see your company as a real company, and not just a hobby you do on your kitchen table—even if your kitchen table is where you do most of your work.
A separate business phone number isn't just a good idea for Fundability™. It can also help to shield your family's privacy. And with a VoIP setup, you will be able to answer your business phone from your landline or cell phone.
We like Phone.com, CallHippo, and RingCentral. 
Step 6 – Your Business's Online Presence and Bank Account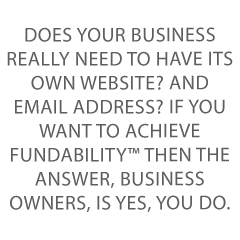 Does your business really need to have its own website? And email address? If you want to achieve Fundability™ then the answer, business owners, is yes, you do.
Even if you think your buyer persona (ideal customer) isn't using the internet for, well, anything, that doesn't mean that they might not in the future. And it also doesn't mean that someone adjacent to them isn't looking for your goods or services online.
Consider baby clothes. Of course, newborns aren't online (at least, that's the hope!). But their parents and grandparents sure are—and they're the people doing the buying.
Make a logo on CEO Creative (where you can get vendor credit; more on that later) or have it made on Design Pickle. You can get started quickly with Weebly or Wix but may find your business outgrows that kind of solution quickly. 
Get your own domain and an email address on that same domain. Both are far more professional. 
You will also need a business bank account. This helps prevent the commingling of funds (which the IRS doesn't like) and will make your accounting far simpler. Also, any business expense would just be paid from this account, so your personal credit and finances are untouched.
A bank account is where you'll be able to store your business's cash flow.
In addition, any business card provider or lending institution wants you to have a separate bank account for building business credit and as a place for any loans to actually go. Lenders don't want to lend to a business and then find the money ends up in an entrepreneur's pocket.
Step 7– Get Set Up With the Business Credit Reporting Agencies
The first step to getting a good corporate credit score is to start to have any sort of a company credit score. The process of starting your business credit history is not automatic.
Always start with Dun & Bradstreet. They are the largest credit reporting company by far. Their main credit score is PAYDEX. But you will need to get a D-U-N-S number through them first. A D-U-N-S is free although you can pay if you want them to expedite the process.
A D-U-N-S number plus three separate payment experiences will result in a PAYDEX score. So, you will need to have at least one credit card that reports to D&B.
Getting set up with D&B will push Experian and Equifax to follow suit. 
A business credit report is different from a personal credit report in that the scores do not jibe. However, bad personal credit will affect your company credit score at Experian. 
Your payment history looms large when it comes to any corporate credit score. A good company credit history comes from a payment history of paying your bills on time—and not much else. 
Credit utilization, which is an important part of your consumer credit score (and can lead to a poor personal credit score if not kept in check), does not matter.
Your company payment history will directly affect whether you can get a business loan or credit card.
Step 8 – Business Credit Monitoring
With personal credit, you can check a website like Credit Karma for scores. And you're entitled to a free copy of your credit reports every year, due to the Fair Credit Reporting Act.
But that's not the case with corporate credit. For one thing, the FCRA does not apply. So, how do you know your credit reports are correct? It's with a little thing called business credit monitoring.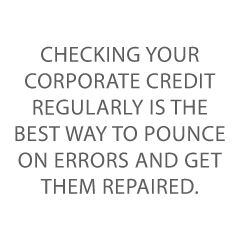 Checking your corporate credit regularly is the best way to pounce on errors and get them repaired. A credit agency like Experian is committed to getting their scores as correct as possible, so they will always welcome disputes.
The CRAs will allow for online disputes (or you can mail or fax in a dispute), but always make sure you have proof to back up your dispute. Understandably, they want more than just your say-so before they will update a report.
For example, if a report says you didn't pay a vendor on time, a canceled check or a credit card statement will help to bolster your complaint. 
Through Credit Suite, we can help you to get and check on your corporate credit reports and keep track so any errors don't stay on your credit reports for too long. 
Step 9 – Trade Credit
Also called vendor credit, these are credit cards furnished by a business rather than a larger provider (like Visa). Often, these are easier credit cards to get. 
Vendor credit cards are a proven way to build good credit in your business.  However, you do want to make sure that you are getting credit cards that are reporting to the business credit bureaus. Otherwise, you are spinning your wheels with such a credit card.
One such vendor that reports is Credit Strong. You can get a loan (not credit cards) through them and without a PG (more on PGs later). They report to Equifax.
This vendor (like many other starter vendors) wants you to have a bank account for your business, a D-U-N-S number, and an EIN. Now, you can see why those actions are covered in earlier steps. 
Also, Credit Strong wants your business to be an LLC, partnership, or corporation. And, they want you to be in business for at least three months. You must have all applicable licenses as well. Again, the earlier steps come into play here.
We recommend vendor accounts not just to build credit and get credit cards. We also recommend them because they have products and services that your business can use. This isn't building just for the sake of building or for the sake of a number.
Step 10 – Personal Guarantees
A personal guarantee is really just when you give permission to pull your personal credit when you apply for a credit card. This can be either a hard pull or a soft pull. A hard pull will affect your personal credit score. But a soft pull will not.
Allowing a personal credit check is not always a bad idea. Sometimes, the only way to get a business line of credit is to let a provider check your personal credit history.
But don't give away your personal guarantee cheaply. Make sure that a credit line is substantial or a business credit card has good rates and limits before tossing your personal guarantee into the ring. 
Ask yourself if your business will really need certain credit cards or credit lines. And maybe it does. Just, be intentional about this, like with so many other things in business.
Handing out PGs willy-nilly, for credit cards where it's not worth it is not a good move in business. 
And, what happens if you fail to pay those credit cards off on time? Your PG will be called in—and if you have more than one, then guess what? You will be paying for any time you failed to pay those credit cards.
Do you have infinite personal funds?
I didn't think so.
Takeaways
Establishing and improving your corporate credit means being intentional about what you're doing, and being careful. It means following a plan—just like the one outlined in this blog post.
Contact us today to find out how we can help you and your business to get started with business credit or to finish building credit if you've already gotten started. Our experts will help you build Fundability™ to increase your chances of approvals and save your precious time.
After all, you're a small business owner. You've got a million things to do. So, let us help.