You don't have to let bad personal credit destroy your dreams of starting your own business.  It may take a little longer to get started, but it is possible. The key is business credit. However, you do need to know how to build business credit with bad personal credit. 
Start a Business by Learning How to Build Business Credit with Bad Personal Credit
The thing you have to understand when it comes to how to build business credit with bad personal credit, is it is a process.  It takes some time. You have to actually climb the mountain to get to the top. There is no helicopter ride. However, once you are there, all you have to do is stay there.  What you learn on the climb will make staying there much easier. 
How to Build Business Credit with Bad Personal Credit: Set Up Your Business to Be Separate 
Most do not realize that you can't even start building business credit until your business is set up properly.  Until then, any accounts you have are just reporting to your personal credit, even if they are called business accounts. How do you fix that?  You have to set up your business as a fundable entity separate from you as the owner. 
Separate Contact Information
Your business has its own phone number, fax number, and address.  That doesn't mean you have to get a separate phone line, or even a separate location.  You can even still run your business from your home or on your computer if that is what you want.  You don't even have to have a fax machine.  
EIN
You also have to get an EIN. This is an identifying number for your business that works like how your SSN works for you personally.  You can get one for free from the IRS.
Incorporate
Incorporating your business as an LLC, S-corp, or corporation is vital.  It lends credibility to your business as one that is legitimate. It also offers some protection from liability. 
Which option you choose does not matter as much for fundability as it does for your budget and needs for liability protection.  The best thing to do is talk to your attorney or a tax professional.  What is going to happen is that you are going to lose the time in business that you have.  When you incorporate, you become a new entity. You basically have to start over. You'll also lose any positive payment history you may have accumulated. 
This is why you have to incorporate as soon as possible.  Not only is it necessary for fundability and for building business credit, but so is time in business.  The longer you have been in business the more fundable you appear to be.  That starts on the date of incorporation, regardless of when you actually started doing business. 
Business Bank Account
You have to open a separate, dedicated business bank account. First, it will help you keep track of business finances.  It will also help you keep them separate from personal finances for tax purposes. 
Furthermore, there are several types of funding you cannot get without a business bank account.  Many lenders and credit cards want to see one with a minimum average balance.  In addition, you cannot get a merchant account without a business account at a bank. That means, you cannot take credit card payments.  Studies show consumers tend to spend more when they can pay by credit card.
Licenses
For a business to be legitimate it has to have all of the necessary licenses it needs to run.  If it doesn't, warnings are going to go up at every turn.  Do the research you need to do to make sure you have all of the licenses necessary to legitimately run your business at the federal, state, and local levels. 
Website
Of course, you are wondering how a business website can affect funding.  Here's how.  These days, you do not exist if you do not have a website. But, having a poorly put together website can be even worse.  It's a first impression, and if it appears to be unprofessional it will not be good.
Spend the time and money necessary to ensure your website is professionally designed and works well.  Pay for hosting too. Don't use a free hosting service.  Along these same lines, your business needs a dedicated business email address.  Make sure it has the same URL as your Website. Don't use a free service such as Yahoo or Gmail.
How to Build Business Credit with Bad Personal Credit: Get Accounts Reporting 
This is the part that a lot of business owners don't get.  It isn't easy to get credit in the name of your business when you don't have credit to begin with. There are a few hacks that can help you jump over this hurdle however.  Once you break down the need credit to get credit wall, you can work your way up through the credit tiers. 
The other piece of this puzzle that is missed by many business owners is that you have to have a D-U-N-S number for it to work. Dun & Bradstreet is the largest and most commonly used business credit reporting agency.  If you do not have a D-U-N-S number, you do not have a file with them.  If payments are reporting to them and there is no corresponding D-U-N-S, the payments will not count.
To build business credit you absolutely have to have this number.  
Now, how do you get accounts reporting without your personal credit coming into play? 
Ask Vendors You Already Work with to Report Payments to Credit Agencies
Vendors you already have a relationship with may be willing to extend credit without a credit check.  If not, they may offer net 30 terms on invoices.  They don't have to, so you will have to ask. The worst that can happen is they say no.  If they say yes, ask them to report the payments to the business credit agencies. 
Talk to Utility Providers about Reporting Payments
You pay things like utilities, rent, and internet each month anyway.  Ask those companies to report payments to the business credit reporting agencies.  Again, the worst they can say is no.
Use Starter Vendors in the Vendor Credit Tier
This is a little-known secret of how to build business credit with bad personal credit.   Many are unaware of starter vendors. They are part of what we like to call the vendor credit tier.  Certain retailers will extend Net 30 terms in your business name without a credit check.  Then, after you pay, they will report those payments to the business credit reporting agencies (CRAs). 
This is how you can get the ball rolling with business credit.  They do not check either your business or personal credit score.  Of course, they do have other risk reducing guards in place. These vary by vendor.  When you ask yourself "how do I build business credit," starter vendors are the answer. Here are a few to help you start the process. 
Uline
Uline sells shipping, packing, and industrial supplies.  Also, they report to Dun & Bradstreet.  This means you must have a D-U-N-S number. 
In addition, they ask for 2 references and a bank reference. The first few orders might need to be paid in advance to get approval for Net 30 terms.
Grainger Industrial Supply
Grainger sells power tools, pumps, hardware and other things. In addition, they can handle maintenance of your auto fleet. You need a business license and EIN to quality, as well as a D-U-N-S number.
You can apply by fax or over the phone. If you need less than $1,000 in credit, you only need a business license for approval. For over $1,000, you will need trade and bank references.  
If you are just starting out and do not have references, the $1,000 is plenty to get you started building your business credit. 
Behalf.com
Behalf is a way of getting paid through an app, but they also offer funding. The more you have your customers pay you through Behalf, the more likely Behalf is to offer you favorable terms when it comes to funding.  
Funding can be through purchase financing or a virtual MasterCard option. Terms run from Net 30 to 180 days, and they report to Dun & Bradstreet, Experian, and Equifax. This fact alone, that they report to all the major credit reporting agencies, makes them an extremely valuable tool in building business credit. 
As of 8/24/2020 Behalf no longer reports. For more information on how to find accounts that report give us a call at 877-600-2487.
The Other Credit Tiers
After you have 5 or so of these types of accounts reporting payments to your business credit report, you should have a strong enough score to move on to the next tier. We call this the retail credit tier.  They are retailers as well, but offer more traditional credit.  These are credit cards for use at specific stores such as Office Depot or Lowe's. It is also sometimes referred to as store credit. 
After you have several of these store credit account reporting, you can apply for cards in the fleet credit tier.  These are gas cards with companies such as Shell and Fuelman.  They can be used for fuel and auto repair and maintenance only. 
Lastly, with accounts reporting from all these tiers, you should have a score strong enough to apply for cards from what we call the cash credit tier.  Of course, that is only if you have been making payments consistently on time. 
These are traditional credit cards that are not attached to a specific store or tied down to certain types of purchases.  They can be used for anything and everything.  In addition, they often have better interest rates and nice rewards programs. 
How to Build Business Credit with Bad Personal Credit: Business Credit Monitoring
It is important to keep an eye on your business credit as it grows.  A business credit monitoring service can help.  Not only will you be able to see your score, but you can also see which accounts are reporting.  This will help you know when to move on to the next tier. In addition, you'll be able to catch mistakes and have them corrected before they can cause too many problems. 
How to Build Business Credit with Bad Personal Credit: Fix Your Personal Credit
Just because you now know how to build business credit with bad personal credit, you shouldn't let your personal credit stay bad.  Get a free copy of your credit report and take a look at what's on there. If there are mistakes, fix them. Then, make payments on time.  This is the number one way to build strong credit, both business and personal. 
How to Build Business Credit with Bad Personal Credit: It Is Possible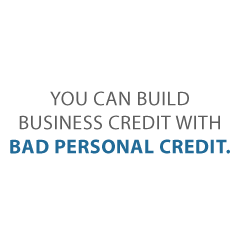 If you set up your business to be a separate fundable entity and utilize the vendor credit tier properly, you can definitely build business credit despite bad personal credit.  However, you cannot let your personal credit remain bad.
Business credit is great, but many lenders still require a personal guarantee. Most of those will absolutely check personal credit as well. 
By having both strong personal and business credit, you open doors to so many more business funding options. In this way, your personal credit is just as much a part of business fundability as business credit is.  
You also need to take some time, while building business credit, to figure out what else affects the fundability of your business.   For example, in addition to how your business is set up, something as simple as a parking ticket or a lien can even affect the fundability of your business.
You may be surprised at what else you find out.