We Can Help Make it so a Startup Can Get a Business Line of Credit
Do you know how a startup can get a business line of credit? As a new business, by definition, you have no or little business credit history, so it can be difficult. When you ask: What is the credit score of a new business? The answer is – it's usually not so hot. But don't worry! Here are some ideas which will work.
Use Your Personal Credit to Get Going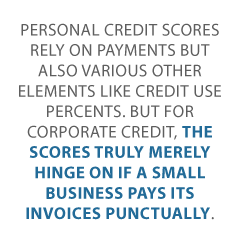 At some point, you will want to stop doing this. But in the beginning, you have got to get your startup off the ground, and that means you will need developmental capital.
This is capital to do anything from paying a rental deposit for an office to purchasing a set of prototypes for a product you want to make. If you have decent personal credit, then you can tap into it for your startup. Then eventually your startup can get a business line of credit.
Once you have established a history and a good payment reputation, then you can work on getting your business line of credit. Having a good personal credit score will go a long way to showing creditors that you are trustworthy and will pay off your debts on time.
Guarantee With Personal Assets and Collateral
What happens if your personal credit is not so hot? Collateral is essentially when you use something (or several things) of value in order to guarantee your payments. However, as you might expect, if you default, you will lose your collateral.
Still, it is a good way to finance a business with bad credit. As always, pay your bills on time and in full. And don't borrow more than what you can pay back comfortably. After all, now your personal assets are on the line if you're late with payments.
Establish a Relationship With a Local Vendor and Get Trade Credit
Trade credit is when you work directly with a local vendor you use all the time and ask them to float you some credit for payments at a (not too far into the future) later date.
No matter which kind of vendor you get trade credit with, be responsible and, of course, pay them on time. And early, if you can swing that. Not only does that bolster and maintain that relationship, it also counts toward your credit score.
Vendors who report are best, but even those which don't can be helpful. Ask for trade references!
Be Responsible With Any Credit You've Got, Including Personal
This may feel a bit like a no-brainer, but your use of currently existing credit will be what any creditor will use to determine whether you can pay your bills on time. They want to know therefore, if you're a good credit risk.
Suddenly blowing all of your personal credit at the tables in Vegas won't endear you to future lenders.
Startup companies in particular, no matter how careful they are, are generally reviewed as the full credit package. That is, both personal and business credit scores are under consideration.
If you look like a bad credit risk on the personal credit side, you'll appear, to future lenders and creditors, an equally poor credit risk on the business side of things.
Establish Your Business Under IRS Rules
And finally, because a startup business and its credit will inevitably be conflated with the personal credit of its founder(s), take steps to separate the two.
One of the biggest steps you can take is to apply for an IRS EIN (Employer Identification Number). By telling the IRS that your startup business is the real deal, then that helps signal to creditors that its commercial credit is not the same as your personal credit.
And it should not be treated as such.

Learn more here and get started with building business credit with your company's EIN and not your SSN.
Build Business Credit
If you're a startup, then you need to know how to build business credit fast. Here are the basics.
Business credit is credit in a company's name. It isn't linked to a business owner's consumer credit, not even if the owner is a sole proprietor and the only employee of the company. Therefore, an business owner's business and personal credit scores can be very different.
The Benefits
Due to the fact that corporate credit is detached from individual, it helps to protect a small business owner's personal assets, in the event of a litigation or a business insolvency.
Also, with two distinct credit scores, a small business owner can get two separate cards from the same vendor. This effectively doubles purchasing power.
Another advantage is that even new ventures can do this. Visiting a bank for a business loan can be a recipe for disappointment. But building business credit, when done the right way, is a plan for success.
Personal credit scores rely on payments but also various other elements like credit use percents. But for corporate credit, the scores truly merely hinge on if a small business pays its invoices punctually.
The Process
Growing business credit is a process, and it does not occur automatically. A business has to actively work to build small business credit. Nonetheless, it can be accomplished easily and quickly, and it is much swifter than establishing individual credit scores.
Vendors are a big part of this process.
Accomplishing the steps out of sequence will cause repeated denials. Nobody can start at the top with company credit. For example, you can't start with store or cash credit from your bank. If you do you'll be denied 100% of the time.
Business Legitimacy
A corporation needs to be respectable to loan providers and merchants. Due to this fact, a corporation will need a professional-looking web site and email address, with website hosting purchased from a merchant such as GoDaddy.
Also business telephone and fax numbers need to be listed on 411. com. Also the company telephone number should be toll-free (800 exchange or comparable).
A small business will also need a bank account devoted only to it, and it needs to have all of the licenses needed for operation. These licenses all must be in the correct, accurate name of the company, with the same corporate address and telephone numbers.
Bear in mind that this means not just state licenses, but possibly also city licenses.
Dealing with the Internal Revenue Service
Visit the IRS web site and obtain a free EIN for the company. Choose a business entity such as corporation, LLC, etc. A company can begin as a sole proprietor but will probably want to switch to a type of corporation or partnership to lessen risk and optimize tax benefits.
A business entity will matter when it pertains to taxes and liability in the event of a litigation. A sole proprietorship means the entrepreneur is it when it comes to liability and taxes. No one else is responsible.
If you run a business as a sole proprietor at the very least file for DBA (' doing business as') status. If you do not, then your personal name is the same as the business name. Hence, you can wind up being personally responsible for all corporate financial obligations.
Plus, per the Internal Revenue Service, using this structure there is a 1 in 7 possibility of an IRS audit. There is a 1 in 50 probability for incorporated businesses! Prevent confusion and drastically lower the chances of an IRS audit simultaneously.
Setting off the Business Credit Reporting Process
Begin at the D&B web site and obtain a totally free DUNS number. A DUNS number is how D&B gets a corporation in their system, to generate a PAYDEX score. If there is no DUNS number, then there is no record and no PAYDEX score.
Once in D&B's system, search Equifax and Experian's sites for the small business. If there is a record with them, check it for correctness and completeness. If there are no records with them, go to the next step in the process.
In this way Experian and Equifax will have activity to report on.
Trade Lines
First you must establish trade lines that report. This is also known as vendor credit. Then you'll have an established credit profile, and you'll get a business credit score. And with an established business credit profile and score you can start obtaining revolving store and cash credit.
These trade lines are creditors who will give you preliminary credit when you have none now. Terms are ordinarily Net 30, versus revolving.
Hence if you are approved for $1,000 in vendor credit and use all of it, you will need to pay that money back in a set term, like within 30 days on a Net 30 account.


Learn more here and get started with building business credit with your company's EIN and not your SSN.
Details
Net 30 accounts must be paid in full within 30 days. 60 accounts must be paid in full within 60 days. Compared to with revolving accounts, you have a set time when you have to pay back what you borrowed or the credit you made use of.
To begin your business credit profile the right way, get approval for vendor accounts that report to the business credit reporting agencies. Then you can use the credit, pay back what you used, and the account is on report to Dun & Bradstreet, Experian, or Equifax.
Not every vendor can help in the same way true starter credit can. These are vendors that will grant an approval with very little effort. You also want them to be reporting to one or more of the big three CRAs: Dun & Bradstreet, Equifax, and Experian.
You want 3 of these to move onto the next step, which is revolving store credit. And you may have to apply more than once to these vendors, and you may have to buy some items you don't need, to confirm you are reliable and will pay promptly.


Learn more here and get started with building business credit with your company's EIN and not your SSN.
Revolving Store Credit
Once there are 3 or more vendor trade accounts reporting to at least one of the CRAs, move onto revolving store credit. These are service providers like Office Depot and Staples. Use the business's EIN on these credit applications.
Fleet Credit
Are there more accounts reporting? Then move to fleet credit. These are companies such as BP and Conoco. Use this credit to buy fuel and to, repair and take care of vehicles. Make certain to apply using the company's EIN.
Cash Credit
Have you been responsibly handling the credit you've gotten up to this point? Then move to more universal cash credit. These are service providers such as Visa and MasterCard. Keep your SSN off these applications; use your EIN instead.
Monitor Your Business Credit
Know what is happening with your credit. Make certain it is being reported and address any inaccuracies ASAP. Get in the habit of taking a look at credit reports. Dig into the specifics, not just the scores.
Update the details if there are inaccuracies or the relevant information is incomplete.
Contesting Mistakes
What's all this monitoring for? It's to challenge any problems in your records. Errors in your credit report( s) can be fixed. But the CRAs often want you to dispute in a particular way.
Disputing credit report errors typically means you mail a paper letter with duplicates of any evidence of payment with it. These are documents like receipts and cancelled checks. Never mail the original copies. Always mail copies and keep the original copies.
Disputing credit report mistakes also means you specifically spell out any charges you contest. Make your dispute letter as clear as possible. Be specific about the problems with your report. Use certified mail so that you will have proof that you sent in your dispute.
Use Credit and Credit Lines Wisely
Always use credit sensibly! Don't borrow more than what you can pay back. Keep an eye on balances and deadlines for payments. Paying in a timely manner and in full will do more to boost business credit scores than pretty much anything else.
Growing small business credit pays off. Great business credit scores help a company get loans. Your creditor knows the corporation can pay its financial obligations. They understand the company is authentic.
The small business's EIN connects to high scores, and lenders won't feel the need to demand a personal guarantee.
Takeaways for How a Startup Can Get a Business Line of Credit
Business credit is an asset which can help your small business for many years to come.
Startups can succeed, although the odds are long. But if a startup can get a business line of credit, that can make it a bit easier to thrive.
Share this if you agree with how a startup can get a business line of credit.