The Great Resignation: a Definition and an Explanation
Everywhere you look in the news, it seems to be there. It's on TV and social media, and your friends may be talking about it. It's the Great Resignation. It has caused people to start businesses and has disrupted our economy.
But…what is the Great Resignation?
The Great Resignation is the confluence of several different events, all happening at the same time.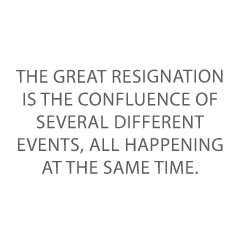 People are leaving their jobs in droves. As in, 20 million US workers between April and August of 2021.
Causes of the Great Resignation
The Pandemic
First is of course the pandemic. The sudden removal of over 700,000 Americans from our society was bound to create problems. A little under 190,000 of these deaths were among people aged 18 – 65.
Even if not everyone could work, that leaves at least 150,000 people out of the workforce, due to dying from Covid-19.
This doesn't account for those with 'long Covid'. In the UK (US percentages should be similar), the percentage of people of working age to get long Covid runs about 1 – 2%. Over 48.5 million cases in the US translates to about half a million people of working age with long Covid in the US. Some of them may be considered disabled or have taken early retirement.
As a result, there are job openings.
But what about everyone and everything else pertaining to the Great Resignation?
Depressed Wages
Since the 1970s, wages have been depressed in the US, often not keeping up with inflation. This is particularly true in the service industry. 
In contrast, during the worst of the lockdowns, the only employees who could not work from home were in the service industry. 
There are some employers who have realized they can't hire enough people back until they raise wages and improve perks (which is likely to be fueling inflation). Others don't seem to have gotten the memo yet.
Hence there are workers who would have taken those jobs not two years ago. But now? With an ever-present concern about Covid-19 and perhaps a feeling that wage hikes are only temporary, those jobs are going unfilled.
Politics, Ill Treatment, and Being Fed Up
As the disease, vaccines, and mask wearing all became more politicized, businesses were forced to police mask usage in their stores. This policing often fell to the lowest paid workers, in jobs like cashiers. With irate, sometimes violent customers, many workers felt they were being asked to put their own personal safety on the line. But with no added compensation.
In the medical field, there has been a nursing shortage for years, and it is projected to continue into 2030. With hospitals overloaded with Covid patients, anti-vax patients denying their symptoms, and again the threat of violence, many nurses have decided to throw in the towel. This has made the nursing shortage worse, and it has also affected Covid care.
Trillions of Dollars in Aid Programs
The prior and current presidents introduced programs like stimulus checks. This was with the best of intentions. They have led to many in the middle class beefing up their savings. Another big use for these checks has been paying down personal debt. This is from credit cards, car loans, and/or mortgages.
People with some discretionary money may end up being more choosy about employment. Not being desperate provides an opportunity to strive for longer term goals and more money.
Gen X and Younger Boomers Lead the Way in the Great Resignation
Surprised? It seems like quitting your job is a very millennial thing to do. Yet the Harvard Business Review said, "Employees between 30 and 45 years old have had the greatest increase in resignation rates, with an average increase of more than 20% between 2020 and 2021." Employees with some work experience under their belts are more likely to be part of the Great Resignation.
But What Does The Great Resignation Have to do With Business Financing and Business Credit?
Quitting your job or being laid off can sustain you for just so long. For many Americans, time off and the ready availability of accessible technology led them to start a new business. A good 4.4 million new businesses were started in 2020, and half a million new businesses in January 2021 alone.
As these new businesses have aged, stimulus money has dried up, and the boost in savings is gone for their owners. These business owners—and you may be among them—have been looking for new ways to get money.
And if they (or you) have turned to banks, then there's a good chance that they've gotten a denial. 
New business owners are less likely to know about business credit, and how it can get them funding. And they may not be aware of the many alternatives to traditional lending that are out there. Because banks aren't the only places to get business money.
Business Credit and the Great Resignation
Business credit is credit in the name of a business. It attaches to the business's EIN (Employer Identification Number), not the owner's Social Security Number. As a result, business credit relies on the ability of the business to pay its bills—period. A business owner can have poor personal credit yet have excellent business credit. 
Building your new business credit is a great way to transition from bootstrapping to getting a company to fund itself.
Fundability™
Fundability is the ability of a business to get funding. Building business credit starts with building what's called a fundable foundation. Your business can look legit to credit providers and lenders—or not so legitimate. There are proactive steps you can take to improve fundability, even if you haven't done these before.
Start to Build a Fundability Foundation™ (Your Business Name, NAICS and SIC Codes, and Your Business Entity)
Fundability starts with your business name. If your business name includes the name of a high-risk industry, this could tank any funding application from the start.  Frank's Gas Station can instead be called Frank's. 
NAICS and SIC codes exist to show lenders, credit providers, and the IRS how risky your business is. If your business can fit under more than one NAICS code, then pick the one which is less risky. There's nothing unusual or underhanded about this.
Your business entity is sole proprietorship, partnership, corporation, and the like. To build business credit right, incorporate your business. This is because incorporating creates an entity separate from you, the owner. It adds a layer of protection over your personal assets when it comes to corporate debts and corporate wrongdoing. Plus, to build credit in the name of your business, it won't separate from your own credit history if you and your business are still joined at the hip.
Enhance Fundability™ With an Excellent Online Presence (Your Website and Email Address)
Lenders and credit providers will look for information on your business online. With your own website, you can control a lot of the narrative. Without one, you're at the mercy of whatever they can Google—which may not be too flattering. 
Putting some of your earlier profits into a website is a smart business decision. It does more than improve fundability. It also makes your business more attractive to customers and prospects. 
Purchasing your own domain name is the highest standard for fundability. Very often hosting providers will kick in a free email address on the same domain. Keep it professional with a name like [email protected]. 
Grow Fundability™ With a Professional Offline Presence (Your Business Address and Phone Number)
Business lenders and credit providers also pay attention to your offline presence. Your business address needs to be a brick and mortar building where mail can be delivered—so a PO box or a UPS box is out. Technically, it can still be your home. But you may want to get a virtual address for job interviews or meetings. And if you are a retail business, you are going to need a separate address.
Your business phone number needs to be different from your personal phone number. This is because the listing for your personal phone number is you or your family. A separate, dedicated phone number is far more fundable. And it prevents your family from accidentally picking up on sales calls.
Protect Fundability™ By Following the Rules (Your Business Licenses and Getting a D-U-N-S Number)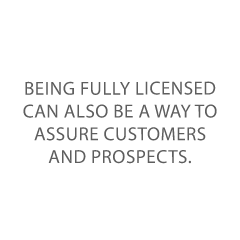 Many industries require some form of licensing. Make sure you have all the licenses your business needs by checking with your Secretary of State. Being fully licensed can also be a way to assure customers and prospects. 
D-U-N-S numbers are the way your business is identified in the system of the world's largest business credit bureau, Dun & Bradstreet. D&B will give you a D-U-N-S number for free once you sign up for one on their website. You need a D-U-N-S to start to build business credit.
Go to the Next Level of Fundability (Get a Separate Business Bank Account and Get Set Up With the Business Credit Reporting Agencies)
A separate business bank account helps keep you from commingling funds. This increases the chances that your business is in compliance with all IRS requirements.  You also need a separate business bank account to open a merchant account. A merchant account allows your business to take credit cards. Study upon study has shown that people spend more if they can pay by credit card.
You also need to get set up with the business credit reporting agencies. If you have your D-U-N-S already, then you're set up with Dun & Bradstreet. Check the Experian and Equifax websites for a listing for your business. 
Building Business Credit
Business credit building means buying on credit from vendors. Pay your bills on time and have the payments report to the business credit bureaus. Almost no vendors report positive payment experiences. So, it pays to work with a business credit specialist like Credit Suite.
If you are part of the Great Resignation and have a new business, business credit makes your business more attractive to funding sources.
Business Financing and the Great Resignation
Banks are not the only place to get your new business financing. When you are getting money for your business, you must leverage one or more of the following:
Personal credit

Collateral

Cash flow

Your time and attention

Equity in your business

Or business credit
Personal Credit
Your personal credit scores are dependent upon a few factors. One is credit utilization, which is the amount of credit in use divided by total available credit. Once this percentage gets high (above 30%), it starts to harm your personal credit score.
Business needs tend to be more expensive than personal needs. Business credit limits reflect that. Hence you can exceed that 30% fast by financing your business with personal credit. You might even max out your personal credit cards.
Collateral
Another way to get business financing is by leveraging collateral. For real estate transactions, that can be land. For equipment financing, it can be the equipment. And for other types of lending, it can even be your retirement funds. 
Cash Flow
New businesses tend to have erratic cash flow, and so they aren't likely to be able to leverage theirs. But once your cash flow becomes more predictable, you can use it as a way to get business money.
Your Time and Attention
With crowdfunding and grant proposals, you don't have to give the money back. But you do have to spend time trying to get it—often with a low success rate. 
Equity in Your Business
Business equity is a share in your business. You can sell yours to venture capitalists (if they're interested), or to angel investors. This gets you business money in the short run. But in the long run, you'll be sharing decisions and profits with anyone who owns equity. Or, if you want to call all the shots, you'll have to buy those chunks of your business bank—and you could lose money on such a deal.
Business Credit
Only business credit lets you keep all your equity. You don't have to spend so much of your valuable time. And your cash flow doesn't have to be stable yet. Plus, you won't max out your personal credit cards and tank your utilization rate. And finally, it can help you avoid putting collateral on the line, or even enhance what you can get with the collateral you have.
The Great Resignation, Business Credit, and You: Takeaways
If yours is one of the over four million new small businesses that arose during the pandemic, you have options for business financing. Building business credit can help you succeed, and turn your part of the Great Resignation into a great new direction in life.