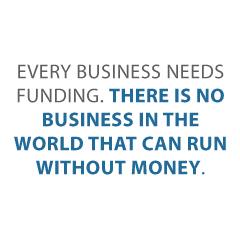 When you consider hanging your shingle and starting your own law practice, you have to think about a lot of things.  One thing you may think about is funding. Every business needs funding. There is no business in the world that can run without money. 
So, how do you get the business funding you need when you need it?  You may think a legal practice would have no problem getting funding.  However, even a law firm has to be fundable, particularly because rainmaking can take time — and it isn't always dependable.  Strong fundability is necessary for any business to get financing. 
There is an added benefit for legal practices when it comes to fundability. Fundability aligns rather closely to all of the little things a firm does to attract, impress, and retain clients.
How Does Fundability Affect Funding for Law Firms? 
When you are just starting out with your own practice, clients may be few and far between. Not only that, but the cases you get are not likely to be huge.  You need a way to make payroll and pay other bills and obligations until cash flow catches up.  This is where fundability comes into play. 
Fundability is any business's current ability to get financing.  Now, don't make the mistake of thinking that you'll be able to get the funding just because of the type of business you own.  It may help.  Still, before lenders approve funding for law firms, they want to make sure the business is fundable. 
Regardless of the type of business, there are 5 core principles of fundability that it must have.  Each core principle is affected by a number of factors. Sadly, many business owners never realize that those factors can affect their ability to get business funding. 
Funding for Law Firms: Even Law Firms Need to Build a Fundable Foundation
The fundable foundation starts where every foundation starts, at the beginning.  Likewise, it has everything to do with how you set your business up. 
Contact Information
A business needs its own phone number and address.  A business phone number should not be your own, even if you are a sole practitioner. You can use a separate line or VoIP and have it forwarded to your personal phone.  Just do not list your personal phone number as your business number.  
As for an address, it has to be a physical address where you can receive mail.  A P.O. Box or UPS Box will not work.  Of course a virtual office is an option. However, realize that some lenders will not accept a virtual office address. 
EIN
Your law firm needs an EIN as well.  Lenders want to see your business is legitimate and credible. If you apply for business funding and do not have an EIN, it looks unprofessional. Likely, this is even more true for an attorney.  The number is free and easy to get on the IRS website. An EIN has the added bonus of keeping your personal Social Security number private.
Incorporate
Of course, attorneys know the importance of incorporating for liability purposes. But, incorporating your business is an important step in separating a business from the owner personally which also increases fundability. The state you are in will determine which type of corporation is allowable for legal practices. In California, for example, if you opt to become a professional corporation, liability protection will not cover acts related to professional malpractice. You could instead form a California Legal Liability Partnership (LLP) and you would not be vicariously liable for the malpractice of other members.
Other states, like Massachusetts, will allow a firm to become a professional legal liability corporation (PLLC). In the Bay State, a PLLC won't protect you from vicarious liability for the malpractice of other members of the PLLC. And in Delaware, the term is LLC (they don't use the term PLLC) although you can also create a Professional Corporation in Delaware. Both arrangements provide some protection. It will pay to compare the two types closing before deciding between them.
In general, creating a PLLC or LLC means the members must all be licensed to practice within the state of incorporation. Hence, unlike with other types of business incorporating, you wouldn't be able to choose to incorporate in Delaware or Wyoming — unless of course your firm is in the applicable state and all of the members are admitted to practice there. Incorporation also must be done as soon as possible. A lot of lenders look for a minimum time in business, and generally they consider the start of business to be the incorporation date. 
Business Bank Account
You have to open a separate, dedicated business bank account.  There are a number of reasons for this.  When it comes to fundability, the key is that there are several types of funding you cannot get without one.  Many lenders and credit cards want to see a business account with a minimum average balance.  
Licenses
If you do not have the necessary licenses to run your business, red flags are going to fly up all over the place.  Lenders do not lend to borrowers that they feel are not doing what they should.  In a legal LLC or PLLC, the members will all need to be admitted to practice in the applicable state.
Firms practicing in federally regulated fields (such as securities), will likely need federal licensure.
Website
These days, you do not exist without a website.  However, having a poorly put together website can be even worse.  It's the first impression you make on many, including lenders.
Spend the time and money necessary to have a website that is professionally designed and works well.  Pay for hosting rather than usings a free hosting service.  Also, make sure it has the same URL as your website.  Don't use a free service such as Yahoo or Gmail. In particular, free services may not have the kind of security you would need to maintain client confidentiality, anyway.
Another plus to having a professional website and email address(es) is they are an opportunity to establish a trusting relationship with your clientele.
Funding for Law Firms: Business Credit Reports
A business credit report is a tool to help lenders determine how creditworthy a business is, even law firms.  There are a few different sources, but the main ones are Dun & Bradstreet, Experian, Equifax, and FICO SBSS.  Since you have no way of knowing which one your lender will choose, you need to make sure all of these reports are up to date and accurate. 
Other Business Data Agencies 
In addition to the business credit reporting agencies that directly calculate and issue credit reports, there are other business data agencies that affect those reports indirectly.  LexisNexis and The Small Business Finance Exchange are two examples of this. 
These two agencies gather data from a variety of sources, including public records.  They even have access to information relating to automobile accidents and liens. While you may not be able to access or change the data these agencies have on your business, you can ensure that any new information they receive is positive.  Enough positive information can help counteract any negative information from the past. 
Identification Numbers 
In addition to the EIN, there are identifying numbers that go along with your business credit reports.  The Experian BIN is simply assigned by Experian.  But you do have to apply for a D-U-N-S number from Dun & Bradstreet. 
Dun & Bradstreet is the largest and most commonly used business credit reporting agency.  Every credit file in their database has a D-U-N-S number.  Apply for one through the D&B website. It's free. 
Business Credit History
Your business credit history is what makes up your business credit score, which is a huge factor in the fundability of your business.  
Your credit history consists of: 
How many accounts are reporting payments?

How long have you had each account? 

What type of accounts are they?

How much credit are you using on each account versus how much is available?

Are you making your payments on these accounts consistently on-time?
The more accounts you have reporting on-time payments, the stronger your credit score will be. 
Business Information
Business information needs to be consistent. Something as small as using an ampersand in your business name on one document and the word "and" on another can cause an application for funding to be denied. 
A large number of loan applications are turned down each year due to fraud concerns simply because things do not match up.  Maybe your business licenses have your personal address, but now you have a business address. Do some of your credit accounts have a slightly different name or a different phone number listed than what is on your loan application?  
Inconsistency causes warning bells for lenders, and you may never know what the problem was. 
Funding for Law Firms: Personal Credit Reports
Your personal credit score from Experian, Equifax, and Transunion all make a difference.  You have to have your personal credit in order because it will definitely affect the fundability of your business.  
Some business credit reporting agencies use your personal score in your business score calculation.  Of course, lenders may pull your personal score as well, regardless of what your business credit score looks like.   
Funding for Law Firms: Financial Statements
Both your personal and business tax returns need to be in order, and you need to be paying them. Tax returns aren't the end of the story however.
Business Financials
It is best to have an accounting professional prepare regular financial statements for your business. Having an accountant's name on financial statements lends credence to the legitimacy of your business. 
Personal Financials
Often tax returns for the previous three years will suffice.  Again, it is best to have a professional prepare them.  Other information lenders may ask for include check stubs and bank statements, among other things. 
Bureaus
There are several other agencies that hold information related to your personal finances that you need to know about.  Everyone knows about FICO.  Your personal FICO score needs to be as strong as possible. It really can affect business fundability and almost all traditional lenders will look at personal credit in addition to business credit. 
ChexSystems is also in the mix.  They track bad check activity, which makes a difference when it comes to your bank score.  If you have too many bad checks, you will not be able to open a bank account.  That will cause serious fundability issues. 
Everything is fair game. Do you have a bankruptcy or short sale on your record?  What about liens or UCC filings? Yes, even these personal things can affect the fundability of your business. 
Funding for Law Firms: The Application Process
First, consider the timing of the application.  Is your firm currently fundable?  Next, ensure that your business name, business address, and ownership status are all verifiable.  Lenders will check into it.  Lastly, make sure you choose the right lending product for your business and your needs.  Do you need a traditional loan or a line of credit?  Would a working capital loan or expansion loan work best?  Choosing the right product to apply for is important. 
Putting together the Fundability Puzzle
Everyone knows the easiest way to put together a puzzle is to start with the edges and corners. These are the easiest pieces to find because of their straight edges.  Once in place, there is a framework within which to fit all the other pieces. 
The fundable foundation is like a puzzle framework. Even with a law firm, it's easier to start building your fundability from the beginning, especially since many of the steps you need to take are what clients are looking for in a firm anyway. Similarly, the foundational pieces are easiest to find.  As a result, filling in the details of all the other principles goes much more smoothly.  Yet, many business owners do not even realize these pieces are part of the fundability puzzle at all. 
Funding for law firms is out there.  Making sure your firm is fundable assures you the best possible chance of getting the funding you need to grow and thrive.