How Do You Establish Business Credit with Your EIN? Your Competitors Know – Do You?
Have you been asking: how do you establish business credit with your EIN? We can show you how to keep your personal and business credit separate via using your EIN.
Whether you have a new business, or you are now connected because you purchased one or have suddenly become an owner or a manager here are reasons to build your corporate credit and use your EIN.
Separate Your Business Credit from Consumer
Even when you are a sole proprietor (let's say you market a specific thing handmade by nobody but you), it will still help, big time, for you to set up a financial fence between your individual credit and your corporate credit.
How come? Because keeping a barrier means that your individual credit will not be impacted by your corporate credit. You don't stand to lose a car, for instance, in the event that your small business goes into receivership.
This means getting an EIN from the Internal Revenue Service and using it. It also means not handing out personal guarantees or your Social Security number to creditors, if you can at all help such things.
Maintain Your Personal Credit for Your Own Expenses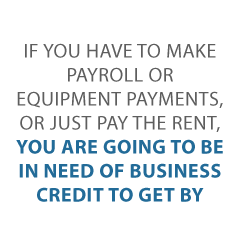 Even though you pay all your business's accounts punctually, each and every single time, you aren't doing yourself any favors using your personal charge cards (or other accounts such as a checking or savings account) to settle business debt.
How come? Because both forms of credit scores are impacted by what's known as the Credit Utilization Rate. This is just the credit you're making use of, then divided by total available credit. You want to keep this ratio at around 30% or less.
Thus, if you are using your own personal cards to cover your business expenses, you are inflating your credit utilization rate. If you bring it over the 30% benchmark, then your personal credit score will be negatively affected even if you are diligent about settling your company financial obligations.
Establish a Credit History Before You Really Need to Tap It
For the major credit reporting bureaus (Experian, Equifax, and Dun and Bradstreet; you know, all the places you know of where to check a business credit score), credit history is just one of the parts they use when calculating your business credit score. The longer (and better) your credit history, the better your small business's credit score is likely to be.
When you take into account what credit score needed for a business loan, then you need every single bit of your credit score you can get. If you start off early, it can only help you.
Plan for Lean Times
You may not wish to think about it, but there are going to be instances when the work runs out. If you are in a seasonal business, then this is a part of the DNA of your business.
But every firm can undergo leaner times. If you have to make payroll or equipment payments, or just pay the rent, you are going to be in need of business credit to get by. And by developing your business credit even before you actually need it, you are a lot more likely to acquire better terms, or even credit at all.
Business Credit Means You Can Eventually Get Bank Loans for Your Company
Building business credit means that bank loans will be approved faster and with better terms. You will be able to take advantage of opportunities, and seize them when they are still significant.
Without having business credit, even if you get a loan, it will certainly take longer. And then somebody else might buy those economical raw materials or outbid you when it comes to prime real estate.
How Do You Establish Business Credit with Your EIN? The Method
Building business credit is a process, and it does not occur automatically. A corporation needs to proactively work to build corporate credit. However, it can be accomplished readily and quickly, and it is much swifter than establishing personal credit scores. Vendors are a big aspect of this process.
Carrying out the steps out of order will cause repeated denials. Nobody can start at the top with company credit.
Company Fundability™
A corporation has to be trustworthy to loan providers and merchants. That's why, a company will need a professional-looking web site and email address, with site hosting bought from a vendor such as GoDaddy. Also business phone and fax numbers must be listed on ListYourself.net.
Likewise the business telephone number should be toll-free (800 exchange or the like).
A company will also need a bank account devoted solely to it, and it has to have every one of the licenses needed for operating. These licenses all have to be in the particular, accurate name of the small business, with the same corporate address and phone numbers. Note that this means not just state licenses, but possibly also city licenses.
Working with the IRS
Visit the Internal Revenue Service web site and obtain an EIN for the small business, if you haven't done so already. They're free of charge. Pick a business entity such as corporation, LLC, etc. A company can start off as a sole proprietor but will most likely want to change to a form of corporation or partnership to diminish risk and make the most of tax benefits.
A business entity will matter when it involves tax obligations and liability in the event of a lawsuit. A sole proprietorship means the owner is it when it comes to liability and tax obligations. No one else is responsible.
Kicking Off the Business Credit Reporting Process
Begin at the D&B website and get a free DUNS number. A DUNS number is how D&B gets a business in their system, to generate a PAYDEX score. If there is no DUNS number, then there is no record and no PAYDEX score.
Once in D&B's system, search Equifax and Experian's web sites for the corporation. You can do this here. If there is a record with them, check it for accuracy and completeness. If there are no records with them, go to the next step in the process. In this manner, Experian and Equifax will have activity to report on.
Trade Lines
First you ought to establish trade lines that report. This is also referred to as vendor credit. Then you'll have an established credit profile, and you'll get a business credit score. And with an established business credit profile and score you can start getting more credit.
These kinds of accounts often tend to be for the things bought all the time, like shipping boxes, ink and toner, and office furniture.
But to start with, what is trade credit? These trade lines are creditors who will give you preliminary credit when you have none now. Terms are in most cases Net 30, versus revolving. Therefore, if you get approval for $1,000 in vendor credit and use all of it, you will need to pay that money back in a set term, like within 30 days on a Net 30 account.
Details
Net 30 accounts must be paid in full within 30 days. 60 accounts have to be paid in full within 60 days. Compared to with revolving accounts, you have a set time when you have to pay back what you borrowed or the credit you used.
To launch your business credit profile the right way, you should get approval for vendor accounts that report to the business credit reporting agencies. When that's done, you can then make use of the credit, pay back what you used, and the account is reported to Dun & Bradstreet, Experian, or Equifax.
Not every vendor can help in the same way true starter credit can. These are vendors that will grant an approval with negligible effort. You also want them to be reporting to one or more of the big three CRAs: Dun & Bradstreet, Equifax, and Experian.
Uline Shipping Supplies
Uline Shipping Supplies is a true starter vendor. Find them online here. They sell shipping, packing, and industrial supplies, and they report to D&B and Experian.
You need to have a DUNS number. They will request 2 references and a bank reference. The first few orders may have to be prepaid to initially get approval for Net 30 terms.
Marathon
Check out starter vendor Marathon. Marathon Petroleum Company provides transportation fuels, asphalt, and specialty products throughout the United States. Their comprehensive product line supports commercial, industrial, and retail operations. This card reports to Dun & Bradstreet, Experian, and Equifax. Before applying for multiple accounts with WEX Fleet cards, make sure to have enough time in between applying so they don't red-flag your account for fraud.
Your SSN is required for informational purposes. If concerned they will pull your personal credit talk to their credit department before applying. You can give a $500 deposit instead of using a personal guarantee, if in business less than a year. Apply online. Terms are Net 15. Get it here: www.marathonbrand.com.
Grainger Industrial Supply
Grainger Industrial Supply is also a true starter vendor. Find them online here. They sell safety equipment, plumbing supplies, and more, and they report to D&B. You will need to have a business license, EIN, and a DUNS number. For under $1000 credit limit they will approve almost anyone with a business license.
Accounts That Do Not Report
Non-Reporting Trade Accounts can also be helpful. While you do want trade accounts to report to at least one of the CRAs, a trade account which does not report can nonetheless be of some value. You can always ask non-reporting accounts for trade references. Additionally credit accounts of any sort ought to help you to better even out business expenses, therefore making budgeting simpler. These are providers like PayPal Credit, T-Mobile, and Best Buy.
Monitor Your Business Credit
Know what is happening with your credit. Make certain it is being reported and take care of any errors ASAP. Get in the habit of taking a look at credit reports. Dig into the details, not just the scores.
We can help you monitor business credit at Experian, Equifax, and D&B for a lot less than it would cost you at the CRAs. Update the information if there are mistakes or the data is incomplete.
Disputing Inaccuracies
What's all this monitoring for? It's to dispute any inaccuracies in your records. Disputing credit report inaccuracies commonly means you precisely detail any charges you challenge.
Dispute your or your business's Equifax report by following the instructions here: https://www.equifax.com/small-business-faqs/#Dispute-FAQs. Dispute errors on your or your business's Experian report by following the instructions here: www.experian.com/small-business/business-credit-information. And D&B's PAYDEX Customer Service contact number is here: https://www.dandb.com/glossary/paydex/.
A Word to the Wise
Always use credit sensibly! Don't borrow more than what you can pay back. Keep track of balances and deadlines for repayments. Paying off in a timely manner and fully will do more to boost business credit scores than almost anything else.
Building company credit pays off. Excellent business credit scores help a corporation get loans. Your loan provider knows the business can pay its debts. They understand the business is for real. The business's EIN connects to high scores, and lending institutions won't feel the need to demand a personal guarantee.
Takeaways for How Do You Establish Business Credit with Your EIN
Build business credit as early as you can and realize the benefits long afterwards. How do you establish business credit with your EIN? Just follow our steps. Learn more here and get started toward building business credit attached to your company's EIN and not your SSN.