A Look at Other Dun & Bradstreet Credit Scores
Dun & Bradstreet offers several credit scores for businesses. Here are some of the other Dun & Bradstreet business credit scores you might not know about.
Their most popular credit score is the PAYDEX score which ranges from 0 to 100. This is the main credit scoring model in use today in the business scoring world.
What About the Other Dun & Bradstreet Business Credit Scores?
Notwithstanding this score, there are some other Dun & Bradstreet scores that not a lot of people know about.
Other Dun & Bradstreet Scores: Supplier Evaluation Risk Rating
One of these scores is known as the Supplier Evaluation Risk Rating (SER).
This rating predicts the likelihood that a company will file for bankruptcy and cease operations within the next 12 months.
https://creditsuite.wistia.com/medias/1rpvzn0f8n?embedType=async&videoFoam=true&videoWidth=640
This score ranges from 1 to 9. Moreover, 1 is the lowest risk and 9 is the highest.
Supplier Stability Indicator
D&B also offers a score known as the Supplier Stability Indicator (SSI).
This model predicts the likelihood that a supplier will encounter a large and significant financial or operational stress over the next 90 days. That includes issues such as bankruptcy or the like.
This score ranges from 0 to 10 with 0 being the lowest risk and 10 the highest.
All of Dun & Bradstreet's Business Credit Scores Matter to Your Business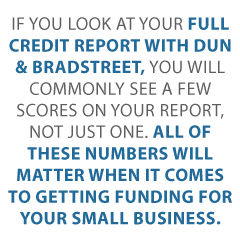 So, keep your eye out for all three of these scores. If you look at your full credit report with Dun & Bradstreet, you will commonly see a few scores on your report, not just one. All of these numbers will matter when it comes to getting funding for your small business.
Knowledge is power! And knowing what your scores all mean will help you raise those scores. Plus, in return, raising your business credit scores can help you get more cash for your business.
Whether you have a startup or are more seasoned, this is important information. So now you will know exactly what each of these scores truly reflects.
Takeaways
Keeping a handle on your scores at Dun and Bradstreet can help your business get loans and credit. And you can get better terms for both, when your D&B credit scores—all of them—are pointing in the right direction.