Funding for businesses is needed now more than ever.  Funding that does not have to be repaid is always in high demand, as is funding that does not require a stellar credit score.  In the eyes of most, and rightly so, that is exactly what crowdfunding is.  That is not the crowdfunding definition however.  There is so much more to the whole crowdfunding scene. 
Crowdfunding Definition: What It Is, What It Is Not, and What Your Other Options Are
According to Dictionary.com, the crowdfunding definition is: 
"the activity or process of raising money from a large number of people, typically through a website, as for a project or small business."
It sounds like a great plan, right?  It is, until you know that the average success rate of crowdfunding campaigns is 50%.  That said, 78% of crowdfunding campaigns reach their goal.  Of course, that sounds better.  Still, reaching your goal doesn't guarantee success.
Crowdfunding Definition: What Crowdfunding Is
The thing is, crowdfunding is definitely a viable option, but it is too risky to depend upon as your sole source of funding.  For some, it works out to where you can get a whole business off the ground without any other funding source.  For most, crowdfunding simply reduces the amount of debt you must take on.  Yet, for many, there are not even enough funds raised from such campaigns to get started. 
Crowdfunding Definition: What Crowdfunding is Not
Whether crowdfunding for startups or for an already existing business, it is not a legitimate only option.  There needs to be a backup plan for either supplemental funds or full funding.  If your credit score is good, there is no worry here as financing options abound.  However, a not so great credit score can make a backup plan more difficult.  
Crowdfunding Definition: Crowdfunding Platforms
While not an exhaustive list, these are some of the most popular crowdfunding platforms. 
Kickckstarter

Indiegogo

RocketHub

CircleUp

GoGetFunding

Crowdfunder

Fundable

Fundly
Whichever platform you choose, whether one of these or one not on this list, remember there are a number of crowdfunding resources available to help you on this journey.  You just have to look for them. 
Crowdfunding Definition: Behind the Scenes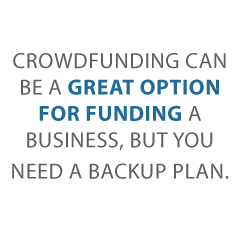 Now, the best way to find out about crowdfunding is to take a look at some actual campaigns.  Here are some of the most notable, the good, the bad, and the ugly. 
Pebble SmartWatch
Pebble actually has several of the top 10 campaigns ever on Kickstarter. Their 2nd campaign is the highest funded campaign to date, reaching over $20,000,000. That's not too shabby for a goal of only $500,000. They blew it out of the water!
Are they still successful? Well, yeah, but not in the way you may think. They actually sold to FitBit.
FlowHive
This one is not one that most would expect to explode onto the scene the way it did. The FlowHive Indiegogo campaign definitely generated some major buzz. The idea was to find a way to get the honey from bees without harming the bees.
Traditionally, hives are simply broken open to obtain the honey. This process can kill the bees. FlowHive developed a fake hive of sorts, made from reusable plastic. Bees make honey in it, and the honey flows through a spout out into the world. The bees are safe and fresh honey is ours for the taking.
Apparently, beekeeping is growing in interest. This campaign raised $14,000,000. Though they won't disclose exact numbers, the queen bees claim they are still buzzing and in the black.
CoolestCooler
The coolest cooler was a super cool Kickstarter campaign that came in at over $13.000,000 raised. The cooler boasted bluetooth and a blender among other things. Investors received a cooler for their donation toward the cause.
This one had some trouble when it wasn't able to deliver investment rewards as quickly as promised and there was actually a lawsuit. In the end, everything worked out and everyone got their rewards.
BauBox Travel Jacket
This jacket has 10 different  elements, including a drink holder and a neck pillow. They raised over $11,000,000 across 2 campaigns. It was a bumpy start, partially because the jacket was available on retail sites before investors even got theirs, but it is still selling today.
As you can see, while mostly successful, even these top campaigns had some pretty serious bumps along the way.  You need to be prepared for the same, even if you reach your fundraising goals.
Crowdfunding Definition: The Backup Plan
One of our favorite options for business funding as either a backup to or supplement with crowdfunding is the Credit Line Hybrid.  
Credit Line Hybrid
A credit line hybrid is a form of unsecured business funding.  With it, you can fund your business without putting up collateral.  You only pay back what you use.  
It is not as hard to qualify as you may think.  Your personal credit needs to be good, as in at least 700.  In addition, you can't have any liens, judgments, bankruptcies or late payments. 
Furthermore, in the past 6 months you should have no more than 4 inquiries, and you should have less than a 45% balance on all business and personal credit cards.  It's also preferred that you have established business credit as well as personal credit.
However, if you do not meet all of the requirements, the credit line hybrid is still accessible. You can take on a credit partner that meets each of these requirements. 
Many business owners work with a friend or relative to fund their business.  If a relative or a friend meets all of these requirements, they can partner with you to allow you to tap into their credit to access funding. This makes a credit line hybrid an excellent option for bad credit business funding.
Credit Line Hybrid Benefits
There are many benefits to using a credit line hybrid.  For example, it is unsecured, meaning you do not have to have any collateral to put up.  Next, it is no-doc funding.  This means you don't have to provide any bank statements or financials.  
Not only that, but it is possible to get interest rates as low as 0% for the first few months.  That allows you to put that savings back into your business. 
The process is usually fast, especially with a qualified expert to walk you through it.  One other benefit is this.  With the approval for multiple credit cards, competition is created.  This makes it easier, and likely even if you handle the credit responsibly, that you can get interest rates lowered and limits raised every few months. 
Crowdfunding Definition: The Down and Dirty Truth
Knowing the crowdfunding definition is just the first step.  As with most else in the world, a definition isn't enough.  Once you know the crowdfunding definition, the hard part starts.  You have to figure out if it is right for you and your business.  It may work great, or it may not.  Plan for the best and hope for the worst is a great motto to live by here. 
Do your research on how to run a great campaign, and spend the time necessary to thoroughly research platforms and determine which one will work best for your needs. 
Then formulate your backup plan. Do you need loans, a credit line hybrid, or some combination?  The time to figure that out is on the front end, before you need it.  By the time you see the need is a reality, it could be too late.