You have organized your business's finances as the owner to maintain everything in order, particularly for bookkeeping needs. A lot of the time, your habits are reflected in how you handle your business spending. You may use your debit or credit card to pay for your purchase. When it comes to credit cards vs debit cards, there are differences you should know.
Deciding to use a debit card, credit card, or both might be crucial when starting a small business. Depending on which card you select, credit cards and debit cards each provide a variety of advantages and disadvantages. 
So, what should you use? A credit card or a debit card for your business? The answer relies on several variables. Business owners need to know about both sorts of payment cards.
Business Usage: Credit Cards vs Debit Cards
You can use revolving lines of business credit cards to make purchases. In return, you pay an annual percentage rate (APR) of interest and fees on your balance. 
Additionally, many companies that provide business credit cards have loyalty programs that reward customers with cash back or points for purchases. The annual percentage rate, or APR, appears in the following forms:
An introductory APR:

The promotional interest rate you pay for a specific period is an introductory APR.

The purchase APR:

It

determines the interest rate you pay on all purchases.

The balance transfer APR:

The interest rate levied on debt refinanced from another credit card or line of credit is known as the balance transfer APR.
Types of Business Credit Cards
1. Standard Business Credit Card
You won't accrue extras like airline miles with this business card. However, a business credit card could have a lower interest rate than other cards. You might not even be required to pay an annual fee. A predetermined spending cap could also be present on a typical card.
2. Rewards Credit Card
For business owners, a rewards business card offers unique benefits. 
The owner of the firm could be able to accumulate airline miles for trips or to put them toward hotel reservations. Cashback on purchases is another perk of reward cards.
3. Secured Credit Card
A cash deposit is used to secure a secured credit card. You can use the money without going over budget thanks to it. Secured business cards are popular among startups and companies with bad credit to raise their credit score.
4. Business Charge Card
One kind of unsecured company credit card is the charge card. This card prevents money from being taken from your company's checking account. Additionally, these cards typically do not have specified spending caps.
Business Debit Card
A business debit card is a payment card connected to your bank's checking account, and your bank account will be directly debited to pay for it. With a debit card, you have no credit limit; therefore, you can only spend the money in your bank account. 
Due to the absence of interest, you don't need to be concerned about the APR.
Types of Business Debit Cards
1. Standard Debit Card
Similar to a personal debit card, a standard debit card can be used to withdraw money from your checking or savings account for business purposes. To use the debit card, you must also have a PIN.
2. Electronic Benefits Card
An organization wouldn't have an EBT card, but it might accept one as payment. The United States Department of Agriculture claims that an EBT card functions similarly to a debit card and can be used to buy food items from approved shops.
3. Prepaid Debit Card
To use this corporate debit card, you must deposit cash rather than take funds from a checking or savings account. A few to several thousand dollars can be added to prepaid debit cards during reloading.
Advantages of Business Credit Cards: What are 4 Advantages of Credit Cards?
For many small business owners, using a business credit card may be a wise choice.
1. Credit Card Rewards
Credit card rewards are one of the essential advantages of utilizing a company credit card for purchases. Some business credit cards let you earn rewards in categories where your company might spend much money beyond the going rate. 
Using a credit card that offers 2% cash back is beneficial for companies with slim profit margins. Companies that receive discounts more significant than the rewards rate for paying in money could do better using alternative payment options.
2. You Can Control the Cash Flow
Another significant advantage of business credit cards is their capacity to help you manage your cash flow and finance expenditures.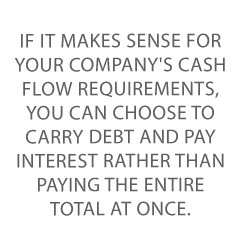 If it makes sense for your company's cash flow requirements, you can choose to carry debt and pay interest rather than paying the entire total at once. 
If the grace period on your company credit card is active, you may make a purchase and then pay it off before the due date on your bill without incurring interest. This offers you time to float the purchase without having to incur borrowing fees.
3. Prevent Fraud
You typically have higher fraud protections with credit cards than with debit cards. Credit card providers are more likely to take action to resolve the issue since you have yet to pay for the transaction and you have charged it to your credit account. 
The funds still need to be taken from the bank account. As a result, you won't need to worry about how you'll make payroll in the absence of the missing funds.
4. Improve Business Credit
You'll improve your company's credit using the business credit card appropriately. This can enable you to obtain other loans that your business might require to expand.
Disadvantages of Business Credit Cards: What are 3 Disadvantages of Credit Cards?
Even though company credit cards have many advantages, they also have disadvantages.
1. Hefty Fees
You should be aware of the costs associated with business credit cards. There are frequently late penalties or returned payment costs on corporate credit cards. Some credit cards impose yearly fees or charges for employee cards. 
If you carefully choose the credit card before applying and use it sensibly, fees shouldn't be an issue. It's simple to let things fall through the gaps and have to pay fees that a debit card would have prevented.
2. Interest Rates
In most circumstances, you'll have to start paying interest if you choose to have a balance on your company credit card. Credit card interest rates are often substantially higher than those of conventional loans. 
Using a credit card instead of borrowing could be more convenient if you can pay it off quickly. Unfortunately, many think they can rapidly pay off a credit card but end up paying the balance for years. You will soon be in credit card debt if you can't repay the amount. 
The situation will worsen, and you will keep paying the interest and still cannot get out of debt. You may have to enroll in credit card consolidation programs or other similar debt relief options to escape.
3. You May Overspend Using a Credit Card
If you need more money in your account, you can disable overdraft protection on a business debit card and get declined. On the other hand, credit cards let you borrow money and run up a balance even if you need more cash to pay it off. 
Advantages of Business Debit Cards: What are 2 Advantages of a Debit Card?
A debit card might be a better option for people who have problems charging more than they can afford to pay back.
1. You Can't Spend More Than You Can Afford
Business debit cards make it more challenging to overspend than business credit cards. If you have turned off overdraft protection and equivalent perks, your debit card may not be accepted when you run out of funds in your account. 
Even if you have $50,000 in your bank account and a $500 allowance for office supplies, you could still go beyond. On the other hand, you can't get into as much debt as you could with a credit card.
2. No Interest Payments
You won't be charged interest because a business debit card prevents you from accruing debt. You can avoid paying a sizable amount of interest as a result. Some bank accounts reward you with interest for keeping your money there. 
Debit cards for businesses typically have lower costs as well. For instance, you must make payments on time since you are using your account balance.
Disadvantages of Business Debit Cards: What are the 4 Disadvantages of a Debit Card?
However, not all business debit cards are beneficial and have significant flaws.
1. No Rewards
With company credit cards, rewards are typical; however, with corporate debit cards, prizes are uncommon. Most debit cards do not provide bonuses or cash back for usage. 
There might be a few exceptional cases, but don't expect the benefits to be as good as those offered by the best business credit cards.
2. No Way to Improve Your Credit
A debit card will only assist in establishing your company's credit if you need to borrow money. This is fine if you never need to borrow money to help your firm expand. 
Unfortunately, a lot of companies do require credit to develop. Using a debit card won't assist your company's credit score rise, so you can access other loans you might afterward require.
3. Finding Fraud is Difficult
A business debit card fraud case is more complex than one with a corporate credit card. Your bank account will be debited if a thief fraudulently uses your company debit card. The funds are gone. 
You need to pay the credit card bill for a business card later. This is a crucial distinction because fraudulent transactions do not affect your accessible funds. 
It is not possible to spend money, but it is held up in a fraud investigation, waiting to be returned to you. While you wait for the inquiry to be finished, you might need help to pay your employees or make other vital expenditures. 
You can only finance these important transactions if you have access to company credit.
4. You Can't Access Credit
In contrast to a credit card, a bank account does not provide a line of credit. When you need credit, credit cards allow you to access it, and when you don't, they let you pay off your balance. You can only use the funds in your account via debit cards. 
While overdraft protection can allow you to go over your limit periodically, you won't be able to borrow $10,000. If you discover a chance to expand your business but need more resources to make it happen, this might be a severe problem.
Verdict: Choose the Card That Will Benefit Your Business the Most
Now that you know the primary advantages and disadvantages of debit and credit cards for businesses, you can choose the best option. You are not required to pick between the two options. You can have a credit card and a debit card for your business. 
When a reputable merchant offers debit card discounts, try to use a debit card to save money for your business. When making an online purchase with a merchant that does not provide a deal, you can take advantage of the perks offered by business credit cards. 
When weighing credit cards vs debit cards, you will ultimately determine which card is best for your business.  
Contact us today to learn more about harnessing the power of business credit to grow your small business.