Are You Looking for Business Trade Credit?
Business trade credit is a line of credit extended by a merchant to a business. Often the terms are Net, which means there's a set time to pay, and you can't carry the balance, like you can with what's called revolving credit. One common term is Net 30 – which means you have 30 days in which to pay.
Legit Business Trade Credit
A business gets goods or services and agrees to pay for them at a later date. Trade lines are often established between a business and a vendor. This is as opposed to a line of credit offered by a bank. Trade lines can help businesses build credit since the loans are frequent and the turnaround quick. They can also help rapidly build positive credit experiences.
Working with Starter Vendor Credit
When you use tradelines that report, then you'll have an established credit profile. You'll get a business credit score. And with an established business credit profile and score you can begin to get credit for numerous purposes, and from all sorts of places.
Details
To kick off your business credit profile properly, get approval for vendor accounts that report to the business credit reporting agencies. When that's done, you can then use the credit. Then pay back what you used. And then the account is on report to Dun & Bradstreet, Experian, or Equifax.
There are other business credit bureaus that tradelines report to, including Creditsafe and Ansonia. Make sure you know which bureaus your business tradelines report to, if any.
Vendor Credit – It Helps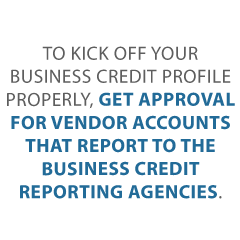 Not every vendor can help in the same way true starter credit can. These are merchants that grant approval with very little effort. You also need them to be reporting to one or more of the big three CRAs: Dun & Bradstreet, Equifax, and Experian. As you get starter credit, you can also start to get credit from retailers. Since over 90% of all vendors don't report, it helps to work with a company that knows the ins and outs of which vendors report, and how to work with them.
Business Trade Credit from Uline
Uline is a true starter vendor. They offer shipping, packing, and industrial supplies and more. They report to D&B and Experian. Over 99% of their products ship same day, with no back orders. They will ask for your business bank information. Your company address must be uniform everywhere.
You need:
Entity in good standing with Secretary of State
EIN number with IRS
Business address- matching everywhere
D-U-N-S number
Business license(s) if applicable
A business bank account
Business phone number listed in 411
Here's how to apply with them. You will need to create an account first. Then place an order and select Net 30 terms. Their credit dept. will review the account. Your application may be approved for net 30 at time of order. Upon final review, their credit department may change to a few prepaid orders before a Net 30 is granted.
Business Trade Credit from Marathon
Marathon Petroleum Company provides transportation fuels, asphalt, and specialty products throughout the United States. Their product line supports commercial, industrial, and retail operations. This card reports to Dun & Bradstreet and Experian. Before applying for multiple accounts with WEX Fleet cards, make sure to have enough time in between applying so they don't red-flag your account for fraud.
To qualify, you need:
Entity in good standing with Secretary of State
EIN number with IRS
Business address- matching everywhere.
D-U-N-S number
Business license (if applicable)
And a business bank account
Business phone number listed on 411
Your SSN is necessary for informational purposes. If concerned they will pull your personal credit talk to their credit department before applying. You can give a $500 deposit instead of using a personal guarantee, if in business less than a year. Apply online or over the phone. Terms are Net 15.
Business Trade Credit from Grainger Industrial Supply
Grainger Industrial Supply sells hardware, power tools, pumps and more. They also do fleet maintenance. And they report to Dun & Bradstreet. Apply online or over the phone.
To qualify, you need the following:
A business license (if applicable)
An EIN number
A company address matching everywhere
A business bank account
A D-U-N-S number from Dun & Bradstreet
Your corporate entity must be in good standing with the applicable Secretary of State
If your business does not have established credit, they will require additional documents. These are items like accounts payable, income statement, balance sheets, and the like.
For even more starter vendors, check out our starter vendor research – and for the most up-to-date information, always be sure to go directly to vendors' websites.
Business Trade Credit: Some Misconceptions
Since you have heard about how business tradelines can help you build business credit, you may think, I'll just buy a few things and then I'll be done, and then I can move onto what I really want to buy from where I really want to shop. You may feel trade credit is just a steppingstone to the good stuff. But here's a tip, vendor credit is a great end unto itself.
Beyond Business Credit – What Starter Vendors Can Do for Your Business
Don't just throw stuff in a cart willy-nilly! There's a lot to buy from starter vendors. It's things you will need now, and later in the life of your business. Starter vendors sell more than boxes.
For example, Grainger sells computer supplies like mice, screen filters, and cables. You can get your next laptop carrying bag or flash drives from them. Get your next desk chair from Uline (ergonomics are really important – your back will thank you). You can even get disinfecting wipes from them – remember when those were an incredibly HOT commodity in 2020?
At Marathon, you can fill up with your business credit card and earn points. Use your points for everything from 7 cents off per gallon, to Southwest Airlines travel points. And buy gasoline at hundreds of stations in much of the continental US and near parts of our borders with Mexico and Canada. A fill-up in Cadillac, Michigan could get you Target or Petco gift cards – and a cool 5 cents off per gallon.
Business Trade Credit: The Dark Side
But you should be aware that sometimes it's not all gift cards and a good PAYDEX score. There's a dark side when it comes to tradelines. You may have seen ads where you can buy them. Or a fellow businessperson may have suggested buying tradelines to you as a shortcut. That person is not doing you any favors.
There Are No Shortcuts in Life or Business. This is very true about building business credit. Yet some people try for a shortcut all the time. The top three areas where they try to game the system are:
Buying trade lines
CPNs (credit privacy/profile numbers) and
Buying shelf corporations
Getting caught doing any of these will hobble your funding efforts. Let's touch on a terrible idea – buying trade lines.
Buying Business Trade Lines
Many companies online promise to sell 'seasoned' trade lines. A business with poor or little credit, can, for several hundred or several thousand dollars, be piggybacked onto the account of someone with established excellent credit. New business owners seem more creditworthy than they really are. Does this sound unethical? Of course it does – because it is.
What is Piggybacking a Trade Line?
'Piggybacking' trade lines is a practice involving seasoned trade lines. A creditworthy borrower's accounts are used to improve the credit of an unrelated third party. A creditworthy borrower adds the third party as an authorized user of his lines of credit. But he or she does not actually provide the third party with materials (credit cards or account numbers, etc.) to let the third party make charges against that account. Hence, the authorized user never actually uses the credit.
How does Piggybacking Benefit Anyone?
The benefit to the third party is an improved credit rating. It 'shows' they are already approved for higher limit revolving accounts. In theory, showing you already have credit is supposed to make you more creditworthy for higher limit accounts. Many companies claim to be able to secure $100,000 – 250,000 credit lines once these accounts are reporting. This is dishonest.
How do Piggybacking Companies Work?
A company offering the piggybacking service maintains a network of creditworthy 'card holders' or 'vendors'. They will add strangers to their accounts as authorized users  for a fee. A third party, looking to increase their credit score, contacts the company. The company then offers a selected trade line to the client and charges the client a fee per account. The FBI has found that the trade line company can be a fake, and the primary card holder can be a stolen identity in these kinds of scams.
The client pays anywhere from $500 to $2,000 per trade line. The company submits the order to the card holder. Once the trade line reports, the company pays the card holder their fee. This is runs from $50 to $250 per authorized user. The company retains the remaining funds as its revenue.
What Federal Agencies Say About Buying Business Tradelines
The Federal Reserve says:
"The potential distortions in credit scores that piggybacking credit may introduce suggest that a reconsideration of existing regulations, industry practices, or both may be warranted to preserve the predictiveness of credit scoring models."
Credit Where None is Due? Authorized User Account Status and "Piggybacking Credit", Robert B. Avery, Kenneth P. Brevoort, Glenn B. Canner (Federal Reserve Board, March 5, 2010)
The FBI says:
When commenting on a 2013 bust of a fraud ring, "A second kind of tradeline is the "authorized user" tradeline, where a credit card holder adds another, so-called "authorized user," to a credit card account. This raises the credit score of the authorized user, who inherits some of the primary user's credit history.
Some defendants created and sold fake lines of credit for false identities made up by other defendants. These fraudulent primary tradelines were then used to increase the credit limits on fraud cards, so that the defendants could reap even larger profits. Defendants used the authorized user tradelines to create new identities."
The leader of the scam ring was sentenced to 80 months (that's over 6 1/2 years!) in prison in 2016.
FICO, Equifax, and Experian
FICO says:
"A  shadier version of piggybacking has been promoted by some CROs who offer to "rent" to their credit-challenged customers the trade lines of established accountholders, in an effort to boost their customers' credit profiles and scores."
Equifax says:
" authorized user abuse occurs when low-risk primary card owners "rent" their tradelines with extensive credit histories, high credit limits and solid repayment profiles to others – most times, knowingly, to fraudsters."
Experian says:
"Buying tradelines may be viewed as deceptive by lenders and credit reporting agencies, and could even put you in danger of committing bank fraud.
…
If you pay money to improve your credit scores without doing any of the work or even getting a card to use, you could be falsely representing your creditworthiness to potential lenders."
Unethical Methods Are Bad News
Lenders and CRAs know all the unethical methods out there. They know what to look for, and they will always be looking. When they see a new authorized user on a card, they will dig deeper.
It Will Catch Up to You
Sooner or later, D&B in particular will determine you bought tradelines. If a tradeline sales company performs an inquiry into your credit report, then D&B is tipped off. And any time you buy a tradeline, the seller will check your credit. Because they want to be sure they get paid.
D&B Methodology
Shutting down tradeline(s) is just the start. D&B will red flag your entire profile. They will flag legitimate trades alongside the illegitimate ones. You will lose whatever time you think you gained. Plus, you're out the cost of the tradelines.
Years Later
When a company is known to be a tradeline seller, then that company will be flagged. Any new inquiries by that flagged tradeline seller harm buyers. And so will older tradeline sales. There is no Statute of Limitations on this. That's because it's not through the courts system. If you bought a tradeline 50 years ago, D&B could still find out.
Personal Credit is Different
Consumer trades as an authorized user are considered legitimate. A person with poor credit can use this strategy legally. Hence if you know someone with great credit. Ask if you can become an authorized user on their card. You never need to use the card, yet it can still help to raise your personal credit scores. But never do this to jack up your BUSINESS credit scores.
Getting Business Trade Credit the Right Way: Takeaways
Working with starter vendors isn't just a means of building business credit. It's also a great way to get products and supplies that your business truly needs. It's not a waste of time or money. All you need to do is search on any vendor's website to find what they have to offer.
Business tradelines are perfectly legitimate IF you do not pay for them and build them properly and naturally. Buying business tradelines will sink your business credit building effort. It's dishonest and potentially part of a larger theft ring, SO DON'T DO IT!