The terms "business credit" and "fundability" get thrown around a lot.  The truth is, a lot of people think they are interchangeable. In fact, they are not.  Think of fundability as a puzzle, and all the pieces are different sizes. Business credit is a huge puzzle piece that goes right in the center.  
You Can't Have Complete Business Fundability without Business Credit
Think about the puzzle analogy and you can see how it isn't really possible to have complete fundability without business credit.  A huge piece of the picture would be missing. On the other hand, you could get a good idea of what the picture is if you have credit in your business name but not all the other pieces of the Fundability™ puzzle. 
That is how big this piece is. It is huge. You just wouldn't have all the funding options that you would if you had all the puzzle pieces. Before we can go further, you need to understand what Fundability™ is, and what business credit it.
What is Fundability™? 
Basically, fundability is the ability of your business to get funding. When lenders consider releasing funds for your business, does it appear to them to be a good idea to make the loan?  What do they look at to make that decision? 
When a lender considers lending to your business, they are wondering if you are high risk?  Do you seem like a business that can and will pay back the debt?  Lenders are in it for the money. They need to feel like they are making a good investment.  A high credit risk is not a wise lending choice.  
The harder question is how does a business get fundability? This is hard, because so many things affect fundability. Sure, a great credit score for your business is important.  In addition, many of the aspects necessary for a strong business credit score are necessary for fundability as well. 
A potential creditor needs to see that your business is legitimate and profitable.  Many loan applications are denied approval due to fraud concerns.  Others, simply because something didn't match up and threw up a warning signal. Maybe the addresses or phone numbers didn't match on a couple of reports and it just looks unprofessional.  
What is Business Credit and Why Do You Need It ?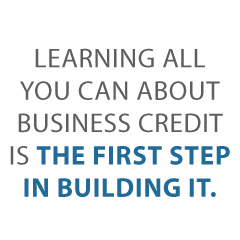 Why do you need separate credit for your business? First, if something bad happens and your personal credit goes down, you need to be able to continue to run and grow your business. If your business has its own strong credit, you can still do that regardless of what is happening with your personal credit. 
While it is true a new business will not have any credit of its own, it doesn't have to be that way forever. There are ways to build credit for your business quickly so that when the time comes, you can keep your personal credit separate and finance business growth using your business credit. 
Learning all you can about business credit is the first step in building it.
The great thing is, building credit for your business and building fundability both start the same way, with the foundation. 
The Setup Affects Both Business Credit and Fundability™
You have to set up your business properly.  It has to have a fundable foundation to build separate credit and to build fundability as a whole. What makes up a fundable foundation?
Separate Contact Information
The first step in setting for  fundability is to ensure your business has its own phone number, fax number, and address.   That's not to say you have to get a separate phone line, or even a separate location.  You can run your business from your home or on your computer. You don't even have to have a fax machine.  
In fact, you can get a business phone number pretty easily.  This will work over the internet instead of phone lines.  In addition, the phone number will forward to any phone you want it too so you can simply use your personal cell phone or landline.  Whenever someone calls your business number it will ring straight to you. 
You can use a virtual office for a business address. This doesn't play out how you may think.  This is a business that offers a physical address for a cost. Sometimes they even offer mail service and live receptionist services.  In addition, there are some that offer meeting spaces for those times you may need to meet a client or customer in person. 
Get an EIN
The next thing you need to do is get an EIN.  It is an identifying number for your business that works similar to how your SSN works for you personally.   You can get one for free from the IRS.
Incorporate
Incorporating your business as an LLC, S-corp, or corporation is vital to fundability.  It helps your business appear legitimate, and also offers some protection from liability. 
You can incorporate as an LLC, S-corp, or full blown corporation.  Which option you choose does not matter as much for fundability as it does for your budget and needs for liability protection.  The best thing to do is talk to your tax person and your attorney.  You are going to lose any time in business that you have. 
When you incorporate, you become a new entity. You basically have to start over. You'll also lose any positive payment history you may have accumulated as well. 
This is why you have to incorporate as soon as possible.  Not only is it necessary for fundability and for building credit for your business, but so is how long you have been in business.  The longer you have been in business the more fundable you appear to be.  Time in business begins on the date of incorporation, regardless of when you actually started doing business.
Business Bank Account
You have to open a separate, dedicated business bank account.  There are a few reasons for this.  First, it will help you keep track of finances.  It will also help you keep them separate from personal finances.  This is necessary for tax purposes anyway. 
In addition, there are several types of funding you cannot get without a business bank account.  Many lenders and credit cards want to see one with a minimum average balance.  Also, you cannot get a merchant account without a business bank account. Consequently, you cannot take credit card payments.  Studies show consumers tend to spend more when they can use a credit card.
Licenses
For a business to be legitimate it has to have all of the necessary licenses it needs to run.  If it doesn't, warning signs are going to go up everywhere.  Do the research you need to do to ensure you have all of the licenses necessary to legitimately run your business at the federal, state, and local levels. 
Website
I am sure you are wondering how a business website can affect fundability.  Here's the thing.  These days, you do not exist if you do not have a website. However, having a poorly put together website can be even worse.  It is the first impression you make on many, and if it appears to be unprofessional it will not bode well for you with consumers or potential lenders. 
Spend what you need to in an effort  to make sure your website is professionally designed and works.  Also, pay for hosting. Don't use a free service.  Along these same lines, your business needs a separate business email address.  It should have the same URL as your Website.  Don't use a free service such as Yahoo or Gmail.
What does all of this have to do with separate credit for your business?  Before your business can have its own credit, it has to be set up as an entity separate from the owner.  The fundable foundation is how you make that happen. 
How Does Business Credit Fit in to Fundability™?
Now that you know what fundability is and how to set up your business to be fundable, you need to know how business credit fits in.  
Credit Reports
Business credit agencies issue reports much like your consumer credit report.  They detail the credit history of your business.  It helps lenders determine the creditworthiness of  your business.  
Where do these reports come from?  There are a lot of different places, but the main ones are Dun & Bradstreet, Experian, Equifax, and FICO SBSS.  Since you have no way of knowing which one your lender will choose, you need to make sure all of these reports are up to date and accurate. 
Other Business Data Agencies 
In addition to the reporting agencies that directly calculate and put out credit reports, there are other business data agencies that affect those reports indirectly.  Two examples of this are LexisNexis and The Small Business Finance Exchange. These two agencies gather data from a variety of sources, including public records. 
This means they could even have access to information relating to automobile accidents and liens. While you may not be able to access or change the data the agencies have on your business, you can ensure that any new information they receive is positive.  Enough positive information can help counteract any negative information from the past. 
Identification Numbers 
In addition to the EIN, there are identifying numbers that go along with your business's credit reports.  You need to be aware that these numbers exist.  Some of them are simply assigned by the agency, like the Experian BIN.  One, however, you have to apply to get. It is absolutely necessary that you do this. 
Dun & Bradstreet is the largest and most commonly used business credit reporting agency.  Every credit file in their database has a D-U-N-S number.  To get a D-U-N-S number, you have to apply for one through the D&B website. 
Business Credit History
Your credit history is the main piece of  your credit score. In turn, your credit score is a huge factor in the fundability of your business.  
Your credit history consists of a number of things including: 
How many accounts are reporting payments?

How long have you had each account? 

What type of accounts are they?

How much credit are you using on each account versus how much is available?

Are you making your payments on these accounts consistently on-time?
The more accounts you have reporting on-time payments, the stronger your credit score will be.
Business Information
On the surface, it seems obvious that all of your business information should be the same across the board everywhere you use it.  However, when you start changing things up like adding a business phone number and address or incorporating, you may find that some things slip through the cracks. 
This is a problem because a ton of loan applications are turned down each year due to fraud concerns simply because things do not match up.  Maybe your business licenses have your personal address but now you have a business address.  You have to change it.
Perhaps some of your credit accounts have a slightly different name or a different phone number listed than what is on your loan application. Do your insurances all have the correct information?  
The key to this piece of the business fundability is to monitor your reports frequently.  This way, you can see if any mistakes are affecting your credit, and get them fixed.
Fundability™ is to Business Credit as Turkey Is to a Turkey Sandwich
I know, I know, another analogy might be overdoing it.  But think about it, you can have a sandwich without turkey, but it's not a turkey sandwich.  It's something else. You can have all the pieces of Fundability™ without business credit, but it won't hit the spot. 
Without true business credit, even if every other part of Fundability™ is in place, you'll still be missing out on a ton of funding opportunities.  Definitely work on building strong credit for your business. It's a huge part of Fundability™. However, don't let the other facets of fundability slip.  You need the whole puzzle to see the big picture and get the big money.