Fight the Business Contraction and Get a Credit Line For Your Business
So, you're finally doing it. You took the plunge and you started your own small business. But there is so much you need! Whether it is renovations for your location or payroll or the ramp-up costs for getting manufacturing started, all of those things need money. You need to get a credit line for your business, even though we're in the midst of a business contraction.
Because you are not made of money.
But your business is new, so its credit score is not so hot. As a result, you are probably wondering how to finance a business with bad credit.
But let's step back a little, because you should also be thinking about where to establish business credit.
Recession Period Financing
The number of United States banks as well as thrifts has been decreasing progressively for a quarter of a century. This is coming from consolidation in the market along with deregulation in the 1990s, lowering obstacles to interstate banking. See: https://www.fundera.com/blog/happened-americas-small-businesses-financial-crisis-six-years-start-crisis-look-back-10-charts 
Assets focused in ever‐larger banks is problematic for local business owners. Big banks are much less likely to make small loans. Economic downturns indicate banks end up being a lot more mindful with financing. Luckily, business credit does not depend on banks. And it doesn't matter what happens with COVID-19.
Get a Credit Line for Your Business: What a Credit Line Is
A credit line, or line of credit (LOC), is an arrangement between a borrower and a financial institution or private investor which sets a maximum loan balance that a borrower can access.
A borrower can access funds from their line of credit anytime, so long as they don't go over the maximum set in the agreement, and as long as they meet any other requirements of the financial institution or investor for example, making on time payments. This is the same whether the economy is going through a business contraction or not.
The Advantages
Credit lines offer many unique benefits to borrowers including convenience. Borrowers can use their line of credit and only pay interest on what they use, unlike loans where they pay interest on the total amount borrowed. Credit lines can be reused, so as you acquire a balance and pay that balance off, you can use that accessible credit again, and again.
Details
Credit lines are revolving accounts similar to credit cards, and compare to other kinds of financing such as installment loans. In many cases, lines of credit are not secured, much the same as credit cards are. There are some credit lines which are secured, and thus easier to qualify for.
Credit lines are the most routinely requested loan type in the business world even though they are preferred, true credit lines are uncommon, and hard to find. Many are also very hard to qualify for, requiring good credit, good time in business, and good financials. But there are other credit cards and lines that few people know about that are available for start-ups, poor credit, as well as if you have absolutely no financials.
Try the SBA During a Business Contraction
A lot of credit line types that most business owners imagine come from conventional banks and traditional banks use SBA loans as their prime loan product for small business owners. This is because SBA guarantees as much as 90% of the loan in the event of a default. These credit lines are the most difficult to qualify for because you must qualify with SBA and the bank.
Get a Credit Line for Your Business with SBA Loans and CAPLines, Even During a Business Contraction
There are two fundamental sorts of SBA loans you can normally get. One form is CAPLines. There are actually 4 types of CAPLines that can work for your small business.
You can also get a lower loan amount more rapidly using the SBA Express program. A lot of these programs offer BOTH loans and revolving lines of credit. 
From the SBA: "CAPLines is the umbrella program under which SBA helps business owners meet short-term and cyclical working capital needs". Loan amounts are offered up to and including $5 million. Loan qualification prerequisites are the same as with other SBA programs.
Seasonal Line
This one advances against expected inventory and accounts receivables. It was developed in order to help seasonal businesses. Loan or revolving are available. 
Contract Line
This one finances the direct labor and material costs of executing assignable contracts. Loan or revolving types are offered.
Builders Line
This one was made for general contractors or builders constructing or renovating commercial or residential buildings. This line is for finance direct labor-and material costs, where the building project serves as the collateral. Loan or revolving kinds are available.
Working Capital
Borrowers must use the loan proceeds for short term working capital/operating needs. If the proceeds are used to acquire fixed assets, lender must refinance the portion of the line used to acquire the fixed asset into an appropriate term facility no later than 90 days after lender discovers the line was used to finance a fixed asset.
SBA Express
You can get approval for as much as $350,000. Interest rates differ, with SBA enabling banks to charge as high as 6.5% over their base rate. Loans above $25,000 will need collateral.
Approval Details
To get approval you'll need good personal and business credit. Plus the SBA states you should not have any blemishes on your report. An acceptable bank score requires you have at least $10,000 in your account over the very last 90 days. 
You'll likewise need a resume showing you have industry experience and a well put together business plan. You will need three years of business and personal tax returns, and your business returns should show a profit. And, you'll need a recent balance sheet and income statement, therefore showing you have the cash to repay the loan.
Collateral
To get approval you'll need account receivables, but only if you have them. As for the collateral to counterbalance the risk, usually all business assets will function as collateral, and some personal assets including your home. It's not unusual to need collateral equivalent to 50% or more of the loan amount. You also need articles of incorporation, business licenses, and contracts with all third parties, and your lease.
Get a Credit Line for Your Business from Private Investors and Alternative Lenders During a Business Contraction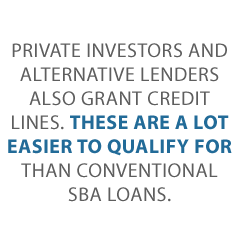 Private investors and alternative lenders also grant credit lines. These are a lot easier to qualify for than conventional SBA loans. They also call for much less documentation for approval. These alternative SBA credit lines ordinarily demand good personal credit for approval.
Unlike with SBA, many of them don't demand good bank or business credit approval. Almost all of these types of programs call for two years' of tax returns. Tax returns have to show a profit. Rates can vary from 7% or greater and loan amounts range from $25,000 into the millions. Loan amounts are generally based upon the revenues and/or profits on tax returns. At times lenders may ask for other financials including a profit and loss statement, balance sheets, and income statements.
Merchant Cash Advances in a Business Contraction
Merchant cash advances have quickly become the most popular way to get financing, in large part because of the effortless qualification process. Businesses with $10,000 in profits can get approval, with the business owner having scores as low as 500. 
Some sources have now even begun to offer credit lines that accompany their loans. You must have at least $10,000 in revenue for approval. You ought to be in business for at minimum one year, however three years is better. Lenders commonly want to see a credit score of 650 or higher for approval.
Loan amounts are ordinarily around $20,000. Lenders frequently do pull your business credit, so you must have some credit already and sometimes lenders will want to see tax returns. 
Rates vary, due to the risk for this program, and there aren't a lot of funding sources who offer it.
Securities as Collateral for Financing
You can get financing regardless of personal credit if you have some type of stocks or bonds. You can also get approval if you have someone wishing to use their stocks or bonds as collateral for financing. 
Personal credit quality doesn't matter as there are no consumer credit criteria for approval. You can get approval for as much as 90% of the value of your stocks or bonds. Rates are commonly below 2%, making this one of the lowest rate credit lines you'll ever see. You can still earn interest as you typically do on your stocks and bonds.
Credit Cards and Lines are Very Similar
Credit cards often offer 0% intro rates for up to two years. This is also extremely valuable for startups in particular. And credit lines let you take out more cash at a much cheaper rate than do cards. These are the main two differences that will affect you between credit cards and credit line. 
Investopedia even says that "lines of credit are potentially useful hybrids of credit cards."
Both cards and lines are revolving credit. Credit lines are harder to qualify for as card approvals are generally very quick, many times automated, while line require an in-depth underwriting review. Lines usually offer lower rates, per Bankrate card rates average 13% while lines average 4%.
Unsecured Business Credit Cards During a Business Contraction
A lot of these cards report to the consumer credit reporting agencies. They all call for a personal guarantee from you. You can get approval typically for one card max as they discontinue approving you when you have two or more inquiries on your report.
Most credit card companies furnish business credit cards including Capital One, Chase, and American Express. These have rates similar to consumer rates and limits are also similar. 
Some of them report to the consumer reporting agencies, some report to the business bureaus. Approval requirements resemble consumer credit card accounts.
Inquiries
Typically, when you apply for a credit card you put an inquiry on your consumer report. When other lenders see these, they will not approve you for more credit since they have no idea how much other new credit you have recently obtained. 
So they'll only approve you if you have no more than two inquiries on your report within the most recent six months. Any more will get you declined.
Grab Our Hybrid Credit Line During a Business Contraction
Check out our credit line hybrid. It's available for all business owners. Get the benefit of 0% rates cards offer, and the cash out capability of a credit line. Get approvals to $150,000. No documentation, no tax returns or bank statements are necessary. This program is ideal for startups, high-risk industries, and those who desire low payments. It also works if you don't want to supply financials.
Our credit line hybrid is a superb choice during this time of economic uncertainty.
With this form of business financing, you work with a lender who concentrates on securing business credit cards. This is a very unusual, very few know about program which few lending sources offer. They can in most cases get you more approvals than you can get on your own.
This is because they are familiar with the sources to apply for, the order to apply, and can time their applications so the card issuers won't decline you for the other card inquiries. Multiple cards create competition, and this means they will raise your limits, generally within 6 months or less of first approval.
Approvals
Approvals can go up to $150,000 per entity like a corporation. Not only will you get cash, but you build your business credit as well so in three to four months, you can then use your new company credit to get even more money.
Like with anything, there are substantial benefits in working with a source who specializes in this area. The results will be far better than if you try to go at it on your own.
A Caveat
With all preceding cards above, you must have good consumer credit in order to get approval but what if your personal credit is not good, and you don't have a guarantor? 
This is when building company credit makes a ton of sense even when you have good personal credit, setting up your company credit helps you get even more money, and in the absence of a personal guarantee.
Establishing Company Credit During a Business Contraction
Business credit is credit in a business name, in association with the business's EIN number, and not the owner's Social Security Number. When carried out properly, you can get company credit without any personal credit check and no personal guarantee. This is a thing all other cards above can't provide.
Credit Lines in a Business Contraction: Takeaways
You can get a credit line for your business, if you know where to look. Learn more here and get started toward building company credit, even during a business contraction. The COVID-19 situation will not last forever.