What is Small Business Credit History and Why Do You Need It?
In the excitement of starting a business, and then the ensuing chaos of running a business, many business owners do not consider that they need to actively build small business credit history.  It is likely in fact, that if they stopped a minute to think about it, they would find that they imagine it is building on its own in the daily course of things.  After all, you do not have to do anything to establish a personal credit history.  You simply get credit, make payments (or not), and your personal credit history builds as a function of the financial choices you make.
This is not how it works with business credit.  In fact, unless you make some very active, purposeful choices, it is possible to own and run a business for years and never build business credit. It's unfortunate as this can be a tragic mistake for your business.  The problem is, most business owners do not even realize it is something they need to be doing.  They do not know that to build small business credit history, they have to actively work toward it.  If they do know, they do not understand how important it is.
We are going to answer both questions.  First, why is it important? Next, how on earth do you do it?

 Hit the jackpot with our best webinar and its trustworthy list of seven vendors who can help you build business credit.
4 Reasons Why You Need to Build Small Business Credit History
While it isn't hard to imagine why credit history itself is important, it can be difficult to grasp why a business needs to build small business credit history separate from that of its owner.  Here are just four reasons why.
Protect Your Personal Finances
The greatest benefit to the business owner is that when a business has a credit history of its own, the owner's personal finances are better protected.  You might think that if business debt is in the business name, you as the owner are not liable for it.  That is not the case, unless you follow some very specific steps.
The truth is, some lenders will hold you liable anyway.  There are a number of lenders however, especially credit card companies, that will extend debt to the  business alone if it is set up as a funable entity.  In these cases, the owner's credit will not change in relation to what happens with that debt.  The account will only show up on the business credit report.
Allow for Better Rates and Terms
As I said before, some check personal credit no matter what.  However, if you do not have great personal credit, but your business credit is good, you may be able to negotiate for better terms and rates despite a lower personal credit score.  It will not protect your personal credit completely, but it can still do you some good.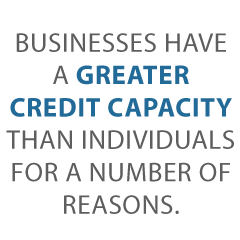 Increased Borrowing Capacity
Businesses have a greater credit capacity than individuals for a number of reasons.  The main reason is the increased income from business activities.  This is important, as the credit needs of a business are significantly higher than those of individuals.
Trying to finance a business on personal credit capacity is dangerous.  Business spending is much higher than personal spending by nature, and personal credit limits are much lower than business credit limits.  Often, personal credit can't hold up to business spending.  If it can, then balances hover at or near credit limits, causing a high debt-to-credit ratio and thus a lower personal credit score even if you make payments on time.
Increase the Value of Your Company
Even if you are not thinking of selling your company, ever, you never know what can happen.  If you build your  business credit score now, it will go with your company even if the business changes owners.  Anyone who buys your company will also get its credit history and benefit from the hard work you put into building it.

 Hit the jackpot with our best webinar and its trustworthy list of seven vendors who can help you build business credit.
How Do You Build Small Business Credit History?
Now that you understand why you need to do it, you need to know how to build  business credit.  It takes time.  It's a process.  The first step is to set your business up to be fundable and establish a business credit profile. Then, you have to get accounts reporting.
You'll want to watch both your business credit reports and your personal reports to make sure accounts are reporting on the right one.  While you are at it, keep an eye out for mistakes, and keep information updated.
We can help you monitor business credit at Experian and D&B for 90% less than it would cost you at the CRAs. So see: www.creditsuite.com/monitoring.
Your Business Needs a Card to Build Small Business Credit History
Now you understand what business credit is and why you need it.  Why though, do you need a credit card to build small business credit history?  Here's why.  First, it will build faster with a credit card.  Building business credit with vendor accounts only would be extremely slow.
Term loans rarely help build business credit as most lenders do not report to business credit agencies.  They typically only pay attention to the owner's personal credit, though they may take business credit into account if it can help secure the loan.
Some alternative lenders will report to the business credit agencies, but they will not extend credit unless you already have a solid business credit score.  That makes it hard to use them to build business credit.  The key to being able to build business credit history lies with vendor credit and business credit cards.