A Look at Bond Street, Backed with our Research
Looking for the greatest online lenders? Bond Street is one of several online lending companies. They offer Term Loans to businesses. We look at the specifics and drill down into the details.
Bond Street has ceased its lending operations; this review is therefore out of date. See: https://debanked.com/2017/09/bond-street-has-stopped-lending/
Bond Street Background
Bond Street is located online here: https://bondstreet.com/. Their physical address is in New York, NY. You can call them at (917) 722-3891.
Their contact page is here: https://bondstreet.com/contact. You can email them at: [email protected].
Bond Street is supported by investment capital from Spark Capital; Jeffries; Home Brew; Founder Collective; Collaborative Fund; Eagle Cliff; Slow Ventures; and more.
Credit Line Hybrid Financing: Get up to $150,000 in financing so your business can thrive.
Term Loans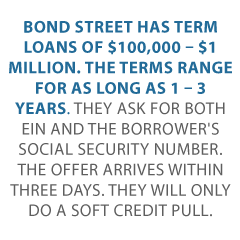 Bond Street has term loans of $100,000 – $1 million. The terms range for as long as 1 – 3 years. They ask for both EIN and the borrower's Social Security number. The offer arrives within three days. They will only do a soft credit pull.
A FICO consumer credit score of 640 or better is most likely to get a loan.
However, if your own FICO score falls short, Bond Street will look at other factors. Your company must be in business for two years or more. It must also have annual revenues of at least $200,000.
Fees
Their rates start at 6% and they go up to 22%. The APR ranges from 8 – 25%. There is also a 3 – 5 % origination fee.
Credit Line Hybrid Financing: Get up to $150,000 in financing so your business can thrive.
Caveats
Note: Bond Street is not able to lend in North Dakota, Nevada, South Dakota and Vermont. Also, in some select states, they are unable to offer financing at amounts of less than $50,000.
Hence if your business has its offices in any of those states, you may be completely out of luck.
Bond Street Advantages
Advantages start with the soft credit pull. So this could be crucial for a lot of small business owners. Plus this online lender will look at factors beyond your personal credit if your FICO score is low. They offer very large loans if you do qualify.
These pluses may very well be enough to tip the scales in favor of this particular online lender.
Bond Street Disadvantages
Disadvantages are the somewhat longer time in business requirement. Also, there is a fairly high annual revenue requirement. And the maximum APR is pretty high. However, it is not the highest annual percentage rate in the online lending space.
Another disadvantage is the limits on where this online lender can do business. For some business owners, that will decide everything.
Credit Line Hybrid Financing: Get up to $150,000 in financing so your business can thrive.
Bond Street Takeaways
So the companies which will do the best with Bond Street have a couple of years of successful operations under their figurative belts. These companies will also do well if the entrepreneur has less than stellar credit but still needs a very large loan.
So for companies needing smaller amounts, or that cannot meet the time in business and annual revenue requirements, Bond Street is not going to be a good fit for them.
A Word to the Wise
And finally, as with every other lending program, whether online or offline, remember to read all of the fine print and do the math. Go over the details carefully, and decide if this option will be good for you and your company.
In addition, consider alternative financing options that go beyond lending. This includes building business credit. Building business credit can get your company credit cards. These come from vendors first, and then stores.
Then any business, even a startup, can get fleet and cash credit. Business credit is an asset and it increases company value.
However, ultimately, it is up to you to best decide how to get the money you need to help your business grow. And it is also up to you to consider how obtaining funding for your business will affect you and it in the days to come.
Today, we want to hear from our audience! Share your voice with us about your experiences with Bond Street and other online lenders.