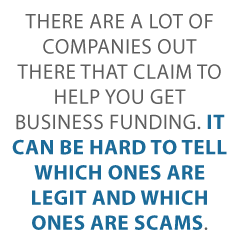 There are a lot of companies out there that claim to help you get business funding. It can be hard to tell which ones are legit and which ones are scams. Predatory lending is a big issue in the world of business loans, and you have to be on your toes.  You need to research any company before you decide to work with them. 
Biz2Credit is one option, and we've done the leg work for you in our in-depth review. 
An In Depth Look at Biz2Credit
It can be hard to navigate the business loan waters alone. Sometimes, a lifeboat comes along and throws out a life preserver. They can help you get your business safely where it needs to be. Sometimes, however, these businesses are sharks in disguise.  How do you tell the difference, and which one is Biz2Credit?  
Biz2Credit Review: Background
Biz2Credit has been around since 2007.  They are backed by Nexus Business Partners, as well as 225,000 small business customers.  The company has helped thousands of small business owners obtain over $2 billion in funding across the United States. 
What Does Biz2Credit Do?
They are not a bank. They do not directly fund loans. What they do is accept and process applications for loans, matching small business owners to the best lender and small business financing products to meet their qualifications and needs. How do they do this? Their proprietary platform innovatively matches business to the capital sources that best fit them. 
Biz2Credit Review: Products 
They offer a number of options for business financing that business owners can apply for. They will help you figure out which option is best for your business needs. Remember, details such as available amounts, rates, terms and requirements can change frequently. Always check with them directly for the most up-to-date information. 
Working Capital
You can get working capital loans that range up to $2 million with Biz2Credit.  They claim it only takes 4 minutes to apply and 24 hours for approval.  Funding happens in as little as 72 hours. 
You must have at least $250,000 in annual revenue, be in business at least 6 months, and have a 575 or greater credit score. 
Term Loans
They offer term loans of up to $250,000 with rates starting at 8.99%.  Final rates depend on many factors, including the borrower's credit score. The timeline for the term loans is like that of the working capital loans.  The application process is fast, taking as little as four minutes.  Approval usually happens within 24 hours and funds are available by 72 hours in. 
To qualify, your business must have revenue of at least $250,000, you must be in business at least 18 months, and your credit score must be now lower than 660.
Commercial Real Estate Loans
These loans top out at $6 million.  Rates start at 10%.  The timeline is a little longer for these, with qualification approval coming in at around 48 hours.  Closing times for these loans vary. 
The qualification requirements for the commercial real estate loans are the same as for the term loans. You must have at least $250,000 annual revenue, a 660 or above credit score, and be in business at least 18 months.  One difference is, you also have to own commercial property. 
Biz2Credit PPP
During this past year, over the course of the COVID-19 pandemic, Biz2Credit has also worked with a lender to process applications for the Paycheck Protection Program.  Many who applied with them did so because they were one of the last accepting applications.  Like many lenders in the midst of the program, there were some definite rough spots, however they very well may be approved to help again if the program continues. 
Is Biz2Credit Legit? 
They are.  They have an A+ grade with the Better Business Bureau and an average of 3.86 starts out of 26 reviews.  On Consumer Affairs, they have close to 3.5 stars with 31 ratings. Reading through the reviews on Consumer Affairs, it seems that virtually all of the bad reviews are related to the PPP program. Almost every other review is 5 stars. 
This definitely appears to be a legit business, and it seems they work with reputable lenders. 
How to Find More Legit Lenders Avoid Predatory Lenders
So, Biz2Credit is a great option.  Working with them can be a good step in finding the funding you need while avoiding predatory lenders, as it looks like they work with lenders that are reputable. But, what if they will not work for you? What if you do not meet their requirements or you need a different type of funding? How do you find a lender that can help without falling prey to the sharks?
You have to know the signs of a predatory lender. 
Signs of a Predatory Lender
What are the signs of a predatory lender? There are many, and not all of them are an automatic stop sign. However, some are. All of these are definitely red flags that should cause you to take a closer look. 
Focus on Monthly Payment Rather Than Actual Loan Amount
If  a lender insists on one large payment at the end of the term, with only interest payments being made each month until that point, proceed with caution. 
Unnecessary Extras Without Your Knowledge
Another common practice of predatory lenders is adding unnecessary extras onto the loan. These are usually things the borrower does not need and is not even aware of their inclusion.  The most common of these seems to be insurance products that do not offer any benefit.
Confessions of Judgement
If a borrower signs a confession of judgement, they are basically agreeing to lose in a court battle if there is a dispute about repayment.  Many cash-advance companies, which make up a large faction of predatory lenders, have their borrowers sign one of these.
New York state law is friendly to this type of contract. Regardless of where a loan takes place, it may include a "New York confession of judgement." 
 If you see one of these in your loan documents, do not sign it.  It only benefits the lender, not the borrower.
Punishment for Early Payment
Look closely at loans that have a penalty for prepayment.  The bottom line is, early payment is good.  Even though the lender may lose some interest, they should not be too opposed to early repayment. Alone, this should not be the reason you do not take a loan as it isn't uncommon. But, it should make you tread carefully and be on the look out for other red flags. 
Seeking the Weak 
Business loan companies that specifically seek out underserved populations, such as minorities and immigrants, and those with bad credit are cause for concern. Especially if they are contacting business owners that fit into these types of categories unsolicited, or targeting them with marketing campaigns designed for them specifically. 
In fact, those that fall into these categories are more likely than others to fall prey, according to a 2015 Center for Responsible Lending Report.
Starting with a Bad Deal
Some lenders try to earn trust by admitting they are offering a bad deal.  Then, they promise to fix it in the future. Usually this includes a claim that they will allow for a refinance later that will be better. Don't fall for it. A bad deal is a bad deal.  
Loan Flipping 
While flipping a house can be very profitable, loan flipping is actually a classic predatory lending move. When the lender sees that you are struggling, they will offer a refinance. But, you end up paying points and fees again.  As a result, before it is over, you could owe more than your original loan.
The Best Way to Avoid Predatory Lenders Is to Work with a Business Credit Expert
In the end, even knowing all the signs doesn't guarantee you will avoid the sharks. This is especially true if your credit isn't great.  They can smell blood in the water. Biz2Credit seems to work with reputable lenders, but sometimes that's not enough.  
In addition to researching lenders, reading reviews, and making phone calls, you need someone on your side to ensure you are set up in the best way possible to get the best funding options for you. 
Our experts at Credit Suite can not only help you find the funding you need, but so much more. They can help you assess your overall fundability so that you can see where your trouble spots are. Then, they can help you make the necessary changes, including helping you build business credit, so you can get the funding you need to run and grow your business.