What is the best business line of credit? The answer has changed. For example, Kabbage Funding does not exist any more, so it is no longer an option. 
Unlike a standard small business loan (from a credit union or elsewhere), a line for a business will often be harder to get—but you will only have to pay interest on the loan amount (funds) that you draw. 
Top Business Line of Credit 1 – Credit Suite Credit Line Hybrid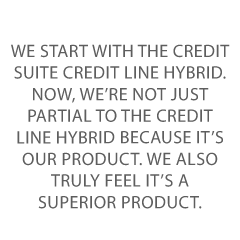 We start with the Credit Suite Credit Line Hybrid. Now, we're not just partial to the Credit Line Hybrid because it's our product. We also truly feel it's a superior product.
But why?
It is based purely on your personal credit score, or that of a credit partner. You will not have to comply with burdensome document requirements. It's as close to "no doc" financing as you will likely ever see.
There are no collateral requirements, and no minimum (or any!) cash flow requirements.
And, because credit score is the deciding factor, the Credit Line Hybrid works particularly well for startups. You do not have to prove cash flow, yet you can still get business credit cards. Note: some credit cards will report to consumer credit bureaus.
Keep in mind that terms can and do change over time. We will work to keep this information up to date. 
Currently, you can get up to $150,000 in funds per individual. Pay 0% interest from 6 – 18 months. Your business credit can also be used to help you qualify.
Use this financing to do what you need, to run your business. We put no restrictions on use! There is no up front application fee. Get prequalified in as little as 24 hours. Your business can go from application to financing in three weeks or less.
And finally, because we will report your payments to the company credit reporting agencies, the Credit Line Hybrid can help your business to build or improve its corporate credit score.
Top Business Line of Credit 2 – Funding Circle
Funding Circle is a lender that offers a small business LOC. 
Their LOC can be used for virtually any business expense. There do not appear to be any restrictions on how your corporation can use this form of business financing . This is an unsecured business line. 
Their company credit line has no application fee and no prepayment penalties. Funds are available as you need them without having to borrow a lump sum up front. Each draw comes with its own repayment schedule.
However, the interest rate is higher than that for a small business loan. Also, their business LOCs run from $5,000 to $250,000 in funds. 
We like them because of how up front they are about fees. In general, tapping into an LOC is going to incur an average draw fee of 1.6%, and late payments will incur an average fee of 5% of the past due amount. But this is only if you miss a payment after taking a draw.
There is no monthly maintenance fee and they will not charge you to apply for a small business line. But keep in mind that if the interest rate is a variable rate, you will risk having to make higher payments in the future.
Their commercial line is best for making large draws that you want to pay off over time. While you will pay interest on the entire draw amount, the interest rate on a line of credit may be lower than for a personal or a business credit card.
Top Business Line of Credit 3  – SBG Funding
SBG Funding offers a company line of credit with an 85% approval rate. Credit lines run up to $250,000 in funds. Weekly and monthly payment options are available. Your repayment term can range from 6 to 24 months revolving. 
Interest rates start at 1.75% per month for this business financing option. Get a funding decision within 24 hours.
You will have to be in business for at least six months. Also, a small business owner's credit score needs to be 500 or better. This makes it a good option for poor credit. This form of business financing has an 85% approval rate.
They will want to review your four most recent business bank account statements. Also, you must have at least $250,000 in annual revenue. You will have to be in business for at least six months as well.
Their other business financing choices include a term loan, invoice financing, equipment financing, and bridge capital. All of these funding choices have the same FICO score requirement, making them all good for business owners with substandard credit. 
We especially like this online lender because they are not afraid to do business with higher risk industries such as cannabis, restaurants, health care, and over the road trucking. 
They also provide a handy funding calculator so you can get an idea of how much you can borrow (or get in an LOC) and what your monthly payment would be if you were to select, say, a business term loan for financing.
Top Business Line of Credit 4 – PNC Bank
PNC Bank offers more than one corporate line, plus business checking and online banking.
Get unsecured LOC funding for $20,000 to $100,000 in funds. 
Als, you can get either an unsecured or secured business line. Get secured funding for $100,001 to $3 million. 
The difference between secured and unsecured funding is in uses and what you need in order to qualify.
For secured funding, this loan uses the value of receivables, inventory, or equipment so a business owner can obtain larger short-term working capital funding. This choice is better for larger short-term capital needs, seasonal inventory, and growing receivables.
For the secured choice, you will need to provide non-real estate small business assets as collateral. In addition, you will pay an annual fee of 0.25% of the committed line amount. 
You will pay monthly interest-only payments during the revolving credit period. Principal payments can also be made at any time.
For the unsecured funding choice, they offer a simplified loan application and decisioning process. Typical uses include short-term working capital, cash flow timing gaps, and general business needs. 
There is a $175 annual fee, which is comparable to some small business credit cards. You will pay monthly interest plus principal payments. The payment amount is 1.5% of the balance (minimum $100).
For both types of funding, the interest rate is variable but based on the Prime Rate. 
Top Business Line of Credit 5 – Try the Small Business Administration
Yes, you can get a company LOC from the SBA!
The SBA mainly allows for revolving LOCs for a ten year period. These come under a CAPLines submission for an SBA loan called the 7(a).
Or, you can get up to $500,000 in a credit line through their Export Express program, with terms that cannot exceed seven years. Or, get a line via Export Working Capital, for a term of twelve months or or less. 
Note: Export Express and Export Working Capital are only for exporting businesses. 
Keep in mind that the SBA has a slower approval process than any other lender we're talking about today. Also, you will need to produce considerably more (and more extensive) paperwork in order to qualify.
Also, keep in mind that the SBA will put some restrictions on usage and will not lend to some industries. If your industry is considered to be higher risk, your chances of approval for this kind of business financing are not that high.
However, the SBA offers good interest rates and you can get up to $5 million with a 7(a) loan. 
CAPLines, apart from the Builders CAPLine, have a maximum maturity of ten years. The Builders CAPLine cannot exceed five years. In addition, holders of at least 20 percent ownership in the applicant business are required to guarantee the loan.
The Working CAPLine could be your best bet, as it serves as an asset-based revolving line of credit for businesses unable to meet credit standards associated with long-term credit. 
Top Business Line of Credit 6 – Divvy
Online lender Divvy has a corporate LOC. With Divvy, you may be wondering, how does their credit work? It's more like a business credit card. Get a line with an application that takes seconds to complete. Their line goes up to $15 million. 
There is no annual fee, and you can apply for a credit limit increase in your line through their app. Their business credit card ties directly to your business expense management software. This makes categorizing your expenses a lot easier. 
It can also make it possible to eliminate having to fill out expense reports at all, and avoid delays and the possibility of human error.
And, with the plastic of commercial credit cards, you can assign a card to each employee if you like—and with tailored limits and limitations as to usage. 
There are no fees and rewards are flexible. Your business can get unlimited virtual business credit cards for making online purchases.
Business owners get automatic expense management with free Divvy software. However, note that some of their services will have an ongoing subscription fee.
Also, note that Divvy reports customer credit performance to the Small Business Financial Exchange (SBFE). That means business owners can use Divvy to build credit history and a credit score for business just by paying on time.
And, even with bad credit on the personal side, business owners can still qualify for a Divvy business credit card. However, their credit limit is going to be relatively low. 
In such a case, the best and easiest way for business owners to get a credit limit increase is to improve your consumer credit score.
Best Small Business Lines of Credit 7 and 8 – Wells Fargo and American Express
We liked both of these offerings equally, so we'll cover both here. Let's start with Wells Fargo. 
Wells Fargo offers an unsecured line of credit for small business (so they don't need collateral). For their BusinessLine LOC, you will need to be in business for at least two years. Get a revolving line for $10,000 to $150,000 in funds.
Or, if your business is less than two years old, get their Small Business Advantage LOC for $5,000 to $50,000 in funds. Interest rates are higher for this option, at 4.75% plus Prime, versus the BusinessLine option, where the interest rate is 1.75% plus Prime.
The second option is also unsecured. Although Wells Fargo is a lender and can also offer a home equity line or a personal loan, these choices keep your personal and business expenditures separate and do not put your personal assets on the line. 
In addition, they are a business lender offering a business loan from the SBA.
American Express also offers a company line. With Amex, your business has to be at least one year old, and you must have a consumer credit score of at least 640, thereby making this out of reach if you have bad credit. 
In addition, monthly revenue must be at least $3,000. Get six, twelve, or eighteen month loan term options with a corresponding monthly fee.
Note, they will perform a hard pull on your consumer credit report when they look at your credit score, so expect your consumer credit score to take a hit. 
Credit approval is relatively quick with each lender.
Takeaways
More flexible than a term loan, an LOC can be harder to get from a lender, and with a higher interest rate, but you only pay on whatever you draw. LOCs are also refillable so, as you pay off a draw, you can draw those funds again and again.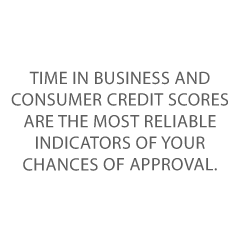 If you need help finding your best option for a business line of credit we would be happy to help! Click here for more information.
FAQ
What Credit Score do you Need for a Business Line of Credit?
While we did find lines you can get with a consumer credit score of 500, the truth is that issues with a consumer credit score when it comes to a line are the same as when you are applying for a credit card.
That is, the better the FICO score, the better the terms, and the more choices you will have. 
If your credit scores are lower than 500, it is unlikely that you will be able to find a line or at least if you do, the amount will be low, and interest percentages will be high, just like with, say, a merchant cash advance.
When Should I Start a Business Line of Credit?
Nearly always, the time to apply for any form of commercial funding is before you actually need it. This may seem like a paradox, but the lender really just wants to be certain that you are going to pay the funds back.
It helps when you have better commercial credit or at least better consumer credit, too. So will consistent annual revenue. This will give you more options at better rates.
Starting off small, drawing on the line and paying funds back on time, is a good strategy. This is particularly the case when a line reports to the bureaus, like the Credit Line Hybrid does. 
Can I Get a Line of Credit in my Business Name?
Absolutely!
One of the reasons why we at Credit Suite talk about corporate credit so much is because a good commercial credit score will help you get a better line — or one at all. 
The better your commercial credit, the less a lender will lean on your consumer credit history to determine whether they will approve your credit application.
Other factors that help are time in business and relatively high provably and consistent annual revenue. 
What is the Average Interest Rate of a Business Line of Credit?
Very often, the rate of interest for a line is going to be tied directly to the Prime Rate. As the Federal Reserve has been raising the Prime Rate, this has pulled up the rates for lines (and credit cards and loans as well).
But in general, a lender won't change the percentage they tie to the Prime. They will just let the Prime Rate go up or down accordingly. 
A good example of this is Wells Fargo. They tie their secured and unsecured lines to the Prime Rate by a percentage. This assures a certain level of profit for them without having to continually change the rates in their literature or on their website.