Accounts receivables financing can be a great option if you have accounts receivable. However, you also need to know what else is out there.
… And What to Do for Funding Beyond Accounts Receivables Financing
Accounts receivables financing is not something that you hear a lot about. There is a ton of information out there about loans, credit cards, and even lines of credit. No one really talks about financing your receivables though. That is, until you start trying to figure out how to get cash fast. If you need fast cash and you have open receivables, then A/R financing may be just what you need.
Don't confuse accounts receivables financing with accounts receivables selling. They are two different things used for two different purposes. For example, selling your receivables serves as more of a means of getting older receivables off the books.
The buyer pays a premium and then tries to collect the full value of the receivable. The business owner never gets any more money than the original selling price. You get cash fast and you get the receivables off the books.
Accounts receivable financing is different. You can do it in a couple of ways. The first is, you can simply use the invoices as security for a loan. The other, is invoice factoring. This is a mix of selling and financing. In factoring, the factoring company pays you a portion of the value of the invoices. Then, they collect what they can, hopefully full value. They then keep their set, agreed upon fee, and send you the difference.
Check out our best webinar with its trustworthy list of seven vendors to help you build business credit.
This means that the amount you get when you first factor the invoices may not be all you get. You will still get the difference in the amount collected less what you have already received and the factoring fee.
What Are the Benefits of Accounts Receivables Financing?
Accounts receivables financing is not the best choice for every business in every situation, but there are some times when it truly is the best option. Done correctly, there can be many benefits. For example:
Faster, less complicated process than what is typical with other types of financing
Accounts receivables financing premiums are often less than the interest rates and fees with traditional financing.
In some cases, it is easier to qualify for A/R financing because lenders look at the quality of your invoices rather than your credit history.
You get your money faster.
Accounts receivables financing can happen on an ongoing basis so as to bridge the cash gaps due to slow collections.
How Do You Qualify for Accounts Receivables Financing?
While all financing companies have their own qualification requirements, these can give you an idea of the minimum most require to be eligible for accounts receivable financing.
It is important to remember that, while there are some instances where the financing company will take on the task of collecting on the invoices, the debt is still the responsibility of the business owner receiving the financing. Regardless of who is doing the collecting, if the invoice is not paid, the business owner is still responsible for the debt to the lender.
Where Can You Get Accounts Receivables Financing?
There are many lenders that offer this service. Here are a few options but, remember that details change without notice. Always check with the lender directly for the most up to date information on interest rates and eligibility requirements.

1st Commercial Credit
This lender has been around for 15 years. They offer invoice financing with an administration fee. 1st Commercial Credit boasts a fast approval process, and they do not require financial statements for financing up to $350,000. You can set up your accounts receivables financing with them in as little as 3 to 5 days.
New Century Financial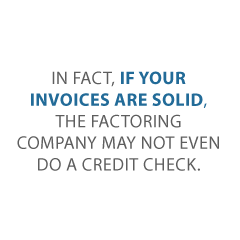 New Century Financial offers invoice financing up to 90% of the original invoice. They claim streamlined, fast processing with no hidden fees.
Blue Elephant Financing
This company works with businesses that have government contracts. They offer account receivables financing related to FEMA, HUD, and other government contracts. Blue Elephant Financing prides itself on an easy application process and fast turnaround.
Capital Plus Construction Services
Capital Plus offers accounts receivables financing related to construction contracts specifically.
Star Funding
This company will not only do accounts receivables financing, but they will also help you collect on open invoices. This is a major plus for a lot of businesses. If you need or want collection help along with financing, Star Funding is for you. They also offer accounts receivable management services.
Seven Oaks Capital Associates
Seven Oaks also offers general accounts receivables financing services along with collection and management services. In addition, they can help you obtain credit information on those to whom you extend credit.
Of course there are hundreds of companies out there that offer these services. These are just a few to get you started.
A Word About Merchant Cash Advances
If you need a similar option but do not have a ton of open invoices, you might look into getting a merchant cash advance. This is similar to factoring invoices, but it works based on average credit card sales. Basically, you get an advance on your projected credit card sales.
Here's how it works. First, you will submit information about your average daily credit card sales. Then, the cash advance company will tell you how much you are eligible for based on that average.
Check out our best webinar with its trustworthy list of seven vendors to help you build business credit.
Accounts Receivable Financing Can Be a Great Option, But Don't Stop There
Whether you are looking into accounts receivables financing because it is the best option for your needs or because it is the only option due to credit issues, you can work on building business credit in the meantime. Personal credit is just not sufficient for business expenses.
Our tried and true method for establishing and building business credit will ensure you have strong business credit. Then, your financing is only limited by your needs, and not by your options.