What is a 2023 Credit Plan?
A credit plan for 2023—or for any year, is a way to better organize a necessary task, which is building business credit. A plan will help you save time and money. And you'll avoid the frustrations of denials and delays.
How the Plan works
It's not one size fits all. There are measurable, qualitative differences between startups and seasoned businesses. And there are differences between businesses with just a year in business, and those with five years or more. We call these phases. Your options for credit and financing differ depending on phase.
Why Should You Map Out a Credit Plan for Your Business?
You could conceivably just apply for credit willy-nilly. And you could hope that you're doing it right. But a plan helps you bypass unnecessary delays. And it keeps you focused. Your eyes stay on the prize.
The Phases in a 2023 Credit Plan
Every business begins as a Startup, phase 1. Your business might be just barely squeaking by. Once you're past the startup stage and making money, you swing into Development, AKA phase 2. Now you're making some money steadily. The Growth segment of your business's life is phase 3, where you make more steady money and can afford to look past the next quarter or year.
Phase 4 is Maturity, where your business makes good, predictable money, hiring people, and expanding with ease. In this phase, you're way past hanging by a thread. The final phase is 5, Exit. Here, you look to pass your business on, whether through sales or willing it to your heirs.
Your Business Plans for the Future
Where do you see your business in, say, a half a decade, or more?
Do you triple your revenue?
Bring on more employees?
Replace your fleet or other equipment?
Retire and pass your business along to a family member or sell the company?
Something else?
All these scenarios require funding! Even going concerns with stable, steady revenue can experience emergencies, or need to seize a business opportunity quickly and before they have the funds. All businesses can use business credit to achieve their aims. Even if you've already been through some phases, checking out earlier phases could help you see if you missed anything. And if you're just starting out, reviewing later phases could show you your business's future so you can be prepared.
2023 Credit Plan Phase 1: Setup and Launch
Setting up a business is a lot more than just saying you're in business. The way the business is set up can directly affect the ability of your business to succeed. This first phase covers your first six to twelve months or so of existence. Let's start with your brand new startup's fundability™.
Fundability™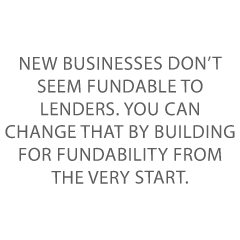 Fundability is a business's ability to get funding. Much of the power to get business money is in your hands. A business starts with no credit profile. But nearly half of all companies fail in their first 5 years, and about 2/3 in the first 10. This means that new businesses don't seem Fundable to lenders. You can change that by building for fundability from the jump.
Business Name
Let's start with your business name. Always check with your Secretary of State—the name may have to be unique. Make sure your SOS has all necessary, up to date, and correct information for your company. Make sure that you are in good standing with them, and your entity is active. You have to file annual reports and pay an annual fee to stay active.
Keep the name of a high-risk or restricted industry out of your business name. Your business can be Amy's rather than Amy's Cannabis Dispensary. There is nothing underhanded about this. It is completely legitimate and honest.
A common reason for loan and credit card application denials is the lender can't easily locate a business offline or online. So make it easy for lenders and credit providers to find your business. Make sure the business name is identical on corporation papers, licenses, utility statements, and bank statements. Also make sure the business name and all other information is the same on every online listing you can find. Keep it identical on all offline listings as well.
Business Address
Your business must be a real brick and mortar building, a deliverable physical address. Hence it can never be a UPS box or a PO Box. Some lenders do not approve and fund unless this criterion is met. A virtual address can also be a good idea if you need to hold a meeting or an interview, as it's a lot more professional than using your kitchen table. We like Regus, Davinci, and Alliance Virtual Offices. But keep in mind there are credit providers that do not accept virtual addresses.
Business Entity and EIN
Get a free EIN for your business and choose your business entity at IRS.gov. To truly separate business credit from personal credit your business must be a separate legal entity, not a sole proprietor or partnership. Only incorporating creates a new and separate entity. By default, this reduces your personal liability. Other entities (like partnerships) don't. File with the Secretary of State for your state. Set up your entity in the same state as your business address.
NAICS Codes
The IRS website is also where you choose the NAICS code for your business. NAICS codes help the government collect, analyze, and publish statistical data on the business economy. For example, per the NAICS, the 484230 code covers Specialized Freight (except Used Goods) Trucking, Long-Distance. The 484110 code covers General Freight Trucking, Local. A trucking company which performs both functions could technically go with either code.
Neither 484230 nor 484110 is on the NAICS list of high risk and cash-intensive businesses. But that list is from 2014. According to the NAICS, they don't have any current plans to update the list. High risk NAICS codes can affect your ability to get traditional loans, but other providers may be able to look beyond them.
Business Phone and 411 Listing
It's easy and inexpensive to set up a virtual local phone number or a toll free 800 number. A cell or home phone number as your main business line could make your business less Fundable—but a VOIP is fine. And if you don't want customers calling you on the road all day, do not use a personal cell phone as the business phone number. It also helps with fundability to have a dedicated business phone number.
Your number needs a listing with 411 for most credit issuers and lenders to approve you. Check for your record to see if you're listed and your information is accurate. No record? Then use ListYourself.net to get a listing.
Business Web Domain and Professional Website
Lenders and credit providers research your corporation on the internet. It is best if they learned everything directly from your corporate website. Because not having a professional website can hurt your chances of getting corporate credit. A Facebook page or a listing on Yelp is no substitute for an actual company website. You can buy web hosting from a hosting company like GoDaddy or HostGator.
Try to make your domain the same as your business name. Add a company email address on the same domain as your website. This often comes from a website domain provider, and may even be free with your hosting package. This is not just professional; it also greatly helps your chances of getting approval from a credit provider. Do not use Yahoo, AOL, Gmail, Hotmail, or similar kinds of email.
Business Licenses
Contact state, county, and city government offices to see if there are any required licenses and permits to operate your business. Licensing requirements differ depending on state, town, and industry. Being fully licensed builds credibility in your business, and that can help you get more customers. Not being licensed can mean fines, and maybe even jail time. Don't risk it and get your licensing!
Business Bank Account in the Business's Name
You must have a bank account devoted strictly to your business. The IRS does not want you commingling funds. Make accounting easier and reduce the risk of audit at tax time. Keep personal and business funds separate. Having a business-only bank account makes that easy. Many vendors require that you open a business-only bank account. Use your EIN to open a bank account and to build a business credit profile. And while you're at it, get a merchant account so you can accept credit cards from your customers.
Get Set Up with the Business Credit Reporting Agencies
Start with Dun & Bradstreet because they are—by far—the largest business CRA. Run a search for your business on D&B's website. If you can't find it, then you'll need to get a free D-U-N-S number on the D&B site. A D-U-N-S number plus 3 payment experiences leads to a PAYDEX score. So you need a D-U-N-S number to start building business credit, plus it is another common vendor requirement. Once you are in D&B's system, search Experian and Equifax's sites for your business.
Start Your Business Credit History
You get the most favorable funding by paying all bills on time, which means:
A PAYDEX score of 80
Equifax Credit Risk Score of 90 or better
A good FICO SBSS score, which is driven (in part) by on-time payments and business credit history
For Experian, historical behavior (payment history) is 5—10% of the total score. So make paying your company's bills on time a cornerstone of your business credit building efforts.
Business Credit Building from the Ground Up with Your 2023 Credit Plan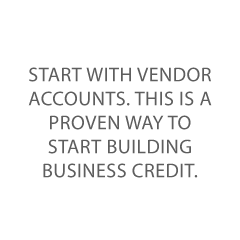 Start with vendor accounts, a proven way to start building business credit. Vendor credit is generally not attached to a bank. So under federal law a Social Security number is not required. This is unlike bank loans and bank cards. So you can legitimately leave the SSN field blank, to force them to pull your business credit under your EIN.
Using Business Credit Vendors in Your 2023 Credit Plan
Check out three of our favorite starter vendors for any industry:
The CEO Creative
Grainger Industrial Supply
Uline
All three report positive payment experiences with your company.
The CEO Creative
Reports to Equifax and Credit Safe. They had been reporting to D&B up till December 2020 but stated that they are working to restore that. Get low price electronic, and quality custom design and branding services. With The CEO Creative, you can create your own logo, business cards, business accessories, etc.
Membership fee includes access to all their products, and member discounts. Get access to web printing and graphic design at a discounted rate. You must pay an annual fee to run your business credit report and maintain monthly reporting. Membership fee is not reported to credit bureaus. Minimum order of $40 to report. Remember: reporting to D&B is on hold right now.
Qualifying for The CEO Creative
Your corporate entity must be in good standing with the applicable Secretary of State, and you must have an established business credit history. You also need:
Fundability Foundation™
A business bank account
At least 120 days in business
You must pay a yearly membership fee of $69.00. Apply online or over the phone. Terms are Net 30.
Grainger Industrial Supply
They sell hardware, power tools, and more. And they also do fleet maintenance. They report to Dun and Bradstreet. In addition to their standard qualifications, if a business doesn't have established credit, they want to see additional documents like accounts payable, income statement, balance sheets, etc. Terms for Grainger Industrial Supply are Net 30, Net 45, Net 60, or Net 90.
Qualifying for Grainger Industrial Supply
Your business entity must be in good standing with Secretary of State. You also need:
Fundability Foundation
A business bank account
Your business must be registered to Secretary of State (SOS) for at least 60 days. Apply online or over the phone.
Uline
They sell shipping, packing and industrial supplies. Uline reports to Dun & Bradstreet and Experian. You MUST create an account with them before starting to build business credit with them. Terms are Net 30.
Qualifying for Uline
Your business entity must be in good standing with the Secretary of State. You also need:
Fundablility Foundation™
D&B PAYDEX score of 80 or better
Application may be approved for net 30 at time of order. Upon final review, Credit Department may change to a few prepaid orders before granting Net 30.
Business Credit Building with Credit Cards with a PG
The idea is to help you qualify for business credit with cards that you will use. As you continue building, more time in business helps. But to get started, you may need to give a personal guarantee. That's okay; that's a part of the strategy.
When you provide a personal guarantee, you are adding your Social Security number to the application. So expect a hard inquiry. You're also adding the details of your personal income to the application.
Good Personal Credit is Also an Asset You Can Leverage in Your 2023 Credit Plan
If you already have good personal credit, then you're all set. But if not, you can work with a credit partner or guarantor. And never stop improving your personal credit, no matter what your FICO score is.
Phase 1 Funding Option #1: Our Credit Line Hybrid
This is a form of unsecured funding. Our credit line hybrid has an even better interest rate than a secured loan. Get some of the highest loan amounts and credit lines for businesses. You can get 0% business credit cards with stated income. These report to business CRAs so you can build business credit at the same time. This gets you access to even more cash with no personal guarantee. You need a FICO credit score of at least 700 or a guarantor with good credit to get an approval. No financials are necessary.
Phase 1 Funding Option #2: 401(k) Financing
This is not a loan. You do not have to pay an early withdrawal fee or a tax penalty. You put the money back by contributing, just like with any 401(k) program so you won't lose your retirement funds. The IRS calls this a Rollover for Business Startups (ROBS), which is a separate entity with its own set of requirements. The plan, through its company stock investments, rather than the individual owns the trade or business.
This financing isn't a loan against, your 401(k), so there's no interest to pay and does not use the 401(k) or stocks as collateral. Instead, this is simply a movement or change of custodian. Your 401(k) must have over $35,000 in it and cannot be from a business where you are currently employed. You can get 401(k) financing even with severely challenged personal credit.
Phase 1 Funding Option #3: Securities-Based Lending
Some lenders make loans using securities (like stocks and bonds) as collateral. Securities-based lending provides ready access to capital. The only restrictions to this kind of lending are other securities-based transactions, like buying shares or repaying a margin loan. You continue to earn interest on stocks pledged as collateral. But you will have challenged personal credit.
Phase 1 Funding Options Include Selling Part of Your Business's Equity
Your business and its potential are assets. Selling off some business equity can take a few different forms. This depends on how much control you're comfortable with ceding.
So talk to people you know about angel investing. Angels buy a smallish stake in your company. They usually don't expect as big a return as venture capitalists do. VCs might also buy a stake, but they generally just want paradigm-changing businesses. Most straightforward industries won't fill the bill unless your take on the industry is utterly unique. Another way to sell part of your equity is to take on another founder or partner.
Phase 1 Funding Option #4: Crowdfunding
Crowdfunding success isn't guaranteed. And crowdfunding platforms like Kickstarter take a percentage of any money you raise. But it can still be a way to get a cash infusion without giving up equity. If you're exceptionally good online and have a compelling service and story, then you're more likely to succeed than most people. Since crowdfunding campaigns are time-consuming, don't start one unless your realistic chances of success are better than half.
Phase 1 Funding Option #5: Grants
Grants can come from the government or private businesses. So expect a lot of competition, difficult entry requirements, and not a lot of money. But it's another way to get some cash without selling a chunk of your business. You may find there are few grants for your industry. But you still may be able to score grants based on the kind of entrepreneur you are, e. g. female, disabled, LGBTQ+, etc.
Phase 1 Goals for Credit and Funding
Right now, you have minimal Growth Monthly Revenue (GMR). So this is a fast paced growth plan. Throw it against the wall and take what you can get right now. Look at some short sighted daily and weekly goals for quick cash and growth. During this phase, your focus is on the essentials to create a viable business. Your goal is to build your consistent revenue to $10,000 per month and continue to improve your personal credit. Let's move onto phase 2.
2023 Credit Plan Phase 2 Development: $1,000 to $10,000 GMR
In Phase 2, start developing marketing. Currently, you're at an aggressive sales pace adding nurture and longer sales cycles. Use medium term monthly growth planning (campaign to campaign). So it's time for software implementation and system development. You're building the blocks of how your business is going to be, now and in the future. This phase should run somewhere between the first 6—24 months from launch.
Phase 2 Credit Options
Your credit options multiply once you get to Phase 2, including:
Business credit cards (No PG)
Advanced vendors
Vehicle financing
Cash flow management with providers like Brex and Divvy
Business Credit Cards with No Personal Guarantee
As you continue to build exceptional business credit and pay your bills on time, credit providers trust you more. So you can get higher limits and better terms. And you can start to get business credit cards with no PG.
No PG (Personal Guarantee) Financing
With no PG financing, you can continue building exceptional business credit and pay your bills on time. In general, any of the following  eliminate the need to provide a personal guarantee:
good business credit
a decent amount of time in business or
good personal credit
Much like with any other kind of business borrowing, the more assurances you can give the lender, the better.
Advanced Vendors in Your 2023 Credit Plan
There are many vendors who do not report to the business credit reporting agencies unless you default. But they're still a good idea, because credit can help you beyond business credit building. Not having to put up 100% of the costs of equipment or a building or anything else can help with budgeting. Credit can sometimes be the only way to take advantage of a limited time opportunity if you don't have cash right now. And if your business credit cards offer rewards, cash back, or points, then using them is to your advantage
Vehicle Financing
Vehicle financing can be a great way to get a business vehicle without having to wait until you can just pay cash for it. Note: business owners may be required to personally guarantee vehicle loans. And if you are a co-borrower, the loan most likely reports to your personal credit report. Some loans have a prepayment penalty.
It is a good idea to have a loan proposal, detailing your business, loan needs, and financial statements. Here are a couple of vehicle financing choices from us.
Ford Commercial Vehicle Financing Through Credit Suite
Ford offers several commercial vehicle financing options. These include loans, lines, and leases to actual business entities and not sole proprietorships. Get a loan or a lease. Ford may ask for a PG if you are not approved on the merit of your application. Apply at the dealership. Ford reports to D&B, Experian, and Equifax.
Qualifying for Ford Commercial Vehicle Financing: Qualifying
Your business entity must be in good standing with the applicable Secretary of State. You also need:
Fundability Foundation
Strong business credit history
Must have a good Experian business credit score
Ally Car Financing Through Credit Suite
Ally provides personal financing, but they also report to business credit bureaus. If your business qualifies for financing without the owner's guarantee, you can get financing in the business name only. Ally reports to D&B, Experian, and Equifax.
Qualifying for and Ally Commercial Line of Credit
Your business entity must be in good standing with your Secretary of State. You also need:
Fundability Foundation™
Bank reference
Fleet financing references
If you provide a PG, Ally does not report to the personal credit bureaus unless the account defaults.
Qualifying for Ally Commercial Vehicle Financing
Get a lease or a loan. You need most of the same things as you need for an Ally Commercial Line of Credit, except for a bank reference and fleet financing references. There is no minimum time in business requirement. Apply in person only; dealer will advise if approved or PG needed.
Cash Flow Management
There are several tools that can help streamline managing small business finances. Options like Brex, Divvy, Expensify, Lola, and more are growing in popularity.
Brex and Divvy
Brex and Divvy are business money management systems that integrate with your accounting software. You can track expenses and, depending on the level of service you choose, they also help with paying bills and controlling spending. Brex has a partnership with the FDIC and your funds are secure. Everyone that opens a Brex cash account gets a corporate card. Brex reports any payments to Dun & Bradstreet.
Divvy reports to the Small Business Finance Exchange, which in turn provides data to all SBFE partners, including business credit bureaus.
Phase 2 Funding Options
In Phase 2, your funding options also increase, to:
Merchant cash advances
Revenue lending
Lines of credit (Fundbox)
Equipment financing/leasing
Invoice factoring
Merchant Cash Advances
An MCA technically isn't a loan; it's a cash advance based on the credit card sales of a business. A small business can apply for an MCA and have an advance deposited into its account quickly. So you can offer Net 30 terms but not have to wait a month to get paid. With an MCA you get funding based strictly on cash flow as verifiable per business bank statements. A lender mainly just wants to see consistent deposits.
Business Revenue Lending
You can technically qualify with only one year in business. But the annual revenue requirement is high enough that phase 2 should make more sense. You can raise capital from investors who get a percentage of the enterprise's ongoing gross revenues in exchange for money invested until a predetermined amount is paid. Often this amount is between 3—5 times the original amount invested. Monthly payments fluctuate with revenue highs and lows and continue until you've paid back the loan in full.
Fundbox
Fundbox connects directly to your online accounting software when deciding to fund your business. You can get revolving line of credit for up to $100,000. Fundbox auto debits your weekly payment from your bank account. You don't need to show a minimum personal credit score or a minimum time in business. But ideally Fundbox prefers 6 months in business or more.
Equipment Financing
Use a loan or lease to purchase or borrow hard assets for your business, equipment like a truck or a laptop. Pay predictable amounts every month. You can build business credit on a program like this.
Equipment Leasing
Or you can lease equipment, rather than buy it outright. You often put down less money than if you were buying the equipment. You may be able to negotiate flexible terms with an equipment lease, and it's easy to upgrade equipment after your lease ends. This is helpful if your equipment is something like a computer which quickly becomes obsolete.
Equipment Sale-Leaseback
If you already own your equipment free and clear, did you know that you can use that as collateral for financing? Sell the equipment to a lender for cash. And then lease it back from them. You can unlock Section 179 tax savings and depreciate your entire equipment purchase in the first year. You need at least one larger piece of higher value equipment to qualify.
Invoice Factoring
If you have open invoices and extend credit to customers in some form, then you can get paid faster with factoring. Often this involves invoices with net terms, like net 30, 60, or 90. To be paid faster, turn those invoices over to a factoring company. They immediately give you an agreed upon percentage of the total of the invoices, like 80%. When your customer pays, the factoring company keeps their fee. Then they send you the rest. But never forget—factoring only works if your customers pay.
Phase 2 Goals for Credit and Funding
Goal #1 should be strong business credit (10—12 accounts) and good personal credit. You also want to build consistent revenue to $10,000 or more a month. Always develop business connections in your community and with potential lenders. Let's move onto phase 3.
2023 Credit Plan Phase 3: Growth: $10,000 to $2 Million GMR
Now you're in a time of successful growth…what you're doing is working! It's time to start optimizing systems and operations. You'll undergo massive team and infrastructure development. Plus long term growth and planning for a semi-annual to annual focus on lifetime customer value. You need to make some high level strategic hires (Managers, VP's, Essential C levels). This phase happens at about 24 months or more from launch.
Phase 3 Credit Options
Your Phase 3 credit options put your Phase 1 and Phase 2 options on steroids, with:
Team access to vendors and cards
Continue growing your vehicle fleet with vehicle financing
Vendor portfolio growth
Phase 3 Funding Options
Phase 3 opens your funding options up to:
All alternative options available
SBA loans
Bank loans
Alternative Options
This can often mean online lending. For certain industries, it is one of the only ways to get money. Before you dip into your savings, investigate business lending for your industry. Because lenders that specialize in lending to your industry are out there.
SBA Loans in Your 2023 Credit Plan
More time in business also makes SBA loans a real possibility for your business. It's easier to get an SBA loan in Phase 3 versus earlier. This is because you can more readily show your business is established and making money. Demonstrated profitability and responsible credit and bank account management improve your chances of getting an approval for an SBA loan. SBA loans have great terms, which is why you should be striving to be eligible for one.
Traditional Bank Loans
Big banks only sign off on about 25% of the small business loan applications they see. Term loans often have lower interest rates than many other funding options, and also tend to be for higher loan amounts. Most likely, you must undergo a personal credit check and/or provide collateral.
Phase 3 Goals for Credit and Funding
In Phase 3, you take your business to the next financial level, so your goals are:
Profitability (to calculate loans)
Maintaining your good personal and business credit
Building up to $2,000,000 in annual gross revenue
Maximizing leverage of cash flow with vendors and business credit
Grow Your Vendor Portfolio with Retail Credit
You can get retail credit comes from major retailers. Retailers check if your business information is uniform everywhere, and if your business is properly and thoroughly licensed. Terms can be revolving. You  need at least 3 accounts reporting to the business CRAs.
Grow Your Vendor Portfolio with Fleet Credit
Use fleet credit to:
Buy fuel
Maintain vehicles of all sorts
Repair vehicles
These tend to be gas credit cards. There may be a minimal time in business requirement.
Grow Your Vendor Portfolio with Business Credit Cards
Business credit cards are more universal-type credit cards, like MasterCard. So you can use them pretty much anywhere. These cards may even have rewards programs. Terms can be revolving. Often you need to have at least 14 accounts reporting to the business CRAs. There can be longer time in business requirements. Let's move onto phase 4.
2023 Credit Plan Phase 4: Maturity: $2M to 5M+ Annual Income
So consistent growth is key. Now you're aiming for long term consistent and stable growth and moving toward market domination. This can include competitor buyouts and acquisitions. Product development and expansion becomes critical for longevity. Now it's time for the big hire. You get to fill out C Level, Directors, and middle management. Yes, your business can become this big! This phase can happen at around four to five years from launch.
Phase 4 Credit Options
So now, the sky is pretty much the limit! You should be able to get:
Most major credit cards with no PG
All vendors should be accessible
And you should be able to leverage reports for specific vendors. This includes asking for a credit line.
Phase 4 Funding Options
In addition to everything we've already talked about, your business can take full advantage of:
You might even sell shares in your corporation or go public!
Phase 4 Goals for Credit and Funding
So now you're playing the long game. Your mission is to look to the future and help your business for decades to come. Therefore, you must:
Balance costs vs cash flow vs business profit
Leverage funding for expansions and buyouts
So you should maximize and leverage of cash flow with vendors and business credit. Let's move ahead to phase 5.
2023 Credit Plan Phase 5: Exit
By now, your business should be very well established. Hence it's time to cash in on all the work you have invested. Now your funding and credit has the long game return. A business credit portfolio is transferable and increases the value of your business.
Now your proven track record with merchant cash advances or revenue lending pays off big time, as it can keep your business cash flow moving through any difficulties. And a proven track record with the SBA, and a profitable banking relationship, also improves the value of your business. People want to buy something they can lend against if necessary.
Phase 5 Funding Options
Selling can mean you're retiring, or maybe trading one form of entrepreneurship for another. Or you may want to change industries yet remain an entrepreneur. In Phase 5, you can:
Self-fund the sale in structured buy outs
Go to the SBA for acquisition money
In essence, you should be ready to sign for your own buyout. A profitable, seasoned business can be an exceptionally valuable legacy.
Your 2023 Credit Plan: Takeaways
Your successful business will go through several phases throughout its lifetime. These phases dictate how you can best finance your business, and the kinds of credit you're most likely to qualify for. Follow the steps in order and reap the rewards. Contact us today for a free consultation to see where you are in your journey, and what you qualify for.