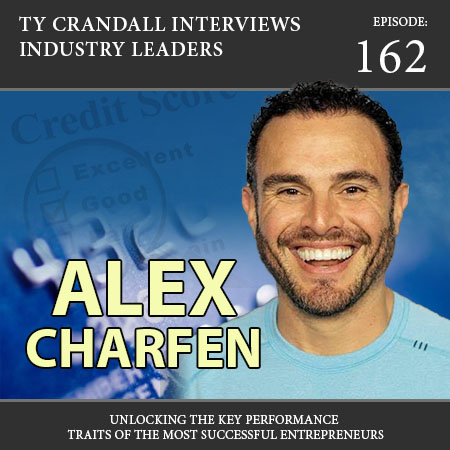 Unlocking the Key Performance Traits of the Most Successful Entrepreneurs
Alex Charfen is co-founder and CEO of CHARGEN, a training, educating, and consulting organization helping visionary entrepreneurs grow and scale their business andmovements, and create momentum everywhere in their lives.
A private advisor and consultant to billionaires, the Fortune 500, and some of the most well-known entrepreneurs on the planet, entrepreneurs on every continent (except Antarctica) use his online courses to change their lives.
Alex has spoken on entrepreneurial awareness around the world for tens of thousands of entrepreneurs and top global businesses, including TEDx, Genius Network annual event, and EO's Global Leadership Conference in Athens Greece. At his recent Titan Summit event in Zurich, best-selling author Robin Sharma introduced Alex as "the most progressive entrepreneurial mind on the planet." For the past two decades, Alex has created and curated proven business philosophies, models and strategies, geared specifically to entrepreneurs and the Entrepreneur Personality Type (EPT) he is a nationally syndicated contributor to the American City Business Journals and regularly is called upon by national media outlets. 
During This Show We Discuss…
What the Entrepreneurial Personality Type or EPT is and how it can help you
The unique characteristics that entrepreneurs have
How the best qualities entrepreneurs have can be reproduced
Habits of self-made billionaires and how to duplicate them
How to live your life intentionally
The best way that entrepreneurs can overcome overwhelm
The qualities that the best business minds of our time share
How the most successful entrepreneurs overcome their fears
The key to maximizing your performance by self-improvement and growth
How successful entrepreneurs recognize their weaknesses to overcome them, while building off their strengths
The key to building momentum as an entrepreneur
How entrepreneurs reverse engineer past success to get what they want
How to discover and awaken your entrepreneur super power
Some things you see successful entrepreneurs do to grow and scale their businesses
And much more
Show Resources
http://www.momentumpodcast.com
HEAR WHAT OUR CLIENTS HAVE TO SAY
We are passionate about helping our clients secure business credit and financing, and offering both as a service. Of course, we're going to have great things to say about our company because we think what we do and how we do it is pretty awesome. What really matters is what our clients have to say, so click below to hear from some of our customers who we live to serve.