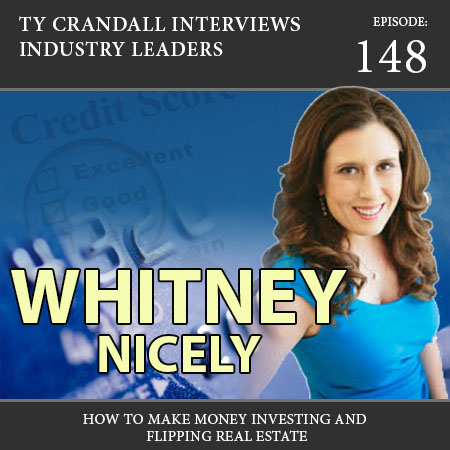 How to Make Money Investing and Flipping Real Estate
Whitney Nicely is the queen of real estate investing in east Tennessee. Whitney started to chase her passions and fine tune her skills in the real estate market after college. She flipped her first house in 2009. Last year, she flipped six houses while planning her October wedding. Whitney's real estate portfolio has grown from zero to 17 residential houses, 19 apartment units and 7 chunks of vacant land across east Tennessee. Whitney believes every woman should control her own destiny by investing in real estate as soon and as much as possible. It doesn't take a trust fund or $100k in the bank to get started in real estate. In fact, Whitney teaches women how they can use no money, no credit and no banks to finance real estate deals across the country.
During this show you'll discover…
How to invest in real estate without a license
The best methods to find the best properties to invest in
The key to picking the best properties that are listed on the MLS
The best tactics to find off-market properties
How to know you're getting the best deal
Awesome negotiating tips
How to know you're buying the property "right"
The best ways to get financing to buy real estate
The best, little-know- about ways to get money to invest
The differences between investing in residential homes versus apartment complexes
How many properties someone should have in their real estate portfolio
The best types of properties to invest in, homes, mobile homes, land, apartments
What's important to know when flipping a home
Types of un-needed expenses should be avoided when flipping
The types of returns someone should look for when flipping homes
When to know whether to flip or buy and hold
And much more
Show Resources
https://www.facebook.com/coachwhitneynicely/
https://www.linkedin.com/in/whitney-nicely-b305764b/
HEAR WHAT OUR CLIENTS HAVE TO SAY
We are passionate about helping our clients secure business credit and financing, and offering both as a service. Of course, we're going to have great things to say about our company because we think what we do and how we do it is pretty awesome. What really matters is what our clients have to say, so click below to hear from some of our customers who we live to serve.