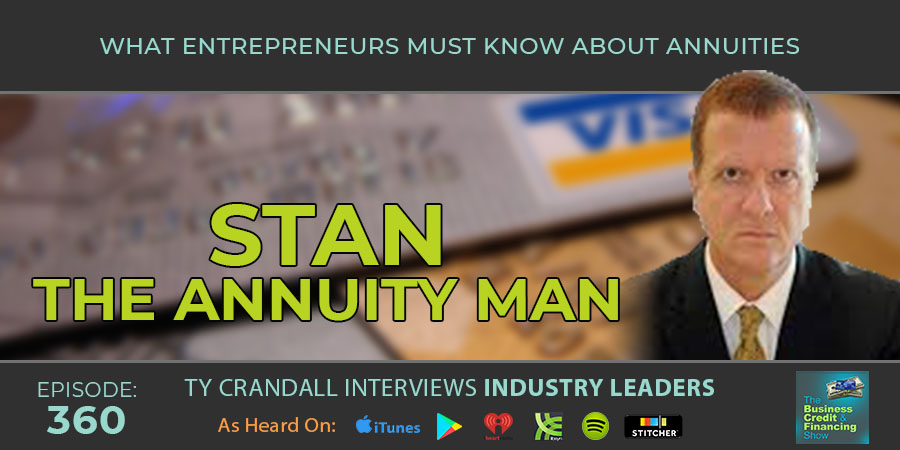 Stan The Annuity Man: What Entrepreneurs Must Know About Annuities
Stan The Annuity Man is nationally recognized as the top independent annuity agent in the United States and has been called "America's Annuity Agent." Licensed in all 50 states, his "Will Do, Not Might Do" contractual guarantees-only mantra sets him apart in the annuity industry. With over 3 decades of financial experience, while previously working at Dean Witter, Morgan Stanley, Paine Webber, and UBS, Stan The Annuity Man understands markets and investments and knows how annuities can properly fit in a portfolio.
Stan has published 7 books on annuities, writes weekly columns for national financial media outlets, publishes a new educational video to his Stan The Annuity Man YouTube channel on a daily basis, oversees TheAnnuityMan.blog, and hosts The Annuity Man Podcast every week on all major platforms. Without question, Stan The Annuity Man is not only the top annuity agent, but the #1 annuity educator and annuity content originator on the planet.
Stan The Annuity Man has been a keynote speaker at almost every major financial trade show and for many top financial organizations. His brutally factual approach to explaining the truth about annuities to consumers will add value to your podcast and be an informational and educational gift to your listeners.
During this show we discuss:
All about annuity and how to know if it's for you
What happens when you annuitize
5 dangerous mistakes that annuity shoppers make
How you can easily spot an empty annuity pitch
When you should not buy an annuity
When you need to buy an annuity
Some economic factors that affect annuity you should consider before buying an annuity
How to know the right one (annuity) for you
Avoidable annuity charges I need to know that your agent may not tell you about
What to consider when switching between annuities
5 annuity strategies that can combat low interest rates
How to get past a "deceptive" but convincing annuity sales pitch
The most important question to ask before accepting an annuity offer
About index annuity
3 pros and cons of an indexed annuity
About an annuity carrier
Annuity IRA strategies you may consider when retiring or about to retire
And much more…
Show resources:
https://www.linkedin.com/in/stantheannuityman
https://twitter.com/StanAnnuityMan
HEAR WHAT OUR CLIENTS HAVE TO SAY
We are passionate about helping our clients secure business credit and financing, and offering both as a service. Of course, we're going to have great things to say about our company because we think what we do and how we do it is pretty awesome. What really matters is what our clients have to say, so click below to hear from some of our customers who we live to serve.