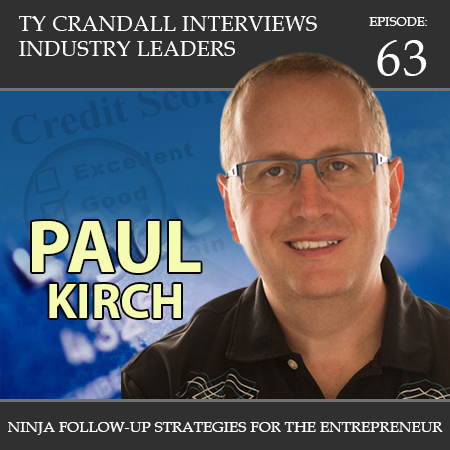 Paul Kirch is the CEO of Actus Sales Intelligence, a company dedicated to helping its clients sell smarter, by providing tools and services for more revenue generation. Paul is also the host of BOSS Academy Radio, a show catering to business owners and entrepreneurs, where he shares his experiences and expertise, while bringing in guests who share high-value messaging to give support to the listeners. Paul is an experienced sales coach and mentor. During his career, he has learned many powerful lessons, such as the power of giving back. Through volunteerism, Kirch has developed a strong personal brand, has been seen as a trusted advisor and leader. He has served as a leader for various business organizations and has dedicated time to help mentor others to help advance their careers. 
Expertise – Sales, Sales Strategy, Entrepreneurial Motivation, Business Success Strategies, Coaching
During this show you'll discover…
Ninja follow-up strategies for the entrepreneur… where they won't see you coming
The secrets to consistency and why it's the heartbeat of Ninja follow-up
9 frustrations of follow-up and how to overcome each one so you can be successful
The secret 4 step W.I.N.S strategy to nurture leads and get phenomenal results
How to make your follow up about your customers so you can stay at the top of their mind, earn their trust, and provide value so they want to hear from you
The 5 honest questions you should ask now to determine how successful your current follow up is
How to not fall into the follow-up infrequency pit where 80% of the sales are lost
7 reasons persistence will be what wins you the customer… and how to follow-up persistently without being annoying
Tools and resources which are proven to provide the best and easiest ways to follow-up to get the best results
To voicemail or not to voicemail… that's the question, get the answer during this event
Creative outreach tips that will work awesome and make it easy to follow-up in a way your customers will love
The keys to standing out with your customer base to turn follow-up into sales
5 secrets of follow-up you should be doing now to stand out and gain sales
How to setup your follow-up frequency for warm leads versus cold leads
How to setup your scheduling and follow-up frequency for the best results
And much more
Paul Kirch worked for Gallup for 10 years working with the biggest companies in the country decoding the best follow-up strategies that produce the absolute best winning results.  
HEAR WHAT OUR CLIENTS HAVE TO SAY
We are passionate about helping our clients secure business credit and financing, and offering both as a service. Of course, we're going to have great things to say about our company because we think what we do and how we do it is pretty awesome. What really matters is what our clients have to say, so click below to hear from some of our customers who we live to serve.