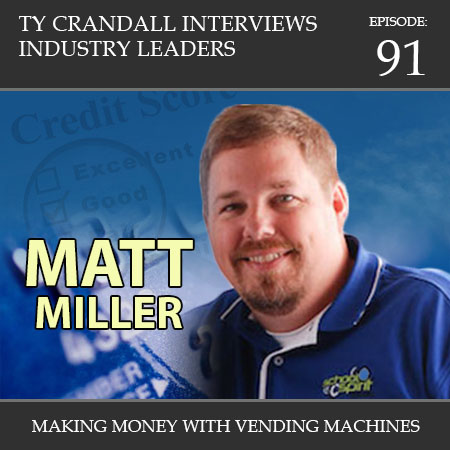 Making Money with Vending Machines.
Matt Miller spent the first 9 years of his career as an Air Force pilot, before entering the private sector to work in both the medical device and advertising industries. While a top performer in the corporate world, his long term desire was to be his own boss. A good friend one day mentioned the gum ball machines he and his young daughters owned, and that conversation began a 10-year business quest that has brought Matt's company, School Spirit Vending, to the cutting edge of both the vending and school fundraising industries. Today, School Spirit Vending's franchising program provides a proven and profitable business system for busy professionals and their families looking to develop secondary income streams with a limited time commitment.
During this show we dive into...
How Matt went from an Air Force pilot to spending $35 for his first vending machine
How he went from one vending machine to many locations… all from one relationship
The kind of money can someone make as a secondary income from the vending industry
The different types of vending opportunities that exist today
How much time is committed to running this type of business
How to work 20 hours per month and make over $40,000 annually
What type of money can someone make from the vending industry?
The small amount of time is committed to running this type of business
Once a franchisee makes the vending machine sale, and installs the machine, how often must the machine be serviced?
How much capital someone needs to get started… and what you can do to get money to get started
How a franchise works in the vending industry
How you can be part of a mentorship program to get started
How this program has helped schools generate over 3 million dollars in fundraising dollars
How easy it is to sell or bring in new clients to place your vending machine
How versatile this type of industry is for anyone wanting to get in
How a new franchisee can get a certain territory that's theirs and theirs alone
Resources Discussed on the Show…
HEAR WHAT OUR CLIENTS HAVE TO SAY
We are passionate about helping our clients secure business credit and financing, and offering both as a service. Of course, we're going to have great things to say about our company because we think what we do and how we do it is pretty awesome. What really matters is what our clients have to say, so click below to hear from some of our customers who we live to serve.