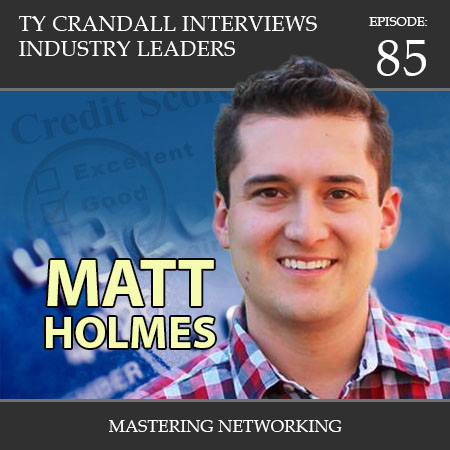 Matt "Handshakin" Holmes is an entrepreneur, speaker, author, and Founder of the Handshakin Video Series: featuring today's top entrepreneurs on the best networking strategies. After interviewing venture capitalists, members of Congress, and billionaires, he now helps aspiring entrepreneurs launch with the best networking strategies in the Handshakin Headquarters (co-working space) and Handshakin Startup Pre-accelerator.
On this show you'll discover...
How you can take one space and use it to massively expand your network
Why co-working spaces are so popular and a great way to expand your business
How to get your hands on one of the best startup business accelerator to quickly grow your company?
How you can delay payments on student loans for 36 months… just by asking
How to be a "connector" to get in front of the biggest and most valuable referral partners
How to improve on flexing your execution muscle
Perfection is the enemy of done
What percentage of time should a business owner spend networking
What most business owners don't know or do when it comes to networking that they should
How to overcome the fear of reaching out to people "cold"
Where you can go to get started with a great network group right away
Where you should go to find the right mentor
What and how startup accelerators work… and why you should be in one
How to find world-class mentors
How to easily grow your brand without doing much work or committing much time
Some super awesome actionable
How to grab your free guide 6 Networking Strategies for Entrepreneurs
And much more
Resources Discussed on the Show…
www.Linkedin.com/in/handshakin
HEAR WHAT OUR CLIENTS HAVE TO SAY
We are passionate about helping our clients secure business credit and financing, and offering both as a service. Of course, we're going to have great things to say about our company because we think what we do and how we do it is pretty awesome. What really matters is what our clients have to say, so click below to hear from some of our customers who we live to serve.