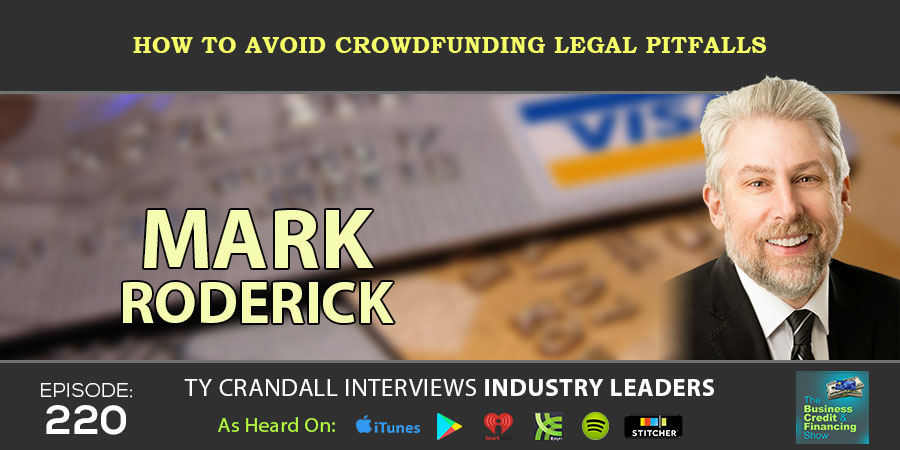 How to Avoid Crowdfunding Legal Pitfalls
Mark Roderick is one of the leading Crowdfunding and Fintech lawyers in the United States. Expanding on his in-depth knowledge of capital-raising and securities law, Mark represents many portals and other players in the Crowdfunding field. He writes a widely read blog, crowdfundattny.com, which provides readers with a wealth of legal and practical information for portals, issuers and investors. He also speaks at Crowdfunding events across the country and represents industry participants across the country and around the world.
During This Show We Discuss…
-Your potential legal liability using crowdfunding platforms
-When a potential investor can sue the project creator
-The "3 flavors" of crowdfunding you should know about
-Legal issues with flex versus fixed funding
-How the new tax law affects crowdfunding
-20% tax deduction in crowdfunding transactions
-Getting crowd funding for real estate investing
-What you should know about peer-to-peer lending
-Issues with bonuses you may offer to donors
-What to know about the SEC's role in crowdfunding
-What an opportunity zone fund is and how they work
-Why trusts invest in crowdfunding projects
-Other big investors who are investing in crowdfunding campaigns
-Potential legal pitfalls in peer-to-peer lending?
And much more
Show Resources…
https://crowdfundattny.com/
https://www.realcrowd.com/
https://www.crowdstreet.com/
https://www.seedinvest.com/
HEAR WHAT OUR CLIENTS HAVE TO SAY
We are passionate about helping our clients secure business credit and financing, and offering both as a service. Of course, we're going to have great things to say about our company because we think what we do and how we do it is pretty awesome. What really matters is what our clients have to say, so click below to hear from some of our customers who we live to serve.