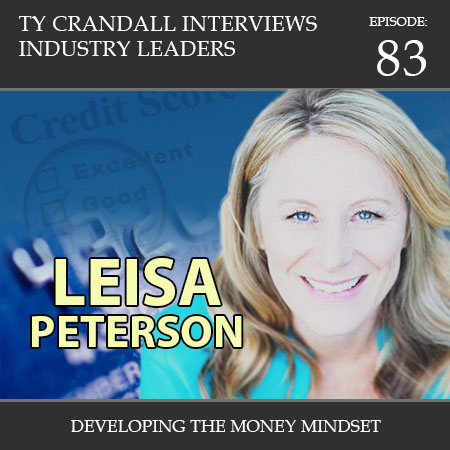 Developing the Money Mindset with Leisa Peterson
Humble and authentic, money expert Leisa Peterson loves supporting people in their journey to having it all as that is what she's created in her own life - she's a self-made millionaire, mom, wife, transformational business coach, author, speaker, and retreat facilitator. Leisa has been helping 1,000s of people better manage their money for over 20 years, she is a CFP and has an MBA in finance. She specializes in coaching entrepreneurs who want to increase their income, keep more of what they earn and create greater freedom in their life as a result. Leisa blogs about money and mindfulness for the Huffington post, hosts "the Art of mindful wealth" a popular podcast on iTunes and her upcoming book is called Breaking Free of Scarcity Mindset. You can learn more about Leisa at wealthclinic.com
During this show we discuss...
How to incorporate meditation into your life to find a whole new level of success
How to use breathing to gain massive amounts of concentration and focus
How you can use meditation to gain a much deeper level of connection with the world
How money and meditation can come together to reach high levels of success
How to use meditation to answer high-level questions and get clarity and answers in your life
How you bring together money and mindfulness
How to develop the "money mindset"
What it is about money that causes people so much stress
How to use tapping, an emotional freedom technique
What really causes suffering and how to overcome it
How to master the two chapters of life
Where mindful wealth comes from…. And how to accomplish it
Time, money, you, how to bring these three things together to grow
How to get more time to do things you want to do by taking accountability
"Money is your life energy" … learn how this powerful statement can change your life
How to get more time to better your life and make more money
How to get you "slack time" to grow personally
Why time management and accountability are linked
How to find self-awareness
Resources
HEAR WHAT OUR CLIENTS HAVE TO SAY
We are passionate about helping our clients secure business credit and financing, and offering both as a service. Of course, we're going to have great things to say about our company because we think what we do and how we do it is pretty awesome. What really matters is what our clients have to say, so click below to hear from some of our customers who we live to serve.