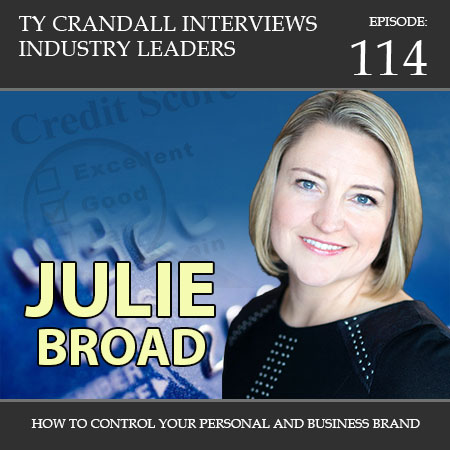 How to Control Your Personal and Business Brand
Julie Broad is an Amazon #1 Best Selling Author and International Book Award winner, recipient of the Top 20 under 40 award for Vancouver Island (2014), a successful entrepreneur, recognized real estate investor and a popular speaker and workshop trainer.
After many years spent raising millions of dollars for real estate deals and training other investors to raise money and grow their own portfolio, she's now known for helping real estate investors and new entrepreneurs who aren't naturally born to sell, build a brand to get results and ultimately make more money.
During this Show We Discuss:
How to self-publish your book the right way
How to market your book and grow a massive following
How to recognize who your best client is and stay away from time-wasters
How to get prospects begging to do business with you, not you chasing them
How using the wrong tonality can be devastating to your personally and your business
The importance of using the right body language in every situation
How the M.A.G.I.C formula works for personal branding
How people can say the right things, but not get results, and what you can do to fix that
How "Making Your Words Meaningless" can be empowering to you and your brand
Why you need a personal brand even as a business owner
A couple of things that must be done to have a brand with big impact
How to best control your image online, and how important it is to do so
Sales advice for introverts
How to sell when it scares the pants of you to do so
The secrets to influence, and how you can have more and make a big impact in your business and life
Why you should ditch your degree
Resources
https://www.amazon.ca/gp/product/0991906012
HEAR WHAT OUR CLIENTS HAVE TO SAY
We are passionate about helping our clients secure business credit and financing, and offering both as a service. Of course, we're going to have great things to say about our company because we think what we do and how we do it is pretty awesome. What really matters is what our clients have to say, so click below to hear from some of our customers who we live to serve.