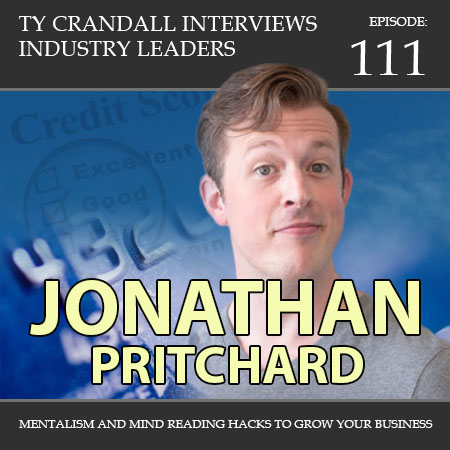 Mentalism and Mind Reading Hacks to Grow Your Business
Jonathan Pritchard is an entertainer turned speaker, coach, & author. Colleges, businesses, and entrepreneurs book him to talk about his insights into human behavior, success psychology, motivation, & communication.
For the past decade he's been on TV & toured the world as a mentalist which has given him unique insight into why people do what they do, and how to leverage that process to create a custom-fit life.
His passion for connecting with audiences means people are drawn to his dynamic presenting style, and he always leaves them amazed with demonstrations of mind to mind communication. When not on the road speaking you can find him in Chicago practicing kung fu every morning.
In This Show We Cover:
The secret to magic & mentalism that anyone can learn
How to become more alert and aware of what's happening around us
The process people go through as they make decisions, and the parts of that process be refined
What we can do as business owners to make the right decisions
What we can learn from the design process that we can apply to decision making
Why people have a hard time changing their habits?
How important mindset is to running a business
Mentalist tips on accomplish goals
And much more
Resources
HEAR WHAT OUR CLIENTS HAVE TO SAY
We are passionate about helping our clients secure business credit and financing, and offering both as a service. Of course, we're going to have great things to say about our company because we think what we do and how we do it is pretty awesome. What really matters is what our clients have to say, so click below to hear from some of our customers who we live to serve.