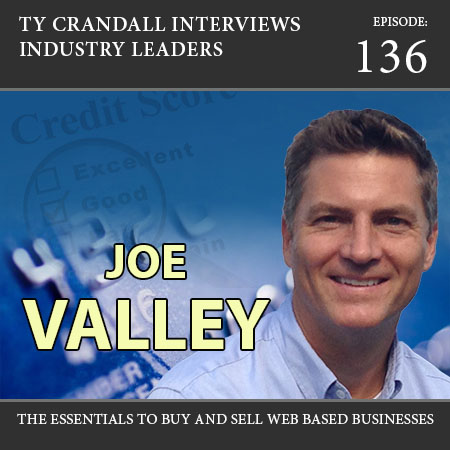 The Essentials to Buy and Sell Web Based Businesses
Joe Valley is an equity partner at Quiet Light Brokerage, and has been with the firm since 2012. Joining after selling his own eCommerce business through Quiet Light Brokerage, Joe has personally closed over $35,000,000 in total transactions and is now the Director of Brokerage Services. Joe understands the importance of valuation and exit planning.
Joe has expertise advising and brokering in all web based niches, including SaaS, eCommerce, Amazon FBA, Affiliate, and many others. Joe recently wrote 10 Steps to Selling Your Amazon Business, and walks all web based business owners through the process of a business valuation, calculating potential taxes, listing the business for sale, all the way through to closing, training and transition. Recently featured on The Amazing Seller Podcast, Joe can lend his expertise, and advise other entrepreneurs who have built or bought a web based business and are considering an exit.
During this show we discuss…
What a website business broker does
Why someone would consider selling their website business
When should someone should consider selling their website business
What are the biggest mistakes entrepreneurs make when they decide to sell their business
Things business owners can do, from inception, to have the best chance of getting the highest value when selling their business
How to figure out what your business is worth
How to get an affordable valuation done
Who the typical buyers of web based businesses are
What types of online businesses generally sell for higher multiples than others
How buyers usually obtain financing to buy a business
What factors lenders look at to lend money for a business purchase
Best tips for business buyers and sellers to get the best deal
And much more
Resources Discussed on the Show…
https://www.quietlightbrokerage.com
https://www.quietlightbrokerage.com/resource/10-steps-selling-amazon-business
http://theamazingseller.com/tas-270-best-practices-for-selling-and-buying-amazon-businesses
HEAR WHAT OUR CLIENTS HAVE TO SAY
We are passionate about helping our clients secure business credit and financing, and offering both as a service. Of course, we're going to have great things to say about our company because we think what we do and how we do it is pretty awesome. What really matters is what our clients have to say, so click below to hear from some of our customers who we live to serve.