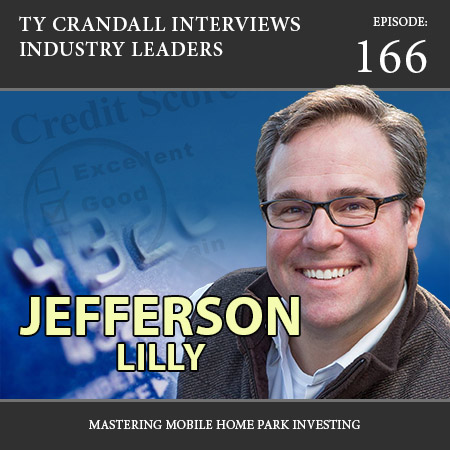 Mastering Mobile Home Park Investing
Jefferson Lilly is a self-made millionaire, mobile home park investment expert, educator, and industry consultant. Park Street Partners owns 17 mobile home parks coast-to-coast totaling over $32mm in value.
Prior to co-founding Park Street Partners in 2013, Mr. Lilly spent seven years investing his own capital acquiring and operating mobile home parks. Before becoming an investor full-time, Jefferson spent nine years in sales leadership roles with several venture-backed startups in Silicon Valley.
Jefferson has been featured in The New York Times, Bloomberg Magazine, and on the 'Real Money' television show. He holds a B.A. from the University of Pennsylvania and an MBA from the Wharton School of Business. Jefferson started and hosts the Mobile Home Park Investors Podcast with over 10,000+  D/L per month. He also founded the Mobile Home Park Investors group on LinkedIn - the world's largest professional networking group focused on MHPs (3,500+ members)
During this show we dive into…
Why the mobile home park niche is better than any other type of real estate investment
How fast mobile home parks are diminishing now
About how many parks there re in existence around the country
Why a lack of affordable housing makes mobile home parks so appealing
Why now is such a great time to be a mobile home park investor
Whether people usually start with buying single units or actual parks
The most effective ways to find parks for sale
How to know if the park is worth what it's being sold for
The biggest mistakes people make when investing in mobile home parks
How to effectively manage parks all around the country
The best ways to get financing for investing in mobile homes
The types of loans do Fannie Mae and Freddie Mac provide
How to use self-directed IRAs being for real estate investing
How to use podcasting to raise money for real estate investing
How you can retire in 10 years by getting started today buying mobile home park
How Park Street Partners helps people get into this space
Resources Discussed on the Show…
http://mobilehomeparkinvestors.com/
HEAR WHAT OUR CLIENTS HAVE TO SAY
We are passionate about helping our clients secure business credit and financing, and offering both as a service. Of course, we're going to have great things to say about our company because we think what we do and how we do it is pretty awesome. What really matters is what our clients have to say, so click below to hear from some of our customers who we live to serve.