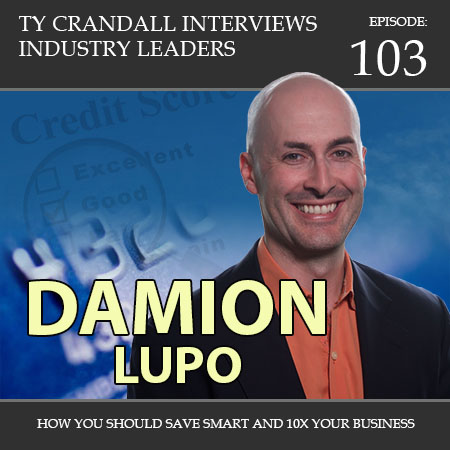 How You Should Save Smart and 10x Your Business
Over the last quarter century Damion Lupo has started and owned more than 30 different companies including an insurance agency, a precious metals firm, a venture capital company, a financial consulting firm, and more than a dozen real estate investment and development companies. He's also the founder of Yokido ™, his own martial art and holds 3 other black belts. Damion also opened Total Control Financial in 2016 designing everything around 10X growth and 10X impact for the client, the team and shareholders.
Damion is a 5-time author and sought after financial consultant for accredited investors and business owners. Using a vast knowledge of financial markets, money psychology and pattern recognition he's an expert at quickly diagnosing hidden financial cancers with clients and their organizations and rewiring both for success.
During this show we discuss…
What business owners should be doing now to ensure they have a healthy savings for retirement
The next step for someone who wants to take control of their financial retirement
When companies should consider outside investments, such as seeking seed capital
The fundamental keys to obtaining venture capital
The importance of including real estate into your portfolio
The percentage of someone's overall investments that should be in real estate investments
How someone gets started with investing into real estate
The type of investment portfolio a business owner should have
The key to 10x growth and profits in a business
How someone can roll over a 401k or IRA into an EQRP without penalty
And much more
Resources Discussed on the Show…
http://totalcontrolfinancial.com
HEAR WHAT OUR CLIENTS HAVE TO SAY
We are passionate about helping our clients secure business credit and financing, and offering both as a service. Of course, we're going to have great things to say about our company because we think what we do and how we do it is pretty awesome. What really matters is what our clients have to say, so click below to hear from some of our customers who we live to serve.