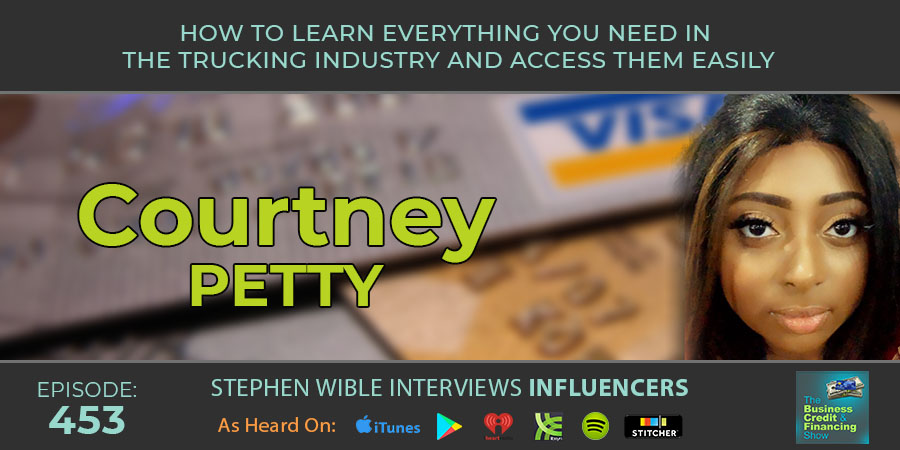 Courtney Petty: How to Learn Everything You Need in the Trucking Industry and Access Them Easily
Ms Petty was born and raised in Atlanta, GA. She is the owner of Bumble Bee Dispatch, Bumble Bee Vending, and Bleu Luxury. And a author of 'How to Become a Freight Broker Agent
She has able to overcome life's adversity. Started working at the age of 15, always been a hustler and go getter. She started her trucking career in 2013 and within the first year was able to make over six figures working from home. She started Bumble Bee Dispatch and from there she started a vending company in 2018 called Bumble Bee Vending.
Recently she just purchased an online boutique. At the age of 28 she was financially stable, learned about credit and how you can leverage your credit to get ahead. She work with a few brands within the trucking industry who pays her to promote their products. She has pulled herself up by her own boot straps.
In this show, we discuss:
● Getting into businesses and trucking industry
● One-stop shop Bumble Bee Dispatch
● Bumblebeevending.com
● Bleuluxury.com
● Bumble Bee Dispatch Youtube Channel
● Bumble Bee's purpose
● How women are taking over the Trucking Industry
● Bumble Bee's Legacy
● 'How to Become a Freight Broker Agent' book
Show resources:
https://www.bumblebeedispatch.com/
http://www.bumblebeevending.com/
HEAR WHAT OUR CLIENTS HAVE TO SAY
We are passionate about helping our clients secure business credit and financing, and offering both as a service. Of course, we're going to have great things to say about our company because we think what we do and how we do it is pretty awesome. What really matters is what our clients have to say, so click below to hear from some of our customers who we live to serve.