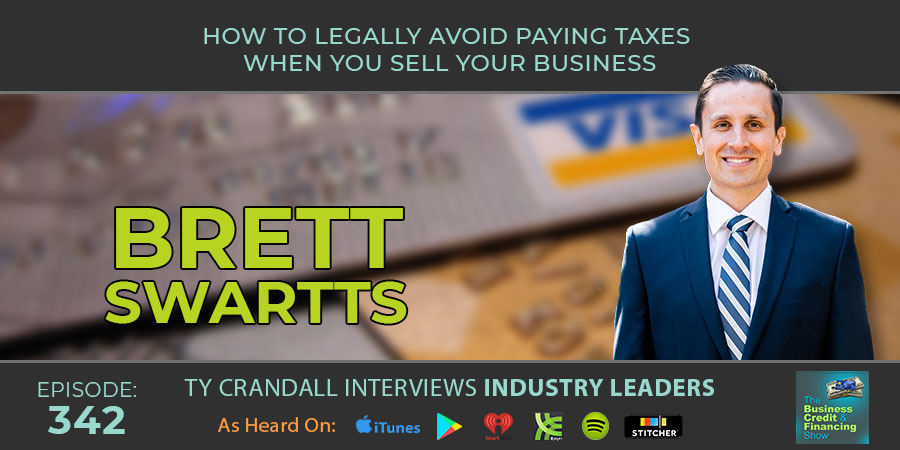 Brett Swartts: How to Legally Avoid Paying Taxes When Selling Your Business
Brett Swartts is the CEO of Capital Gains Tax Solutions and every year equips hundreds of business professionals with the Deferred Sales Trust tool to help their high net worth clients solve capital gains tax deferral limitations. His experience includes: numerous Deferred Sales Trust, Delaware Statue Trust, 1031 exchanges and $85,000,000 in closed commercial real estate brokerage transactions. He's an active commercial real estate broker and investor himself with experience and holdings in Multifamily, Senior Housing, Retail, Medical Office and Mixed-Use properties. He is a licensed California Real Estate Broker and holds series 22 and 63 licenses. He is formerly an associate at the largest Commercial Real Estate Brokerage firm in the country and has years of experience and hands-on training from some of the best in the business.
As a trustee, he is passionate in educating about capital gains tax deferral with a Deferred Sales Trust, how to divest from a business or real estate and gain freedom from feeling hostage to a 1031 exchange, and then invest back into and back out of real estate at any time (all capital gains tax deferred).
Brett is considered one of the most well-rounded capital gains tax deferral experts and informative speakers on the West Coast. His audiences are challenged to lean into multiple capital gains tax deferral strategies, create and develop a passive cash flow wealth plan of their own, and execute on this plan so they can create and preserve more wealth.
During this show we discuss…
Installment sale, 1031 exchange
How to avoid paying taxes on real estate transactions
The best tax deferral strategy
About deferred sales trust
How to sell your business and pay no taxes
Questions you should ask your tax team about tax deferral strategies
3 must ask questions to ask on every tax deferral process
Steps to take to make sure you pay no taxes upon selling your business
Working with a tax professional for free to implement tax deferral strategies
What you know about estate taxes to save yourself a fortune
Legal steps you need to take with DST to ensure safety
About 1031 exchange
Benefits involved in using 1031 exchange for a real estate investment
Risks involved in DST and 1031 exchange
The 1031 exchange drawbacks you need to know about
Why DST is better than 1031 when it comes to saving you money
The best backup strategy for a failed DST and 1031 strategies
Show resources:
https://capitalgainstaxsolutions.com
https://www.linkedin.com/in/brett-swarts-15986326/
HEAR WHAT OUR CLIENTS HAVE TO SAY
We are passionate about helping our clients secure business credit and financing, and offering both as a service. Of course, we're going to have great things to say about our company because we think what we do and how we do it is pretty awesome. What really matters is what our clients have to say, so click below to hear from some of our customers who we live to serve.