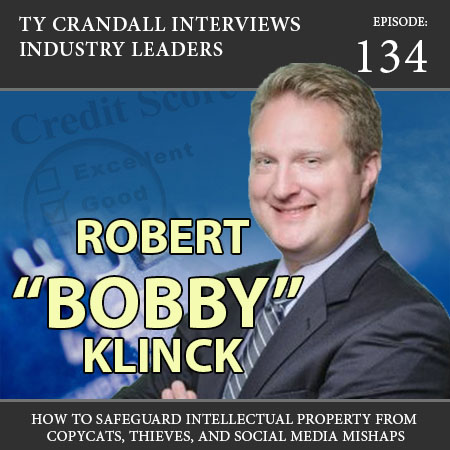 How to Safeguard Intellectual Property from Copycats, thieves, and social media mishaps.
Robert "Bobby" Klinck is an intellectual property attorney, who helps entrepreneurs, startups, and innovators harness the power of their intellectual property rights and reduce exposure to lawsuits or brand challenges in the marketplace.
Bobby prides himself on making the complex issues related to intellectual property understandable for non-lawyers. He has published two books about intellectual property law: The Entrepreneur's IP Planning Playbook and Patent Litigation Primer. He is currently working on a more ambitious project – a book to provide entrepreneurs with an overview of how to craft an intellectual property strategy from start to finish. Bobby has his law degree cum laude from Harvard Law School.
In This Show We Cover:
What intellectual property (IP) truly is
Understanding the 4 key pillars of IP
The types of risks entrepreneurs face with someone stealing their IP
Why entrepreneurs need an intellectual property plan
Some of the biggest mistakes that entrepreneurs make regarding their intellectual property
Some of the biggest mistakes that entrepreneurs make regarding their intellectual property issues that arise
Debunking myths about intellectual property that entrepreneurs believe
Why it's important to get agreements in writing
Some of the written agreements that entrepreneurs should have
The steps a business owner should take to protect their IP
Some of the ongoing things business owners should do to manage their IP
The steps business owners should take to ensure their employees don't take their clients and IP
What to do if someone steals your IP
How important having content copyrighted is
How important it is for a company to have trademarks
Some mistakes business owners make on social media that leave them legally exposed
The steps business owners should take to protect themselves when posting on social media
Resources
https://www.linkedin.com/in/robertklinck
https://www.facebook.com/KlinckLLC/
HEAR WHAT OUR CLIENTS HAVE TO SAY
We are passionate about helping our clients secure business credit and financing, and offering both as a service. Of course, we're going to have great things to say about our company because we think what we do and how we do it is pretty awesome. What really matters is what our clients have to say, so click below to hear from some of our customers who we live to serve.