Getting a Business Credit Report
You got this: we show you exactly how to effortlessly pull and examine any small business credit report.
Your best bet as a company owner is to stay on top of every business credit report from D&B, Equifax, and Experian.
There are three big credit reporting agencies for companies and you really should check all three of them frequently. This is because they use moderately different yardsticks. Hence moving the needle for one can move the needle for both of the others. Although maybe not as much.
Do not permit your business credit scores slide, as you have to catch any mistakes as fast as you can. Plus, you need to identify anything which is dragging your scores down. And then take remedial measures. You can get a business credit report easily and stay on top of all three scores by following a few straightforward steps.
D&B (PAYDEX) Business Credit Report
Dun & Bradstreet's PAYDEX score of your company can end up being one of the main reasons your business gets any credit.
A Dun & Bradstreet Report (also known as a D&B Report) is a database-generated report. The business services giant produces such a report in order to assist its clients in making decisions regarding new credit applications.
The primary reason for a client using this kind of a report is to engage in credit risk monitoring of vendors, suppliers, and business partners. This helps companies make informed business credit determinations and avoid bad debt.
Dun & Bradstreet takes several factors into account in generating such a report. These include a predictor of payment delinquency; how financially stressed a company is compared to comparable businesses; an evaluation of supplier risk; credit limit recommendation; D&B rating; and PAYDEX score. Let's consider all these factors in turn.
Delinquency Predictor
Dun & Bradstreet uses predictive models to ascertain how likely a company is to be late with its payments. Predictive scoring is a means of using historical information to attempt to predict future outcomes. It entails identifying the risks inherent in a future decision. It does this by examining the relationship between historical information and the future event.
This represents an objective and statistically derived counterpart to subjective and intuitive assessments. Such scoring allows a business to rank and order accounts based upon the probability of an event occurring, such as delinquent payments. However, note that Predictive Scoring only represents a statistical probability, and not a guarantee.
PAYDEX Score
A PAYDEX Score is Dun & Bradstreet's proprietary dollar-weighted numerical indicator of how a firm has paid its bills over the past year. The score is based upon trade experiences reported to Dun & Bradstreet by various vendors. In addition, the D&B PAYDEX Score ranges from 1 to 100; higher scores indicate a better payment performance.
Monitoring PAYDEX
D & B offers Credit Signal, which is a means to keep track of your credit score by having the business credit report come immediately to you, for a cost. You may discover the expense is well worth it in order to avoid the frustrations that can emerge from letting this score slip. And you will not need to produce and handle the organizing and reminders you might need to stay up to date with if you don't use it.
Alternatives to Credit Signal
Don't wish to make use of Credit Signal? Not a problem, as you can obtain your PAYDEX report through D & B and, if need be, you can get in touch with their Customer Service department (this department exists as a section of Dun & Bradstreet itself).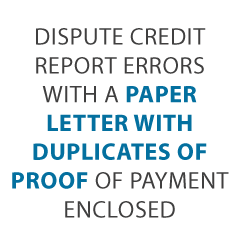 In addition, in order to review your PAYDEX report, check out what D & B provides, which is a specimen report and even some higher level tips in the way to analyze it.
D&B Data
Any report is only as good as the data it comes from. Dun & Bradstreet's database contains over 250 million firms spanning the globe, which includes around 120 million active companies and about 130 million businesses which are out of business but kept for historical purposes.
D&B constantly gathers data and works to improve its analyses to ensure the greatest degree of accuracy possible.
Equifax Business Credit Report
Equifax, one of the large credit reporting bureaus, has a risk monitoring service which is more convenient as it allows for a business credit report to come directly to you.
If you don't want to purchase continuing reports, you can instead order your company's Equifax report.
Additionally, if you have to question your small business's Equifax report, you can do so by following the information on their website.
You can learn how to go over your Equifax report by checking out a specimen of their reports.
Improve Your Equifax Report
Now that you know what enters into it, you can see that some of the more crucial pieces of information Equifax looks into are public records, credit usage, and how you take care of your financial and nonfinancial accounts.
Start getting rid of your debts as quickly as possible and not going delinquent. And keep your credit utilization within reason. Less than 30% of your overall available credit is best. And start staying away from overdue payments. Then you should have the ability to build up your Equifax score.
Experian Business Credit Report
Experian, one more big credit reporting firm, also offers a way having their business credit report sent to you for a fee. As a result you can keep an eye on your Experian small business credit score here and the setup is simple.
However, if you prefer to not get continuing reports (and pay for them), then you can order a single Experian report for your firm on their site.
Business Credit Report Score Improvement Tips
Experian provides a handy list of ways to improve your own, specific report.
You can get your company's real Experian report and can dispute any errors on your company's Experian report by following the directions on their website.
Now that you know what goes into it, you can see what some of the more important pieces of data Experian looks into are. These include payment history and credit utilization. And they also include the amount of time in business. Or at least they show the amount of time your company has had an Experian listing.
Beyond anything else, improving your payment history will increase your Experian credit scores.
Keep your credit utilization within reason. So this is because less than 30% of your total available credit is best. Clear your debts as quickly as you are able to. And don't go delinquent. Also, avoid any late payments. Then, you should be able to improve your Experian score over time.
https://creditsuite.wistia.com/medias/ky6qu1aev0?embedType=async&videoFoam=true&videoWidth=640
Likewise, if there are any problems or matters of contention, you can question any errors on your business's Experian report if you follow the directions on their web site.
Monitoring Any Business Credit Report For Less
Know what is happening with your credit. Make sure it is being reported and deal with any errors ASAP. Get in the habit of taking a look at credit reports. Dig into the details, not just the scores.
We can help you monitor business credit at Experian, Equifax, and D&B for a lot less than it would cost you at the CRAs.
Fix Your Business Credit
So, what's all this monitoring for? It's to challenge any problems in your records. Mistakes in your credit report(s) can be fixed. But the CRAs typically want you to dispute in a particular way.
Disputes
Disputing credit report mistakes generally means you send a paper letter with duplicates of any evidence of payment with it. These are documents like receipts and cancelled checks. Never send the originals. Always send copies and keep the original copies.
Fixing credit report errors also means you specifically itemize any charges you dispute. Make your dispute letter as crystal clear as possible. Be specific about the issues with your report. Use certified mail so that you will have proof that you mailed in your dispute.
Dispute your or your small business's Equifax report by following the instructions here: www.equifax.com/small-business-faqs/#Dispute-FAQs.
You can dispute errors on your or your business's Experian report by following the instructions here: www.experian.com/small-business/business-credit-information.
And D&B's PAYDEX Customer Service contact number is here: www.dandb.com/glossary/paydex.
Takeaways for How to Get a Business Credit Report
At times, it pays to hand over a few dollars to ensure you get your company credit reports consistently. It's a lot less troublesome than to have to remember to do this.
And you'll probably look at these reports more thoroughly, as they come at a price tag.
Continue track and make use of the tools that these credit reporting companies provide, and make your life simpler. After all; you've already got enough on your plate.
Because of the recent data breaches, there are even more reasons to assess your business and personal credit reports, and be vigilant about any errors you find.