Be Fearless in Business and Learn How to Start a Business with $500 in the Bank
Are you trying to start a business with $500 in the bank? You may be surprised at all the funding options which can work for you.
Have you got a new startup? It can seem like a money pit at times, can't it? While that is a fairly typical issue with new entrepreneurs, it does not have to be like that.
You should expect to put some of your own personal cash into a startup, but that should not be the sole place you turn for financing. So as to help you out, here are other ways of funding your startup
And they don't involve rummaging through your sofa cushions, searching for a few pennies here and there.
Start a Business with $500 in the Bank: Angel Investors and Venture Capitalists
First of all, these are not exactly the same thing.
Angel Investors
An angel investor will normally invest in early-stage or startup businesses. So this is in exchange for a 20 – 25% profit on their financial investment. Angel investors can be people you know. Yes, your mom can be an angel investor.
Or they can be area business people you meet through networking and other means.
Venture Capitalists
Venture capitalists will give money to help establish new startup businesses which the VCs strongly believe have both high-growth and high-risk potential. These might be fast-growth companies with an exit strategy already in place.
And they can get up to tens of millions of dollars for investment, networking, and building their business.
Basically, this is a gamble on future earnings. Also, venture capitalists will often seek to recoup their investment within a 3-5 year period. They will also, usually, want to acquire a portion of your startup business if not a controlling stake, so know that.
Demolish your funding problems with 27 killer ways to get cash for your business.
Start a Business with $500 in the Bank: Crowdfunding
You may wish to try a company like Kickstarter. However, make certain you read the small print, as many crowdfunding websites will demand that you give all the funding back if you do not make your goal by the end of the crowdfunding initiative.
Note: Indiegogo has a flexible funding option.
Also, crowdfunding websites will take a portion of the contributions. And they normally will press to have you deliver on your promises. So you'll have to really produce that electric spaghetti twirler or anything else your startup is supposed to be doing.
Donors can become weary of crowdfunding spiels, and straightforward startup businesses may not do so well. Crowdfunding has the tendency to work best for situations where the contributors can personally connect with the service or product.
So products which aren't quite in stock yet, or artistic ventures, can do well.
But straightforward widgets which are not going to really change are not going to attract brand ambassadors. And, by extension, they most likely won't get contributors too fired up.
Start a Business with $500 in the Bank: Factoring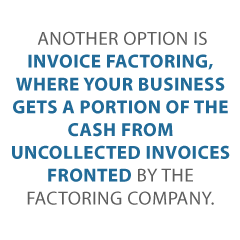 Another option is invoice factoring, where your business gets a portion of the cash from uncollected invoices fronted by the factoring company.
The factoring company then goes directly after any business which owes you cash, and collects on it on their own. Hence if a seller owes your startup company $1,000 on a twelve-month repayment basis, you might hand that bill over to the factoring company in order to get something like $950 in a week.
The factoring company would then collect the full amount from the retailer. This enables you to extend credit or arrange longer-term payment plans in exchange for other, more advantageous terms without keeping a bunch of what are essentially IOUs for months at a time.
More advantages terms can include getting a retailer on board with your new factory. So sometimes they can make or break your company!
Start a Business with $500 in the Bank: The Small Business Administration
There is also the SBA, which has several CAPLines loan programs and SBA Express. They do not provide the loans; instead, the SBA establishes loan guidelines. It's their lending partners who actually make the loans. The SBA also offers research grants if your startup company carries out scientific R & D.
SBA Startup Loans
Then there are SBA startup loans. You usually need to show some time in business for these. The most popular SBA loan for working capital is the 7(a). You can get approval for up to $750,000. The Rates are usually 2 – 4% above prime rate. All owners with more than 20% ownership must provide a personal guarantee. Good consumer credit is required. Low documentation programs are available.
SBA Express
SBA Express is a faster way to secure a SBA loan. You can get a loan amount up to $250,000. The Rates usually range from 2-4% above prime rate. Also available is Community Express for low and moderate income entrepreneurs.
Demolish your funding problems with 27 killer ways to get cash for your business.
SBA 504
SBA 504 is the SBA's second-most popular loan type. It is often used to purchase land, equipment, or real estate. The bank funds the loan, and SBA generally guarantees up to 40%. You can usually get a loan up to $1 million. You must contribute 10% of the equity typically.
SBA 7(m)
7(m) is their microloan program. This is for loans of up to $35,000 for working capital and growth. Average loan amounts are about $10,000. The funds come directly from SBA. This is unlike the 7(a), where funds come from the bank.
Start a Business with $500 in the Bank: Microloans
Another option is the microloan, which you cannot even obtain from a standard lending institution. In its place, you get a microloan from a microlender.
Try the Association for Enterprise Opportunity to find a local microlender. A microloan is just what it sounds like; it's not a lot of money. Still, if your startup company only needs something like $500 – $35,000, then a microloan could do the trick.
Start a Business with $500 in the Bank: Bank Loans
Need more than a microloan? Then request a bank loan for your startup. Be prepared to put up collateral. This can be inventory or real property or the like. Loans must be paid back punctually or else your startup's credit rating will drop. Without a lot of cash in the bank, you may have to provide a personal guarantee.
Start a Business with $500 in the Bank: Business Credit Cards
Another possibility is company credit cards. Having said that, know that company credit cards must be repaid just like individual credit cards. A very high credit utilization rate of over 30% can lower your company credit scores. The utilization rate is the amount of credit you use as divided by the total amount of credit available to your business.
So this can make it harder to borrow money or get another business credit card. Hence you should be vigilant with these and pay them off as quickly as is practical.
Start a Business with $500 in the Bank: Unsecured Financing
Unsecured Financing can provide some of the highest loan amounts for startups. You can get 0% business credit cards with stated income. No financials are required. These creditors will report to the business reporting agencies. You can build business credit at the same time. This will get you access to even more money without a personal guarantee.
You can usually get a loan of five times the amount of your highest revolving credit limit account now. This is up to $150,000. This is the highest amount of financing you'll typically see for a startup. It is easily five times what you could get on your own when applying for cards. You can get cash out on this program as well.
There is no impact on your personal credit with this type of financing. You need a 700 credit score or a guarantor with good credit to get an approval. With good personal credit, you can get unsecured credit cards with a personal guarantee. With good business credit, you can get unsecured credit cards without a personal guarantee.
Demolish your funding problems with 27 killer ways to get cash for your business.
Unsecured Credit Cards with Good Personal Credit
Approval amounts range from $10,000 to $150,000. There is no consumer reporting, but there is some business reporting. With excellent personal credit, you will get open revolving credit and low inquires. Approval amounts are equal to your current limits. The rates are often 0 – 25% APR, with 0% for 6 – 18 months, and a 9% success fee.
Unsecured Credit Cards with Good Business Credit
Approval amounts range from $10,000 to $50,000. These will report to the business credit reporting agencies. It will take 6 months to build a credit profile. Personal credit is not used for pre-qualification. The approval amounts are equal to your current limits. The rates are often 0 – 25% APR, with 0% for 6 – 18 months.
Start a Business with $500 in the Bank: Startup Loans
There are a lot of loans startups can get. They are usually not coming from banks. You can get access to $25,000, $50,000, or even over $100,000 in initial funding.
You can get specialized financing to buy things you need to get your business started. Equipment financing and leasing is available to buy new equipment. Get loans to put up commercial signs. You can even get loans to get graphic wraps for vehicles.
Collateral-Based Loans
Your best bet is collateral-based loans. Use your assets as collateral. The rates are often 5% or less. Your personal credit rating doesn't matter.
The types of collateral you can use include: your 401(k), stocks, existing inventory, and accounts receivable.
Or ask a friend or family member who has these kinds of assets. They may be interested in letting you leverage their asset in exchange for a percentage of your business. They usually want less of a percentage of your company than a venture capitalist would. 401(k) financing is typical.
401(k) Financing
Use an existing 401(k) or IRA as collateral for business financing. This program uses IRS proven strategies. You pay no tax penalties. You still earn interest on your 401(k). It has Low rates, often less than 5%. You can Close and fund in less than 3 weeks. You can usually get up to 100% of what's "rollable" within your 401(k).
The Process
You can get up to 100% financing with these. Here are the steps to follow:
a new corporation is formed
a retirement plan is created which allows for investment into the corporation
funds roll over into the new plan
the new plan purchases stock in corporation and holds it
then the corporation becomes debt free and cash rich.
Securities-Based Financing
You can use existing stocks as leverage to get business financing. Borrow as much as 90% of the value of your stocks. You continue to earn interest on the stocks pledged as collateral. Closing and funding takes less than three weeks.
You can get 70-90% Loan to value. Rates are as low as 1.6%. It is a working capital line of credit with challenged personal credit.
Accounts Receivable Financing
Use outstanding account receivables for financing. Get as much as 80% of your receivables advanced ongoing in less than 24 hours. The remainder of the accounts receivable is released once the invoice is paid in full. Closing takes two weeks or less, with factor rates as low as 1.33%. You can get an accounts receivable credit line with rates of less than 1% with no consumer credit requirement.
Receivables should be with the government or another business. If you also have purchase orders, you can get financing to have those filled. You won't need to use your cash flow to do so.
Accounts Receivable Factoring
Similar but not the same is accounts receivable factoring. You can get forwarded up to 80% of receivables. You have to be in business for one year. These must be receivables from another business. Rates are 1.25-5%.
Inventory Financing
You can use existing inventory as collateral for business financing. You'll need inventory valued at $500,000 or more. You can get approval for a line of credit for 50% of your inventory's value. Rates are usually 5 – 15% depending on type of inventory. Funding is within three weeks or less.
Inventory Loans
The minimum inventory loan amount is $150,000. The general loan to value (cost) is 50%. So inventory value would have to be $300,000 plus it can't be lumped together inventory, like office equipment.
Equipment Financing
Get financing to buy or lease new equipment. Use your first and last month's payments for approval. Rates vary widely based on risk factors. You can get approval with average credit of 650 or better.
The lender will undervalue equipment by possibly up to 50%. This is on major equipment only. The lender won't combine a lot of small equipment. You can get loans for up to $2 million.
Equipment Sale – Leaseback
Have you heard of an equipment sale – leaseback? If you already own your equipment free and clear you can use that as collateral for financing. You are selling the equipment to a lender for cash. And you are then leasing it back from them. You need at least one larger piece of higher value equipment to qualify. Funding is in as little as three weeks.
Other Collateral
You can get financing with other kinds of collateral. Investors looking to buy and flip properties who also have cash, experience, and average credit can get financing. You can get financing against commercial real estate. Insurance agents can get book of business financing.
Start a Business with $500 in the Bank: More Startup Loans
Here are some more startup loans. Try First Round Capital, for investments in the millions. Or go to Jumpstart Foundry, for $15,000. Then there's AngelPad, for web technology entrepreneurs. Beatspring can provide up to $20,000 in startup funding. Try Launch, with $500,000 per competition. Also, check with your alma mater; they may have something.
Start a Business with $500 in the Bank: Private Equity Lines of Credit
There are also private equity lines of credit. These are Often for $250k, $500k, or $1 million with an 8% rate. You need 20% liquid capital. You can use funds from other funding. And you also need mid 600 credit scores. You must produce your tax returns for the last couple of years.
Start a Business with $500 in the Bank: House Reseller Financing
There is also house reseller financing. You need a 660 FICO score or better. Flipping experience is required. You must have cash on hand to put into escrow. You can get up to 65% of after-repaired-value. It is an 8% rate or so, with a six month term.
Start a Business with $500 in the Bank: Book of Business Financing
Then there's also book of business financing. Commissions from the book of business will serve as collateral. You can borrow two to three times annual renewal commissions. This is a long term loan.
Start a Business with $500 in the Bank: Federal Grants
Another option is federal grants. Like scholarships for school, grants generally do not have to be paid back. The federal government wants to give you money!
For urban projects, try HUD (Housing and Urban Development), such as the HUD Community Compass Technical Assistance and Capacity Building Program and the Fair Housing Initiatives Program.
And for rural projects, try the USDA, such as the Department of Agriculture's Small Business Innovation Research Program – Phase I or the Renewable Energy Systems and Energy Efficiency Improvements Program.
Federal funding means paperwork – fill it out completely and correctly to be considered at all. You generally have to show experience in what you are proposing.
Start a Business with $500 in the Bank: State and Local Grants
Another option is state and local grants. Your local government also provides grants, such as: Grants to Miami Beach, Florida Nonprofits and Businesses for Programs to Promote Tourism and The Texas Enterprise Fund. These are generally less restrictive than federal grants. You must Show you will be helping the community. See if you can partner with a local business.
Start a Business with $500 in the Bank: Business Credit
Business Credit is credit linked to your EIN and not your Social Security number. This credit is available without a personal guarantee. It is available regardless of personal credit. You can get business credit immediately, even as a startup.
Business Credit Benefits
Anyone can pull your business credit reports, and that includes your competition, so you want to put your best foot forward. You need business credit to qualify for loans. And you can get high limit accounts quickly. You don't need a personal guarantee or credit check. This is one of the fastest ways to get money beyond immediate funding.
Vendor Credit Tier
Start with the vendor credit tier. Work with vendors you use all the time. Get credit for your regular purchases, like office supplies and coffee. These vendors report to the business reporting agencies within 60 days. They help you build your business credit profile and score.
Retail Credit Tier
After 60 days you can then get higher-limit, usually $2,500- $10,000 retail credit accounts. These are at many major stores like Dell, Amazon, Walmart, BP, Chevron, Best Buy, and many more. As you continue to apply you'll get even more retail credit at more stores with higher limits. So use this credit to buy the things you need to fund your business.
Fleet Credit Tier
After you have a total of ten or more accounts you can start to get the fleet credit tier. This is with higher limits that you can use at a multitude of sources. Business credit is the only way to get money for a business if you don't have either collateral; cash flow; good personal credit; or a guarantor.
Start a Business with $500 in the Bank Even When You Think It's Impossible
Leave the change in the sofa cushions for another day and get your startup company funded the right way. Learn more here and get started toward building business credit and getting company funding. And you, too, could start a business with $500 in the bank!