Set Up a Podcast for Your Business the Professional Way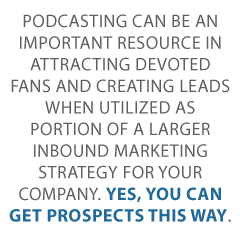 If you listen to podcasts, you know how valuable and practical they are for enjoying online content. For keeping up with the newest trends, or recommendations for taking care of your company finances, or any other information of value, podcasts do the trick. So you may be wondering how to set up a podcast for your business.
Podcasting can be an important resource in attracting devoted fans and creating leads when utilized as portion of a larger inbound marketing strategy for your company. Yes, you can get prospects this way.
Have you planned to start one for your company, but didn't know where to begin?
It makes the most sense to start modestly and grow into the platform. You could potentially spend a great deal of time and thousands of dollars on equipment attempting to get it perfect. But it's more vital to just get going and get better as you go.
Keeping that in mind, here's how you can put together your own podcast for your small business using just an iPad or computer, iTunes, and a web browser.
And don't forget – save everything, repeatedly!
Set up a Podcast for Your Business: Step 1: Capture your audio on your iPad or computer
You can use the GarageBand app for your iPad or TeamSpeak for a computer. In particular, this is good if it's not just a single person speaking.
For GarageBand:
Launch your GarageBand App and then:
Choose "New Song" by clicking the "+" in the upper left corner.

Choose "Audio Recorder" by swiping through the choices until you see the microphone icon.

Click the "Noise Gate" icon at the upper left (plug icon), turn it "On" and set the slider to about 40%. This will help get rid of background noise.

Under "Settings" (wrench icon at the upper right) turn off the "Metronome".

Expand the timeline by clicking the "+" button at the top right (under the question mark icon) and make certain "Automatic" is turned on.

Click "Record".

When finished recording, push the stop button and then choose "Dry" from the audio settings.

To see your audio timeline, press the timeline icon (to the right of the small microphone icon in the top menu bar). This is where you can add additional audio tracks just before finalizing this editing session.
Set up a Podcast for Your Business: Step 1a: Improving Sound (Optional)
You can use a program like Adobe Audition. Upload the file, select Effects>Noise Reduction>Hiss Reduction and let it run. Then choose Effects>Amplitude and Compression>Speech Volume Leveler.
Once these processes are finished, click 'Save As' and select mp3. It's generally easier to save straight to your desktop.
Set up a Podcast for Your Business: Step 2: Make an mp3 file and share your final audio file to iTunes
When you complete your audio recording, you can share it with your iTunes library so you can eventually upload it to your podcast hosting service. You can also email the file to yourself. But depending on the file size and length of your podcast episode, you may run across some deliverability problems.
This might be the most difficult aspect of the entire process, but it's feasible if you follow these steps:
Within your GarageBand app, click "My Songs" at the upper left.

Select "Edit" in the upper right.

Select your podcast episode by tapping on it (it will have a yellow border around it when selected).

Press the "Share" icon in the top left.

Choose "iTunes".

Choose "iTunes" again (rather than "GarageBand").

Enter your Artist, Composer, and Album details (optional) and opt for "High Quality".

Click "Share"

Important: Now connect your iPad to your computer so you can synchronize.
For TeamSpeak:
Record on your channel and select the completed file.
Your next stop is converting the .m4a file to an .mp3 file, which is the preferred file format for podcasting. With TeamSpeak or a stop through Adobe Audition, you will have already done this.
With an iPad:
Connect your iPad to your computer.

Within iTunes on your computer, choose the "iPad" button at the top right (to see the contents of your iPad).

Choose "Apps" from the top menu.

Scroll down to find the "File Sharing" apps.

Choose "GarageBand" and you'll find a list of files that you've shared.

Select your podcast episode from the list and then click "Save to …"

Save the file to your Desktop for easy access.

Click "Done" at the top right to exit the iPad content.
Creating an mp3 file in iTunes:
Open your general iTunes account. From the top menu items choose File>Add to Library.

Select your podcast episode from your desktop to import it into iTunes.

Find and select your file within the iTunes Music Library.

Right-click (Windows) or control-click (Mac) and select "Create mp3 Version" from the menu. This ought to produce a second copy within iTunes.

Select the new mp3 version within iTunes and right-click (Windows) or control-click (Mac) and select "Show in Finder". On a Mac, you can also just drag that file to your desktop from iTunes.

Move the mp3 file to your desktop for easy access later.
Set up a Podcast for Your Business: Step 3: Tag your mp3 file
This is the procedure of adding in the necessary title and description to your audio file so that the info is available within the podcast directories within iTunes and Stitcher.
If your mp3 file is not yet in iTunes, upload it.
You can use a tool called ID3 Editor, made by Pa-Software. Or you can tag your files within iTunes, but ID3 Editor offers the ability to add more attributes, including copyright information.
Using ID3 Editor:
Preliminaries
Download and purchase ID3 Editor if you haven't bought it already.

Install and launch ID3 Editor.
Add Identifying Information
When prompted, find your MP3 file on your desktop.

Within the ID3 Editor interface, input an appropriate Title, Artist, and Album.

For the "Genre," enter "Podcast".

Enter your podcast description in the "Comment" field.

Put your name (or your company name) as the Composer, Artist, and Copyright.

Idea: Click the small gray arrow to pre-populate the fields in the right column.

Under the "Podcast" Tab – check the box to "Enable podcast tag".
Add Descriptions for SEO
Complete the "Description" (nothing needed in the "Identifier" or "Feed" fields).

Click the "Lyrics" button at the bottom right in order to get a slide-out area where you can copy/paste in your description.

Next, click the "Pictures" button (next to "Lyrics" button) and submit your podcast cover artwork (the dimensions should be 1400 pixels x 1400 pixels).

Click the "Update" button at the bottom left to finish.
Set up a Podcast for Your Business: Step 4: Upload your tagged mp3 audio file to a podcast hosting service
Once you've completed producing and editing your podcast episode, the following step is to upload it to a podcast hosting service. Libsyn.com is good because it's an industry standard.
Don't want Libsyn? You can always self-host or choose another podcast hosting service such as SoundCloud.
You can upload your file to Libsyn by following these steps:
Preliminaries
Sign up for an account at

https://www.libsyn.com/

.

From your Libsyn Dashboard, click the "Settings" icon (little gears).

Enter the appropriate show details (title, description, etc.).

Click "Save".
Add Details
Click the "Destinations" Tab (icon with the 3 arrows).

From the left navigation, choose "Libsyn Classic Feed".

Fill in the appropriate details concerning your podcast.

Click "Save".

Choose the "Publish" icon.

Choose the "Advanced" publisher (via the slider – "Basic" or "Advanced").
Publishing Steps
For Step 1: Media: Upload your podcast by choosing "Hard drive".

For Step 2: Description: Enter the "Title" and "Description" only. And nothing else is necessary.

For Step 3: Destinations: Choose the release date and make certain the following boxes are checked – "Wizard Player" (for embedding on other sites) and "Libsyn Classic Feed" (this one you absolutely must do).

Nothing is required for the "Advertising" and "Review" steps.

Click the green "Publish" button.
Set up a Podcast for Your Business: Step 5: Submit your podcast feed to iTunes and Stitcher.
Submitting to iTunes:
Launch iTunes from your computer.

Choose "Podcasts" from the top menu.

Click the link "Submit a Podcast" from the right menu.

Paste in your podcast feed URL from your "Libsyn Classic Feed" (it should look something like this

https://yourshowsname.libsyn.com/rss

).

Click "Continue" to submit your feed to the iTunes Store (Note: it may take up to 48 hours before your podcast is authorized).
Submitting to Stitcher Radio:
Fill out their application by furnishing some contact info and program details.

Agree to their terms and click "Continue".
There are other podcast feed streaming services such as MixCloud or Blubrry Podcast Media Hosting. So simplify your life and don't choose too many services. This is because you'll need to update them every time you record a new episode.
Set Up a Podcast for Your Business: Takeaways
And, that's it! Now share your show and its channel and keep publishing valuable, compelling content. And you can even position yourself as a thought leader in your industry.
Discover this new way to leverage social media and set up a podcast for your business.