If you want to run a business, there are certain things you are going to have to do.
Let's look at how you can get moving.
Running a Business
Running small businesses may seem fairly intuitive. You make whatever you make (or provide the service you provide), collect the money, and repeat the next day.
Not so fast.
Before You Even Think of Getting Started, Learn How to Run a Business With Financing in Mind
So, before you go down the road, you will need to conduct market research. Far too many small business owners neglect this step. But market research helps you find your target market and your potential customers.
Market research also helps you hone your plans. If you better understand your target customer base, you are much more likely to attract them. Your target audience, either online or offline, will not just come to you.
You will need to have a marketing plan.
Conduct Market Research and Be Certain to Research Your Niche
Beyond considering how you're going to sell to people—and who your customers should be, you will also need to know just how much it costs to start a business of this type. One of the bigger considerations with how to run a business is figuring out if there's demand out there.
For example, an online store will probably need less space. In fact, an online store might not need a regular physical space at all. But you will need something—see Address, below.
Is Your Business Idea Practical?
Manufacturing goods means dealing with suppliers, equipment, and potentially even customs. And, of course, you'll be dealing with taxes.
It can often also mean dealing with equipment. Do you know how to run a business machine, and can you fix it if it ever breaks? How much insurance do you really need? What about professional liability insurance?
If you're going to be dealing with the public, then be ready for complaints, too.
Is Your Industry Risky?
Many business owners don't stop to think about the industry their new business is in. But anything with traveling is risky. As is anything with heavy machinery. If your business plan includes taking cash, then it's also risky.
How Will You Fund Your Small Business?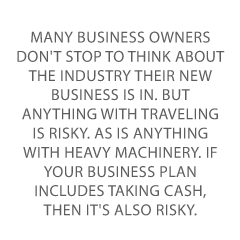 A big part of any business plan needs to be figuring out how you're going to get and use money. Your small business success is riding on it!
Often, we think about bootstrapping. That is, the idea of starting a business—your own business and financing it yourself. But even if you have the money, it's not sustainable. This is only a limited way how to run a business.
One form of financing is through selling equity. One way to get to being a profitable business is to work with angel investors. This means selling part of your small business. Otherwise, angels will not take the financial risk.
Grants and microloans are two more choices. Neither are very big. If you have new ideas and are good at writing, a grant could be a way to achieve success in financing early. And you can get microloans through the Small Business Administration.
New businesses should also build business credit. It's a far more sustainable way to finance day to day operations, and is one of the secret weapons of successful businesses.
A Fundability™ Foundation is a Huge Part of How to Run a Business
Businesses fail every day, per the Bureau of Labor Statistics. But a business plan to create a Fundability Foundation™ does your small business a great service, now and in the future.
Business Name
When you start a business, one of the first things you should be considering is your business name. Any name of a business starting with higher risk words can have problems getting company financing.
Keep your business name easier to fund by not adding any risky-sounding words to it.
Business Structure
The legal structure of your business will make a difference in how to run a business. Your business structure is generally going to be sole proprietor, LLC, or corporation. Most businesses start as a sole proprietorship.
But a sole proprietor legal structure does not protect the entrepreneur from personal liability. And the business taxes will pass through to ownership as well.
Any successful company starting business credit building will need to incorporate. It is the only way to create a separate structure that can build its own credit.
Address and Phone Numbers
Your business address has to be a brick and mortar location which can receive mail. But you can use a virtual address. A separate phone number is vital so your family isn't bothered by your business calls. It's a more professional way how to run a business.
But you can use a VoIP and have it ring to any phone number, even a cell phone, if you like.
Get an Employer Identification Number (EIN)
Go to the IRS website to get an EIN. Just like your Social Security Number identifies you, an EIN identifies your company. The IRS has some online resources on how to run a business, too.
Website and Email Address
Lenders will search for your business online. Put your best foot forward with a pro website on a domain you own, with email on that same domain. It's a part of how to run a business professionally.
Business License (if Applicable)
If your company needs licenses, plan to get them quickly. Existing clients and prospects will appreciate a company that cares about getting and maintaining its licenses.
Business Bank Account
It's a good idea to be starting a business bank account as soon as possible. Develop a relationship with a bank. It might help you get financing later. It's a much more responsible way how to run a business.
Getting a D-U-N-S Number
You can get a DUNS number from Dun & Bradstreet. They're free, and you'll need one to build corporate credit. You will need it for how to run a business sustainably.
Personal Credit Scores of the Business Owner
One part of a Fundability Foundation for a successful business is the personal credit scores of the business owners. A business owner with poor personal credit scores will have a harder time getting a small business loan. Part of how to run a business successfully means making sure your personal credit is up to snuff.
Necessary Business Documents
Having your tax returns prepared by a pro will help with Fundability. The same is true of a profit and loss statement. You will need these to get money.
Create a Business Plan
Spend time on time, as lenders will also want to see it. Have a mentor look it over closely. Your business plan is, in part, the way you see how to run a business.
A Successful Business Can Be Yours When You Actually Know How to Run a Business
Get your business started off on the right foot by building Fundability from the get-go. And contact us to learn how corporate credit and financing can help with how to run a business successfully.